On July 3, 2011, Martin Havlat was traded to the San Jose Sharks for former 100-point scorer Dany Heatley.  When the trade occurred, fans were worried they had given away too much (albeit a declining scorer), in Heatley for Havlat.  While the Sharks saved $2.5 million in cap space by unloading Heatley's monster contract for Havlat's, they were losing a player that scored 144 points in two regular seasons.  GM Doug Wilson was impressed with Havlat's bursts of speed and his special teams prowess.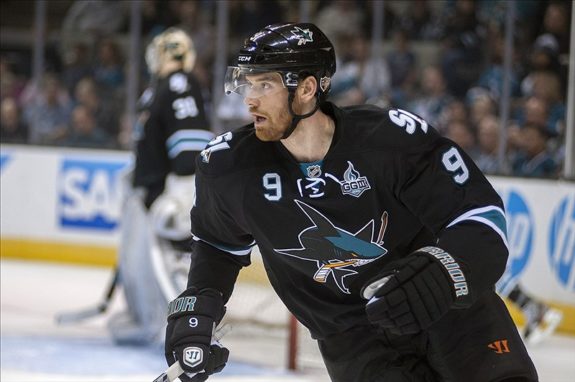 Martin Havlat vs. Dany Heatley 2011-2013
Martin Havlat, San Jose Sharks
[table id=120 /]
His plus/minus rating was alright, but he was facing second and third lines most of the time.
Dany Heatley, Minnesota Wild
[table id=121 /]
Heatley has scored plenty and played the majority of the last two seasons.
Hesitant Optimism
Remember the day that it was announced that Martin Havlat was coming to San Jose?  I remember it was a day that the fans hesitated.  The Silicon Valley was unsure about the move.  Sure, Dany Heatley didn't come cheap.  Sure, his contract was sucking the life out of any possible moves that the Sharks could make.  But, he did put up over 140 points in two seasons with the Sharks.  That first season he was third on the team!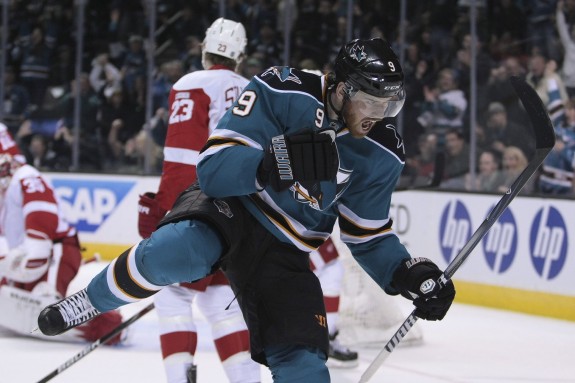 Heatley's bread and butter was earned on the man advantage.  Havlat provided a scoring touch when playing 5-on-5.  Plus the cap space made the GM's mouth water.  And Doug Wilson is all about maneuverability.  Right before he traded for Marty, he shipped away fan favorite Devin Setoguchi and Charlie Coyle plus a first round pick for Brent Burns.  A questionable decision at best.  At the time.  What the fans didn't see was the youth and versatility he traded for.  Then, Wilson supposedly filled the void that Setoguchi left with the former all star, Havlat.
So, the fans gave Marty a shot.  They knew Havlat had been prone to injuries in his past.  But the last three seasons saw Martin Havlat play 232 games.  It was thought that Havlat had finally got over the injury bug.  The last two seasons, he scored over 50 points each year.  They weren't Heatley numbers, but they came at a much cheaper price.  Plus, the forward finished in the top 5 in CORSI those years on his two teams.  Can you blame the fans for being optimistic?
Tripped Up… Literally
Martin Havlat recuperated from shoulder surgery and did his best to be ready for 2011-12.  And the season started okay.  He wasn't quite up to speed, but the fans said "Hey, Martin Havlat's been hurt.  Of course he's going to take some time to come back."  And then…

The injury was not only an embarrassment to the team, but to Martin Havlat himself.  Fans hoped he had turned the season around after earning two assists in the game before and scoring the opener that night.  But the routine change turned into disaster as word came that he had torn a tendon in his left hamstring.  He had only managed 15 points in 26 games at that point in 2011.
The Return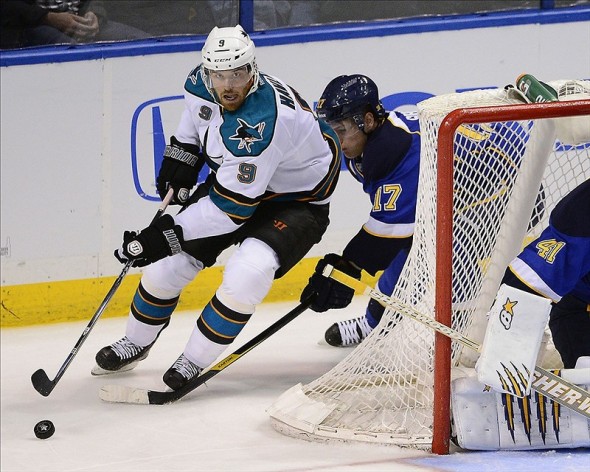 After missing three months, Havlat exploded onto the scene.  On March 15th, against the rival Red Wings, Doug Wilson looked like a genius again.  Marty scored twice, including the game-winner of the OT period and was easily the best skater on the ice.  His speed stretched the Detroit defense and added a superstar quality to the Sharks that they sorely missed.
While he stayed hot for the next few games, the good times would not last.  He finished the season with 27 points and earned three points in the Sharks short-lived postseason.  The offseason and lockout gave the frail Havlat time to recover and be ready for what he hoped would be an injury free season.
2013: Marty, We Need to Talk
Havlat played the entire regular season (okay, 40 out of 42 games) in 2013.  However, despite playing one more game than in 2012, he scored nine less points.  With half as many assists in 2013, the speedster saw his value plummet.  He was still one of the best even-strength forwards San Jose could offer with only Pavelski, Couture, and Burns scoring more even points per 60 minutes.  But it just wasn't the same.
The postseason arrived and Martin Havlat looked to make his impact early.  Well, he did.  In the worst way possible.  He was injured in game one against Vancouver, early in the first period.  The groin strain he suffered there never truly left him as he sat out the next few games.  He finally came back and said he was ready to play game three at home against the Kings.  Scratch that, he removed himself in the first period again.  Then, things got testy…
Havlat was seen walking from the locker room on his way out of HP Pavilion less than 10 minutes after Game 3, and in the coming days, lost his locker stall at the practice rink, moving to a temporary stall. Meanwhile, AHL call-ups Matt Pelech, Freddie Hamilton and Matt Tennyson all had regular locker stalls, which could be viewed as an indication that the team wasn't happy with Havlat's disappearing act. At Game 7 in Los Angeles, rather than sit with his fellow Sharks scratches in the press box, Havlat sat on the complete opposite side, away from everyone.

–Kevin Kurz, CSN Bay Area
News of the compliance buyout followed in the offseason and then the groin surgery showed up.  The Sharks have lacked star power for much of their history.  Their deep blue line and consistent goalie situations have made them competitive with the league, but a distinct lack of firepower up front has kept the Sharks from taking that final step to Stanley Cup contenders.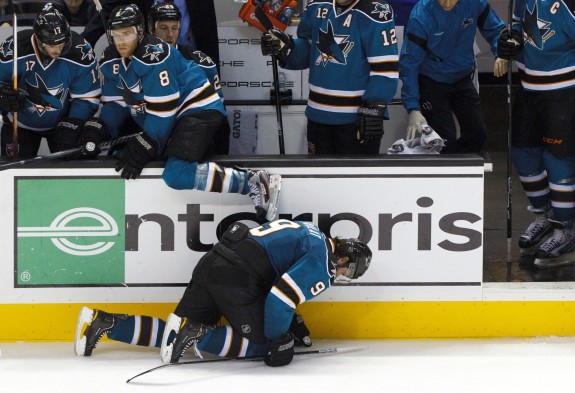 The issue with keeping the forward around is not that Havlat may not be able to produce points like he used to.  It lies in his groin.  And his knees, leg, and ankles.  Hockey injuries, especially those to the lower body, never really go away.  Martin Havlat will always be frail.  He may never be at 100% again.
The Sharks have enough firepower without him to compete, but giving him a roster spot can take away opportunities from the young guys.  Maybe the Sharks can give him to another team for a late draft pick.  Sorry, Marty.  But I think it's time we broke up.