With the reformatting of the divisional format in the NHL, you might be left with questions about the team's in Buffalo's division, the Atlantic Division. Who will the Sabres be seeing a lot of? Where will they shake out?
Thankfully for you, that's where I come in. Welcome to your guide to the division.
Who
Toronto Maple Leafs
What did they do last year?
The Leafs did something they haven't done in awhile: exceed expectations. Well, exceed them everywhere but outside Leafland because let's face facts: those people are waaaaay unrealistic about their team and that will never change.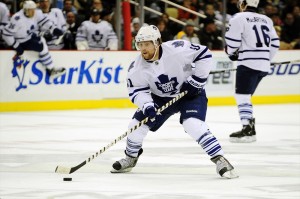 No, the Leafs actually did have a pretty good season, Phil Kessel especially but the way Leaf fans blast him for EVERYTHING, you'd never know he let the team in goals (19), assists (32), and points (51). No, you would think he literally just gives the puck to the other team and stands there staring blankly every game based on the reactions of Leaf Nation.
His strong effort, and those of Nazem Kadri and James van Riemsdyk, helped lift the Leafs to their first playoff appearance in eight years, something that SHOULD have been celebrated in Toronto but they were too busy thinking they should win the Stanley Cup every year to notice.
They did make the playoffs, as stated earlier, as the fifth seed in the East against division rival and fourth-seeded Boston. Then this happened…
What do they look like for this year?
The Leafs return most of the forward corps, though Kadri still needs a new deal, and will have Joffrey Lupul back healthy (he missed a big chunk of time last year with a broken forearm). They also spent ALL OF THE DOLLAR to re-sign Tyler Bozak and free agent winger David Clarkson. The latter is a 30-year-old who got $36.75M ($5.25M per year) for that one time he scored 30 goals. Oh, he's also never had more than 46 points in a year. No, there's not a lockout coming in the future, hush.
Defensively, Phaneuf is back to be bad at defense yet still be lauded by anyone who remembers that one year he was good in Calgary. Jake Gardiner, who Leafs fans regard as the messiah for some reason, is also back to be messiah-y. Cody Franson, one of the team's best defensemen last year, could find himself on the outs due to a cap crunch. The rest of the defense is solid if unspectacular and could find uber prospect Morgan Reilly in the group to start the year, especially if Franson is gone.
Reimer returns in net and the team thought so highly of him that it went out and acquired highly-touted Los Angeles Kings backup Jonathan Bernier to split time with him. It'll be interesting to see A.) how much time Bernier gets and B.) if he can live up to the hype he's received the last few years. Still, the Leafs have a goaltending problem but in a good way.
2013/14 Meetings w/Buffalo
11/15 @ Buffalo
11/16 @ Toronto
11/29 @ Buffalo
12/27 @ Toronto
1/15 @ Toronto
Where do the Sabres stand?
The Sabres were 2-1-1 last year against the Leafs and have generally been a pain in the ass for the Leafs whenever the two meet. It's fun talking to any Leaf fan about their matchup with the Sabres because they automatically assume that Ryan Miller is going to have a 70-save shutout against them, relentlessly talking about how Miller gets up for games against the Leafs because he is not fond of them. Which he's not, but that's beside the point.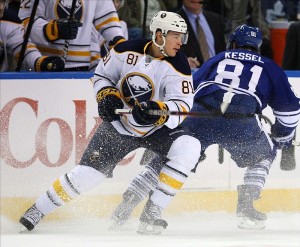 Buffalo's defense will need to be better this season as the Leafs have a solid group of forwards and guys like Nazem Kadri and James van Riemsdyk will only be better with another year under their belts.
Defensively, Phaneuf is still there to do Phaneuf things and the team looks like it will have to trade Franson to make room to re-sign Kadri so there are some questions there. Reimer is solid in net but the team is still not-so-quietly looking for upgrades as they were always present in the Roberto Luongo trade rumors.
The Sabrs have played well against the Leafs regardless of how things have gone the rest of their season. Maybe it's just the Leaf effect but I would expect that to continue with largely the same cast of characters returning for both sides this year.
Follow me on Twitter: @RWTFC