With the start of the OHL season just weeks away, we look at who some of the top teams and players are as well as some that could surprise in the Western Conference.
Just like in the East, things are going to change this year in the Western Confernce from a year ago. The one thing however that will likely stay the same is top spot in the conference. The 2014 Memorial Cup hosting London Knights are coming off a season in which they are the defending OHL champions and there's no reason to think they will take a step back in 2013-14.
Other top teams from a year ago like Plymouth, Kitchener and Owen Sound will have different looks and have lost a number of top veteran players, where teams such as Erie, Saginaw and Windsor look to be much improved.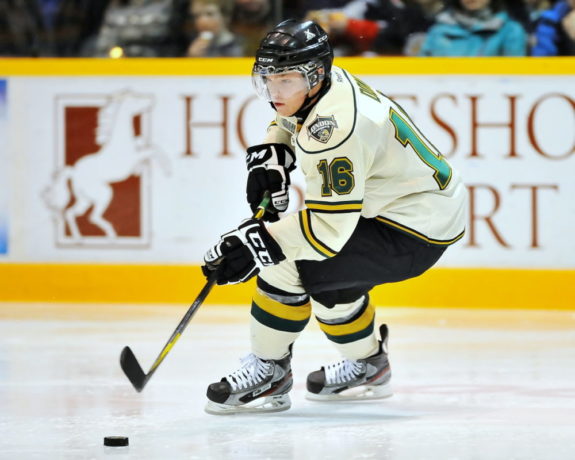 Top Contenders:
London Knights
What else is new.
The Hunters never really seem to fall in a rebuild mode and keep restocking the cupboard. Top players Max Domi, Bo Horvat and Chris Tierney return up front along with the Ruperts, Matt and Ryan. Both Seth Griffith and Alex Broadhurst move on, although both are eligible to return as overagers with Broadhurst being far more likely to be in a Knights uniform than Griffith.
They also return defensemen Olli Maatta, Nikita Zadorov and Tyler Ferry with the biggest loss coming with the departure of captain and stalwart defender Scott Harrington. They also lose his shutdown partner in Tommy Hughes.
Goaltending should not be a huge issue as both starters in Anthony Stolarz and Jake Patterson are eligible to return.
In true London fashion, the Hunters also delved into the NCAA market and have signed Montreal Canadiens 1st round pick Michael McCarron as well as prospect Christain Dvorak away from their respective schools. McCarron will fit in on one of the top lines and could be a dominant physical presence, where Dvorak will play a depth role.
The team also has more considerable depth with second year players Remi Elie and Kyle Platzer looking to take on a bigger role, as well as 2013 draft pick Mitchell Marner joining the club.
The Knights know they will be at the Memorial Cup and it's hard to imagine them not going in as one of the favourites.
Saginaw Spirit
Spirit fans are hoping this is the year the fruits of their rebuild pay dividends.
Last season the Spirit qualified for the playoffs with a young and inexperienced team, having a number of '95 and '96 born players playing prominent roles. This year they hope that experience has paid off and they will make a case for one of the top spots in the Western Conference.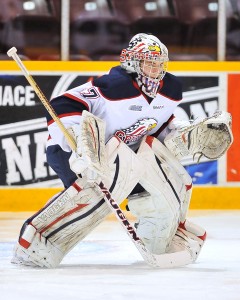 They are led in goal by the OHL's best goaltender in Jake Paterson, who is in his fourth OHL season and all but a lock to be a member of Canada's 2014 WJC squad.
Offensively they will be led by centre Jimmy Lodge who broke out in the second half last season to be one of their offensive leaders following the trade of then captain Vince Trocheck. Last season's leading scorer and 97 point man Eric Locke can potentially return as an overager if he doesn't stick in the AHL and would be a huge boost for the club.
Saginaw also beefed up and added some veterans this season to try and put them over the top. Centre Cody Payne (Plymouth), forward Kristoff Kontos (Mississauga) and defensemen Sean Callaghan (Ottawa) and Justin Sefton (London) were all added to the roster in the offseason. The most significant veteran loss on the team is Garrett Ross, who was the team's second leading scorer.
The other addition, and possibly the most exciting, is first round pick Mitchell Stephens who comes from the Toronto Marlboros program and has electric offensive abilities.
The team is deep enough and talented enough and even when they have some off nights, they have Paterson who can steal them a few wins on his own.
Guelph Storm
Guelph comes into the year as one of the most experienced and mature teams in the league. They are eligible to return as many as 17 players from last year's fifth place team.
The Storm have a balanced but talented group up front. Returning is leading scorer Scott Kosmachuk as well as other top forwards Jason Dickinson and Brock McGinn.  Forwards Tyler Bertuzzi and Justin Auger will be entering their third seasons and take on more of a role this season. There will also be attention on the Storm this season in the form of talented centre Robbie Fabbri, a potential first round pick in 2014.
On the back end they are led by captain and Leafs prospect Matt Finn. Finn only played 41 games last year and when healthy is one of the OHL's best defensemen. He's joined by 2013 NHL picks Zac Leslie and Ben Harper who head a strong blueline.
The biggest question will be in goal as they will likely lose last year's starter Garrett Sparks, who was one of the best stoppers in the west. Third year Jason DaSilva and fourth year tender Michael Nishi are the frontrunners to take over his role.
If one can take the ball and run with it, the Storm have the team to do some damage in the Western Conference
Team To Watch Out For:
Erie Otters
Many are predicting the Otters to jump up to the top of the standings while others believe they'll be just that much better to get into the playoffs. One thing is for sure, they are young and supremely talented. They are led by phenom Connor McDavid who had an incredible season last year as a 15 year old. Also returning is leading scorer Connor Brown as well as Stephen Harper, Dane Fox and Jake Evans who are solid, productive forwards.
There will also be a few new faces up front as they welcome Andre Burakovsky, an Austrian who was last year's 4th pick in the CHL Import Draft and a recent first round NHL pick of the Washington Capitals. Burakovsky is offensively gifted and an explosive skater. They will also have the 2nd overall pick in this year's OHL Priority Selection, Dylan Strome, who will bring instant offence.
The Otters have a very solid defense, led by Adam Pelech, one of the OHL's top defenders and a potential Canada WJC member. They are equally as capable in goal with Swedish import Oscar Dansk manning the pipes in his second year in North America.
Erie has the ability to make some noise in the Western Conference, and if nothing else they will be one of the league's most exciting teams to watch.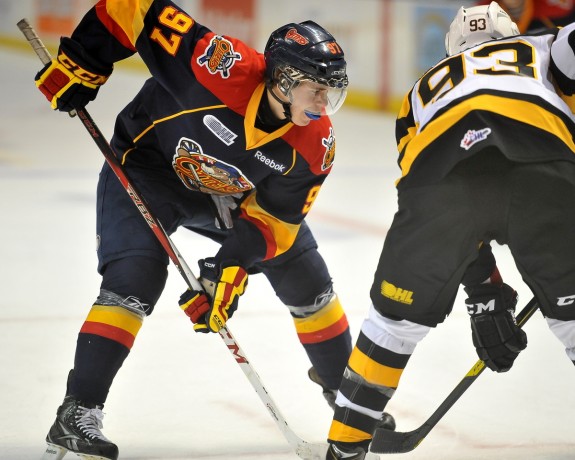 Players To Watch:
Max Domi (London Knights): An offensive dynamo, there isn't a more exciting player to watch in junior hockey than Domi. A passer and a finisher he has a quick release and is a wizard with the puck. One of the top players on the OHL's best team, there will be plenty of eyes on him this season.
Bo Horvat (London Knights): Domi's teammate, there will be no fewer people watching him than Domi. Different in style, Horvat is an aggressive power forward who plays all three zones well and has an incredible will to win. Went before Domi in the NHL draft and both will challenge for the OHL points lead throughout the season.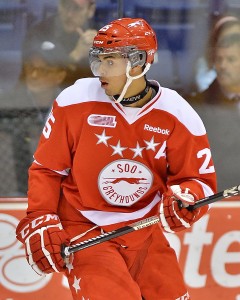 Connor McDavid (Erie Otters): At just 15 years old last season, McDavid put up 66 points in 63 games. The scary thing is he's not even draft eligible until 2015. A sublime passer with exceptional hands, he sees the ice far better than most players older than him.
Darnell Nurse (Sault Ste. Marie Greyhounds): The 7th pick in the NHL draft will likely be returning to the Soo for more seasoning. He's a big, strong defensive defenseman with a huge wingspan and a mean streak. More than that he's an exceptional skater and will be a man amongst boys on many nights this year in the OHL.
Breakout Players:
Jimmy Lodge (Saginaw Spirit): It can be argued that last season was his breakout year after an impressive second half, but 2013-14 will be the year he puts it all together for a full season and becomes the offensive leader on one of the Western Conference's best teams.
Justin Bailey (Kitchener Rangers): Bailey had a good rookie season with 17 goals and showed flashes of what he can be. He will have to assume a bigger offensive role for the Rangers with veterans Matt Puempel, Josh Leivo and Tobias Reider moving on.
Jason Dickinson (Guelph Storm): A player with a lot of upside, Dickinson has great offensive instincts, slick hands and a nose for the net. He was taken 29th overall this year by the Dallas Stars and could be primed for a big season. Had 18 goals and led the team with a +19 rating last season, and should take another step forward this year.
Impact Rookies:
Andre Burakovsky (Erie Otters): Taken in last year's CHL Import Draft, he could be a perfect complement for McDavid on the Otters top line. Burakovsky has speed to burn and tons of skill and will give Erie another dangerous weapon. The main knock on him has been his consistency, but not enough that he was taken by the Washington Capitals in the first round of this year's NHL draft.
Michael McCarron (London Knights): Canadiens first rounder is a massive power forward with skill, and is yet another defector from the NCAA joining the Hunter brothers. He should fit in nicely in London's top six and regardless of who he plays with should be productive. Will put up numbers and be a physical force for the Knights.
Dylan Strome (Erie Otters): The second pick in the OHL Priority Selection, he has the offensive abilities to make an immediate impact. He also won't have to shoulder the load, nor will he be the focus of other teams or the media for that matter with McDavid front and centre.
__________________________________________________________________________
Carl covers the Edmonton Oilers for THW as well as providing additional prospect coverage. Follow him on twitter @carlTHW, connect on Facebook or contact at carl.maloney@hotmail.com for questions, comments or if you're interested in him writing for you.