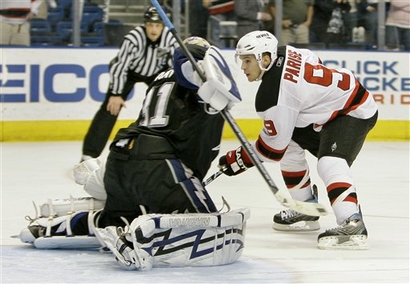 "I don't have to tell you things are bad…everybody knows things are bad." – Howard Beale, from the 1976 movie Network.
The upcoming 2013/2014 season is going to be a very interesting one for the Calgary Flames. And not "Sriracha sauce on a different type of food" interesting, but closer to the "Oh God, what did my dog eat out of the garbage?" interesting.
Jarome Iginla, the longtime captain and local (and, really, national) hero, is gone, now with the Boston Bruins. Miikka Kiprusoff has finally retired, after months where the writing was all over the wall in big, "no TV and no beer make Homer go crazy" characters.
The Flames have finally laid the groundwork for a complete organizational rebuild, albeit three or four years too late, but rebuilds take a long time to complete, and this season will be just the first of many years of frustrating hard work.
Sven Baertschi, Sean Monahan and other promising youngsters will be given a plethora of chances to take charge on the ice, but most of the Flames' best prospects are still very raw, and none have the game-breaking abilities that players like Sidney Crosby or Alex Ovechkin had in their rookie campaigns. Newly-hired Brian Burke and his decades of NHL experience will be a valuable asset, but despite his publicly stated commitment to winning, his presence won't fix the on-ice problems that the Flames will face this season.
When you have Matt Stajan (yes, the same Matt Stajan that only scored 23 points in 43 games last season) garnering serious consideration for the role of the team's #1 center, well…that really says it all, doesn't it?
Yet, despite all of the adversity that the Flames are facing (come on, Matt Stajan? Seriously?), the team has made it clear that they aren't exactly going to roll over and play dead this season, especially with the zealous Burke and all of his barn-related pugilism antics now in the picture.
Do the Flames, a team that is being predicted to finish 30th in the NHL this year, have any chance at all of making the playoffs?
Yes, they do, but those chances rest primarily on the shoulder pads of one man: 27 year-old goaltender Karri Ramo.
Ramo has spent the last four years as the #1 goalie for the KHL's Omsk Avangard, and has thrived as one of the league's top netminders in that time. His final save percentages over those years were .913, .925, .925, and then an even better .929 last season. Ramo last played in the NHL for the Tampa Bay Lightning in 2008-2009, but is now back in North America and will be the de facto #1 goalie for the Flames this season.
It is often said that the goalie is a team's most important player on the ice, and that is sure to be the case for the Flames this season. Calgary is dangerously lacking in star power in both the forward ranks and on the blueline, so they aren't going to win a lot of games by overpowering teams offensively or completely shutting them down defensively.
That leaves Ramo as the team's last, best hope.
If it seems risky to place all of your hopes on a goalie with 48 games of NHL experience, well…it is. It's incredibly risky. But right now the Flames don't have much of a choice.
That isn't to say that all hope is lost, however. Goaltenders have the ability to single-handedly carry teams, and have done so many times in the past.
One need not look any further than the 2013 Columbus Blue Jackets as a perfect example of this. The Jackets were almost universally projected to be the NHL's single worst team last season due to a lack of depth and talent,  but still managed to finish in 9th place in the West with 55 points, losing the 8th place playoff tiebreaker to the Minnesota Wild, who also had 55 points.
The 2013 Jackets were a team with far more problems than the 2013-2014 Flames will have, but managed to stay competitive thanks to the Herculean efforts of goalie Sergei Bobrovsky, whose 2.00 G.A.A. and sparkling .932 save percentage won him the Vezina Trophy as the league's top goaltender, and very arguably could have won him the Hart Trophy as the NHL's Most Valuable Player.
(One could also, in the same vein, bring up the 2004 Stanley Cup finalist Calgary Flames and the heroics of Kipper that year, but I'm not going to do that. That happened during the Dead Puck Era, and I'd also feel bad getting the hopes of Flames fans up that high)
While it's not fair to compare Ramo with Bobrovsky, their situations are almost identical. The Jackets eventually settled into a system of safe, steady, team-wide commitment to defense designed to support their budding superstar goalie, and it worked with quite a bit of success.
If Flames head coach Bob Hartley decides to do the same, the Flames might be able to surprise quite a few people and be a competitive team. Safe, defensive hockey isn't popular or exciting to watch, but Calgary's fanbase has (whether rightly or wrongly) come to demand at least a modicum of success out of their team. The Flames don't stand a chance at beating teams 4-3 or 5-4, but could become capable of beating them 2-1 or 1-0.
All of this, once again, depends on Ramo. Ramo will need to replicate his KHL success and regularly keep his save percentage north of .920, with the help of the players in front of him or not. Journeyman netminder Joey MacDonald will finally, at the age of 33, be rewarded for years of patience and hard work in the minor leagues with his first full-season NHL gig as Calgary's backup, but despite the positive hockey karma that will stem from that, isn't a goalie that can be heavily relied on.
This season for the Flames is sure to be rockier than the nearby Rocky Mountains, but the proverbial mountain will not be insurmountable, as long as the structural integrity of their most important safety harness, Ramo, stays intact. After all, it's a long, long way down to the bottom.
The NHL regular season schedule was released on Friday. Check out our partners at TiqIQ for the best deals on Calgary Flames tickets for all 2013-14 games.