With the start of the OHL season just weeks away, we look at who some of the top teams and players are as well as some that could surprise in the Eastern Conference.
The landscape in the East has changed going into 2013-14 with some of last year's top teams like Belleville, Niagara and Oshawa losing a number of top players to graduation. Whereas young teams like Kingston or Peterborough will be looking to improve on their results from last season.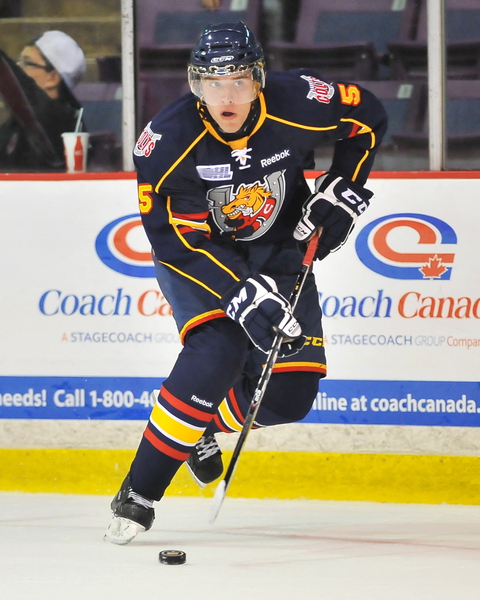 Top Contenders:
Barrie Colts
The Colts may not be the team that they were last year, but they'll still be good. They came oh so close last season, falling a goal short of a trip to the Memorial Cup and will be looking to make amends this season. With the OHL hosting this season, that opens the door for an additional OHL team to get a berth and a better shot at it.
Losing star Mark Scheifele and Anthony Camara certainly hurts, as well as other significant losses in captain Ryan O'Connor and goaltender Mathias Niederberger.
There is much room for optimism in the 2013-14 season, however, as they do have a number of pieces returning. Top scorer Zach Hall and Mitchell Theoret are eligible to return as overagers, and the team is hoping for big things out of talented forward Andreas Athanasiou who had 25 points in the Colts playoff run, and will now be 19.
They also have Aaron Ekblad leading their defence group, and he could be one of the top defenders in the league this season, if he isn't already. They also have talented young forwards like Brandon Lemieux, Erik Bradford and Josh MacDonald, not to mention top draft pick Matthew Kreis that will have expanded roles.
The main question mark will be in goal where 17 year old Alex Fortinos will have to prove he's capable of carrying the load.
Sudbury Wolves
The Wolves lose very little from their 2013 playoff team, and believe this is their year to win the East. Their top two forwards in Matthew Campagna and Nick Baptiste return with both, especially the latter, primed for big breakout seasons.
Brody Silk is another forward with top six talent they are expecting big things from, however with a recently suffered dislocated shoulder there are reports he could be out for the season. They also have solid offensive forwards in Nathan Pancel and imports Dominik Kahun and Dominik Kubalik.
The Wolves have also recently brought in some additional help, acquiring forward Connor Crisp and overage offensive defenseman Jimmy McDowell from Erie to bolster the lineup. Crisp will add some size and strength to their top six and McDowell will help fellow overager Kevin Raine anchor the Wolves defense.
Returning in goal is veteran Franky Palazzese, who was solid for the club last season and will hopefully be a stabilizing presence.
The Wolves have a solid returning group and with a couple potential in season pickups, could push for one of the top spots in the Eastern Conference.
North Bay Battalion
There is a lot to be excited for in 2013-14 for the Battalion. For starters, they're in a new/old home as North Bay welcomes back a junior franchise. The team will also have a solid returning core and some impressive talent on the roster.
The big thing that Battalion fans are waiting for is whether captain and top scorer Barclay Goodrow will return to the team or stick at an NHL camp. If he is back in uniform and wearing the "C", the Battalion will be deep and talented up front. He is currently at the Detroit Red Wings camp and could sign with Grand Rapids on an AHL contract. They are still a talented group without him, but he could be what puts them over the top.
They also have a few forwards entering their second seasons that are expected to take on a larger role. Lead by projected 2014 first rounder Blake Clarke, who was impressive in his first OHL season with 51 points. There is also forwards Nick Paul and Mike Amadio who are expected to take steps forward their second seasons. Add in third year forward Brandon Robinson and it's the makings of a strong group.
Jake Smith who shared duties with Matej Machovsky as a rookie last season will take over as the starter. He looked good at times last season and will need to prove he's a #1 OHL goaltender for the Battalion to take a long run.
Team To Watch Out For:
Kingston Frontenacs
The Fontenacs are young, but they have an incredibly talented group of '96 born players that will be eligible for the 2014 draft. The group is led by forwards Sam Bennett and Spencer Watson and defenseman Roland McKeown, all of which are projected to be first round picks in 2014. They also have the talented but inconsistent Ryan Kujawinski, who could be ready to put it all together and be a top impact player.
The main concern is in goal where the newly acquired Matt Mahalak will get a chance to prove he's a legitimate starter in the league. More than that though, is the team defense in general, where they gave up 270 goals as a group last season. If they can improve that number they could surprise a lot of people. They may not be this year's Halifax Mooseheads, but with a number of last year's top Eastern teams in rebuild mode, they have a chance to make a charge.
Players To Watch:
Scott Laughton (Oshawa Generals): It's debatable whether he will be back for another OHL season or spend the year in the NHL with the Flyers. He certainly impressed in his brief stint last season, but will have some other young forwards to jump over on the depth chart. If he is back he will be a force in the East and likely a Canada WJC member. Already losing top players Boone Jenner, Lucas Lessio and Tyler Biggs, the Generals may be in trouble if Laughton doesn't return.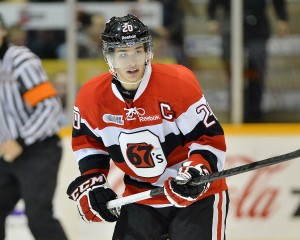 Sean Monahan (Ottawa 67's): Ditto for Monahan. Similar to Laughton, the 67's fortunes will be tied to Monahan although the difference is that the 67's are likely in trouble with or without Monahan. If he returns, he will be one of, if not the most complete forwards in the league and also a Canada WJC member.
Brendan Gaunce (Belleville Bulls): Another NHL first rounder, Gaunce is another complete package and a 33 goal scorer last year for the Bulls. He will be interesting to watch based on his talent as well as where he ends up. With Belleville likely in rebuild mode he could be a pickup to put a contender over the top.
Aaron Ekblad (Barrie Colts): At just 17 years old, Ekblad is already entering his third OHL season. He has been impressive in his first two putting up 29 and 34 points respectively as a 15 and 16 year old. He was also a +29 last season for the Colts and played on the top pairing as well as PP and PK duties. The scary thing is that he is only just eligible for the NHL draft in 2014 and keeps getting better.
Breakout Players:
Andreas Athanasiou (Barrie Colts): One of the more gifted players in the league, he has incredible hands and offensive instincts. Started to put it together in Barrie last season and with the loss of Scheifele and Camara, will be expected to take a front and centre role in the team's offence this year.
Nick Baptiste (Sudbury Wolves): A big, strong power forward, Baptiste got better and better as the season went on for the Wolves. He's a strong and powerful skater who has a nose for the net. He was voted the most underrated player in the Eastern Conference in last year's coaches poll, you can bet he won't be underrated this season.
Nick Ritchie (Peterborough Petes): A budding power forward eligible for the 2014 draft, he is similar to his brother Brett Ritchie in many ways. The scary thing is that Nick is the more talented of the two. Considering how dominant Brett was for Niagara last season, that's saying something. Injuries limited his games last season, but a healthy 2013-14 could make Nick Ritchie a force in the league.
Impact Rookies:
Travis Konecny (Ottawa 67's): The top pick in the OHL draft has a tremendous amount of skill and all the tools offensively. He put up 180 points in 81 games last season as a midget. He will be an impressive 1-2 punch with Monahan, of he's back, and if not Konecny will give 67's fans something to watch at least.
Sean Day (Mississauga Steelheads): The first player granted exceptional status that wasn't drafted first, that doesn't mean Day doesn't have that kind of potential. He went #4 to Mississauga instead and the Steelheads are thrilled to get the blueliner. Day has exceptional skating ability and should impress from the start.
Matt Spencer (Peterborough Petes): The third overall pick in the draft and the first defenseman taken, one spot ahead of Sean Day, he will look to replace the void left by the departure of Slater Koekkoek in Peterborough. He will also have to prove to the Petes they didn't make a mistake taking him over Day.
*Also check out OHL Preview: Western Conference 
_____________________________________________________________________
Follow Carl on twitter @maloney3383 and Google+ for more articles.
Carl covers the Edmonton Oilers for THW as well as providing additional prospect coverage. Follow him on twitter @carlTHW, connect on Facebook or contact at carl.maloney@hotmail.com for questions, comments or if you're interested in him writing for you.