There's certainly no shortage at the center position for the Philadelphia Flyers as the team prepares for the 2013-2014 season.  After signing free agent Vincent Lecavalier thanks to a Tampa Bay buyout, the team has six potential centers as it gets set for the start of training camp next week.
Highly touted, former 2012 first round draft pick Scott Laughton is one of those centers and in just his second year with the Flyers' organization, the 6-foot-1, 177 pound, 19-year-old is looking to make an impact.  With captain Claude Giroux's opening night status not yet known, it might very well open an additional roster spot to start the campaign, allowing Laughton to once again steal a spot to begin the season.
Last year Laughton impressed coach Peter Laviolette in training camp – so much so that he earned a spot with the team to start the season.  In five games with Philadelphia, he didn't register a point on 10 shots but delivered several glimpses at what the future could potentially hold, given his talent.  Laughton went back to the Ontario Hockey League after his brief stint with the Flyers and there he finished with 56 points in 49 games with the Oshawa Generals and led the team in postseason goals, assists, points and plus-minus.
He also spent a short stint with the Adirondack Phantoms of the American Hockey League, where he netted one goal and two assists in six contests.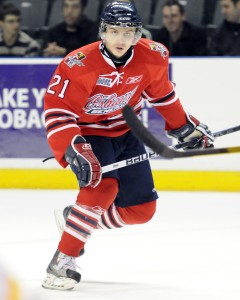 Though his size might still remain a bit of a concern, Laughton is quickly developing the tools to become a quality center in the National Hockey League.  He might not be as well rounded as some of the Flyers' other young centers like Sean Couturier and Brayden Schenn, but with so much potential he could make the team as a player on the bubble.
Laughton is a two-way skater, though his talents are more on the defensive side of the ice.  He plays a smart game and isn't afraid to get gritty.  Of course his talent still needs to develop but if he continues his solid work ethic, he could, over time, become one of the better second or third line centers in the league.
If he does make the team, it likely wouldn't be permanent – unless he sets the league on fire, of course.  Laughton could serve as a good replacement in Giroux's absence and potentially play in a few more games as compared to last season.  But when all is said and done, it would make the most sense for the Flyers to send Laughton back down in order to give him time to blossom and develop his skills.  Though I believe he will start the season in Philadelphia, if Laughton does fail to make the big club, he will once again return to Oshawa for another season and will likely earn a spot on Canada's team for the 2014 IIHF World Junior Championship.
Ed is a die hard sports fan from Philadelphia who follows all of the city's local teams. He has written for a number of print and internet media sources and is a hockey junky. When he is not watching a game, he is spitting out useless trivia knowledge, or upholding his title as movie quote extraordinaire. You can follow Ed on Twitter @PhillyEdMiller.