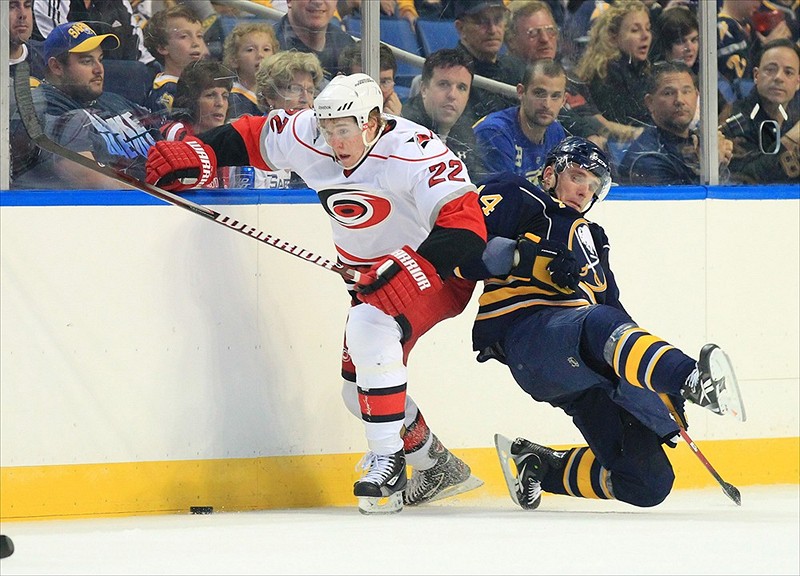 The Carolina Hurricanes have failed to make the playoffs over the past few seasons primarily because of one reason – a porous defense that ranks among the league's bottom. Last season, they were 26th in shots against and 29th in goals against. Clearly, this is not the recipe for success. GM Jim Rutherford was mostly inactive this summer, and has stated that he has no real plans to add more pieces to the team, even though this do have cap space. The team's strength is clearly their forward core. With stars like Eric Staal, Jordan Staal and Alex Semin, complimented by the young Jeff Skinner and possibly Elias Lindholm, there is really no more space to add another forward even if they wanted to.
The one move Jim did pull this summer to address the defensive issue is to trade for defensemen Andrej Sekera from the Buffalo Sabres on draft day. The trade sent 25-year old Jamie McBain along with a 2nd round pick for Sekera. For Buffalo this is a no-brainer. They had a huge surplus of NHL-ready defensemen, even before they reacquired Henrik Tallinder from the New Jersey Devils. There is simply no room in Buffalo for all their defensemen, and getting a 2nd rounder back is fantastic value. However, that does not mean that Carolina did not also benefit from this trade.
First off, let's talk McBain. He has played parts of 4 seasons so far, and at 25, there's still room for improvement. Now his defensive game has never been his strong point. He wasn't a complete liability compared to his other teammates, but he definitely was not a defensive stalwart. Interestingly enough, the Canes had several players who more or less had the exact same game as McBain. The two I think of immediately are Marc-Andre Bergeron and Joe Corvo. Bergeron is a noted PP specialist, and Corvo was most known for his big shot from the point. Neither player was particularly reliable in their own end, just like McBain. Interestingly enough, Bergeron recently signed in the Swiss League, and Corvo has recently resigned with the Ottawa Senators. This clearly shows that Rutherford is trying to move away from one-dimensional defensemen. The philosophy of having primarily puck-movers at the back end clearly has not worked out for this team, and this is a positive direction for the team. The team also has Ryan Murphy waiting in the wings, who is pretty much the same mold as McBain, though perhaps with a bit more upside.
The 2nd-rounder that was included in this trade is the only real down-side in this trade for the Canes.  The 35th pick that was given to Buffalo does actually hold quite a bit of value. The forward Buffalo added, J.T. Compher, was projected to be picked up somewhere at the end of the first round. I'm not saying the trade was lopsided, but Carolina had to give up quite a bit of value to land Sekera. Of course, if he pans out, this is all water under the bridge.
So what do we know about Andrej Sekera? The 27-year old has played parts of 7 seasons in the NHL, and has been plagued with injuries. The defenseman has never played more than 76 games, and that is a huge concern to the Canes. Their top veteran defensemen, Joni Pitkanen, is already considered pretty fragile. Jay Harrison and Tim Gleason have also missed several games over the past few seasons, though not to the extent that Pitkanen has. This team can't expect Justin Faulk to eat up all the minutes every night, and Sekera's durability moving forward will be a huge part of whether this trade is deemed a success or failure.
Sekera is known as a two-way defenseman who can eat up a decent amount of minutes. He usually plays over 20 minutes a night (last season averaged 21:12), and while his shot is not elite, he does have a pretty good passing game. His career highs in points came in 2010-2011, when he scored 3 goals and 26 assists in 76 games. Sekera has the ability to join the rush, and is smart enough to usually not be caught out of position. Sekera is not going to be the game-changer Carolina needs to be considered a true Cup contender. He would likely be a 5/6 defender on a top team, but he will asked to log top-4 minutes this year for the Canes. With the continued development of young star Justin Faulk, and the eventual emergence of prospects such as Ryan Murphy and Michal Jordan, Sekera could see himself drop in the depth chart by the time his current contract is up (end of 2015). His cap hit is quite manageable, at only 2.75M. However, the best thing about this contract from a cash perspective is that most of this money has already been paid via signing bonus by the Sabres. The Canes will only have to pay Sekera 1.75M for the last two years of his contract, which is huge for a team that doesn't have that much money to start.
All in all, I think Carolina overpaid for a solution they desperately needed. If Sekera works out fine as a top-4 blueliners, then no one will criticize Rutherford for filling a hole the team desperately needed to. However, the asking price was quite steep. Consider, for example, that there are still many serviceable defensemen left out there in free agency. A great fit would have been Ron Hainsey, who could easily fill a top-4 role. I would argue that Hainsey is a better overall player than Sekera who also has stronger leadership attributes. Other veterans such as Wade Redden, Ryan Whitney and Radek Martinek still remain on the open market, though these defensemen would fill a 5/6 slot.
Luckily, we won't have to discuss these kind of deals so often in the future, as NHL training camps and preseason games are just around the corner.
Alex is a Lead Writer for the Toronto Maple Leafs. Since joining the Hockey Writers, he has also briefly covered the Carolina Hurricanes. He also currently works as an assistant for the Western Mustangs at the University of Western Ontario. Follow him on Twitter @alexmai11.