The NHL is set to open training camps in just over a week. With the summer spending spree all but over, teams must now evaluate their latest transactions, as well as their established pieces, in order to name a starting roster for the October 1st and 2nd season openers.
The Detroit Red Wings had a fairly busy off-season. The re-signing of Pavel Datsyuk, the Free-Agent Frenzy signing of Steven Weiss, and the addition of the legendary Daniel Alfredsson all high-lighted the busy summer that Ken Holland and the Red Wings organization under went.
With Detroit ready to begin a journey of seeking their 23rd straight year of making the playoffs, here's a look at five players you should be keeping an eye on during the month of September.
[See Also: A Preview To The Red Wings In The East]
For having such a long career (17 years to be exact), surprisingly this is only Daniel's second team. Adjusting to his new surroundings in the Motor City may be a slight issue, but with his experience and fellow country-men (Zetterberg, Kronwall, and Ericsson) helping him get accustomed, he should fit in just fine. He struggled for a good portion of last season in Ottawa as his centre-man, Jason Spezza, suffered from a herniated disc, so his acquaintance with either Pavel Datsyuk or Steven Weiss should pay huge dividends for himself and the Red Wings. What you really need to watch for is whether he can still keep up at 40. We haven't seen many make such a large impact at 40 years of age (Martin Brodeur continues to at 42), but if there's one player who hasn't showed huge signs of fading, it's Daniel. Keep an eye on him in camp; his level of play will determine whether he plays key second line minutes or fill third line checking duties.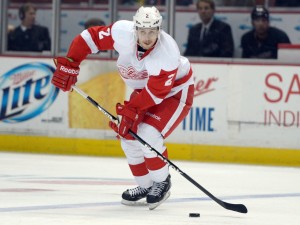 Brendan Smith: 
He's only been in the league for two years, and he's only played a total of 48 games. Brendan Smith hasn't been the Red Wings best defence-man, but surely he hasn't been their worst either. He's still young and promising at 24, but how long does a team wait for a former first-round pick (27th overall in the 2007 NHL Draft) until they pull the plug? Because he has yet to play the equivalent of a full NHL regular season, the Wings may decide to take a little more time to assess their young blue-liner. He's big and relatively a solid presence in his defensive zone. What we need to look for the next couple weeks is whether he can elevate his game to crack the second defensive pairing. I'd like to see his solid stay-at-home style with a more offensive-savvy guy like Jakub Kindl (who also just inked an extension with Wings this summer). He just hasn't found his groove yet. This may be his season, and if it is, the Red Wings defence will be that much stronger.
Tomas Tatar:
The young Czech has barely seen any NHL action, but in his time in the AHL, he's been a steady offensive presence with the Grand Rapids Griffins. He's registered close to, or over 50 points in three of his four seasons there, and was also tied for the team lead in scoring in 2011-2012. He's a silky smooth player who loves to skate and has a nose for the net, and on a line with Joakim Andersson and Gustav Nyquist he's surely set to fly. It will be interesting to see whether he can translate his AHL success to the NHL, something that has troubled promising prospects for many years. Look out for him in the Red Wings' first couple of pre-season games. He's a player I think Mike Babcock will want to take a close look at on the third, or even second line. If he struggles to adapt to the faster and more physical style in the NHL, we can most likely expect him to be sent back down to Grand Rapids.
Like Daniel Alfredsson, Samuelsson is another Swede who is getting fairly long in the tooth. The difference however, Mikael is an injury magnet. He has not played even close to a full season since 2010, and when he is healthy, he's extremely inconsistent and fails to provide any substantial scoring. As another older player on the Red Wings roster, the 36-year-old needs to prove a lot in September, especially with many younger players (like Tomas Tatar) who are making a push for the NHL. So what should we be watching for come training camp? Look for how he responds after a long layoff from consistent minutes; he only played 5 games in the playoffs earlier in the summer. Also look to see how he reacts to fellow Swede Daniel Alfredsson, who is vying for the same position and roster spot as he is.
There's not much reason to believe that the man they call 'The Monster' will develop into the #1 goaltender many thought he would be. Only one good season in Toronto, mixed in with extremely poor seasons there and last year in Detroit proves that at his best, he's only a decent back-up. That is why during the month of September, he will really have to show-case his large presence in net in order to prevent Petr Mrazek from bumping him off the depth chart.. For a bigger goaltender, Jonas is extremely mobile, but his rebound control has let him down in the past. I would expect Mike Babcock to roll with Jonas early on in the pre-season and training camp as he rests his go-to tendy, Jimmy Howard. Not only his job with the Red Wings but possibly his job in the NHL, are dependent on how well he plays in September. Keep a close eye on the Monster.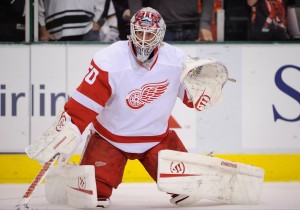 The NHL regular season schedule was released on Friday. Check out our partners at TiqIQ for the best deals on Detroit Red Wings tickets for all 2013-14 games.