The free agent frenzy that was supposed to be celebrated here in the Nation's Capital has turned into a city of heart break.  On Friday it felt as if a 5.0 magnitude earthquake struck the city and left a shock wave this city has never seen before. Merely 3 days ago all the chatter you'd hear while waiting in line at Tim Horton's was "no way Alfie will sign anywhere else, Ottawa and Alfie will find a way to get a deal done".  This past weekend felt like the aftermath of an ugly divorce as Ottawa watched Daniel Alfredsson sign with the Detroit Red Wings for a 1 year deal worth 5.5 million dollars.  Alfie warmed Sens fans hearts for so many years but this latest twist of fate has no doubt thrown a curve ball on his legacy here in Ottawa.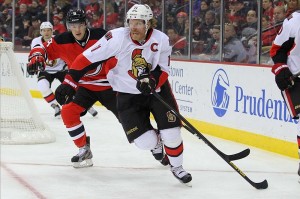 How the Negotiation Process Went Downhill
"How dare he leave us" echoed many angry people in Ottawa at around noon on Friday with the most of the blame pointed at the Ottawa Senators management. With over 20 million dollars in cap space fans pointed the fingers at Eugene Melnyk and Bryan Murray. Everyone wanted to know how Bryan Murray managed to let this deal fall through. Everything was answered when both Bryan Murray and Daniel Alfredsson spoke to the media after the deal.
Murray walked up to the podium and the look on his face said it all. He had bags under his eyes the size of parachutes and his voice and tone sounded like a man who had tossed and turned all night.
Murray  balked at Alfredsson's agent, JP Barry's first offer and Essentially, after the two discussed money,  both sides began to realize they were going their separate ways. End of story.
It looked as though Alftedsson would be  one of the last men to play his entire career with one team. When he says "and then our negotiations went a few days, and I just started thinking" it signaled that this is a  player that has had this at the back of his mind and he knew his heart wasn't in it anymore.
Money, greed and ego have replaced the loyalty, dedication and commitment which were once the  common currencies in professional sports. And the Alfredsson saga  is a perfect illustration of that.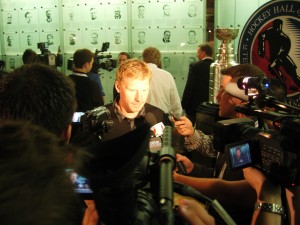 One Draft Bust Was Saved By A 6th Round Pick
Fans and maybe Ottawa management felt all too comfortable and were certain there was no other jersey #11 could ever don. The city knows him as the man who wore the C on his chest for 14 out of his 17 seasons as a Senator and put this young franchise on the map. When there was a crisis brewing Alfredsson always had an answer. In the 1993 entry draft Alexander Daigle was supposed to be the face of the franchise when he was selected 1st overall. The Sens got a rude awakening as Daigle went on to become one of the biggest busts in NHL history only managing to produce 172 points in 303 games played for Ottawa. What scouts hoped for in Alexander Daigle,  they ultimately found a year later in the 6th round at 133rd overall. Rookie camps came around after the draft and a young Alfie was blowing the competition away. The team knew they had found a gem but were tight for cash and thought about sending the young gun down because of his two way contract. Quickly that decision changed and the team was forced to keep him and he didn't disappoint, winning the Calder trophy in his rookie season.
Alfie Stayed the Course During the Franchises Worst Days
Before he was captain Ottawa had a public hatred for the previous captain,  Alexei Yashin. Yashin was a public relations nightmare and sat out for the entire 1995-1996 season and tarnished the Sens organization to the point that the team suspended him for the entire 1999-2000 season. The one guy who kept the locker room together was Alfredsson. Through all the lean years of the mid 90's he never asked to be traded,  never once complaining about his situation.  During the 2002-2003 season owner Rod Bryden filed for bankruptcy and the team had weeks where they wouldn't receive their pay cheques. Despite being a league wide embarrassment off the ice, Alfie and the Sens won the President's Trophy and were one goal away from the Stanley Cup Final. Alfie was here during the Dany Heatley debacle in 2009 where he abruptly asked for a trade. When the Sens went through all the coaching changes from 2007-2011 Alfie righted the ship and stuck around for the rebuild. Needless to say wearing the C was never easy during his stay in Ottawa.
Broke Every Franchise Record
Through all the turmoil,  the team had many years of promise and under #11's leadership,  Ottawa has been a competitive team ever since the C was stitched on his jersey. He leaves Ottawa as our leader in every major stats category. He is the Senators all time leader in goals (426), assists (682), points (1108), and games (1,178). Don't forget he has 69 game winning goals, was the first player to ever score in the shootout in a 3-2 win over the Leafs in 2005, and accumulated 131 power play goals.
Answered Senators Playoff Demons
Burdening most of Ottawa's playoff struggles was also part of Alfredssons tenure here in Ottawa. Sometimes he shouldered the blame when things went wrong in the battles of Ontario. He will forever be the one Leaf fans love to hate but Ottawa fans wouldn't have it any other way. The picture most Sens fans will carry with them is the goal he scored against Buffalo in the 2007 Eastern Conference Final. The goal is still fresh in fans minds. Watching Alfie attack the Sabers blue line and waltz in to the attacking zone and deciding to take on 3 Sabers all by himself. It was a risk that paid off when he buried a low shot glove side past Ryan Miller in over time to send the Senators to the Stanley Cup Final for the first time in franchise history.  Past playoff failures went to rest for that moment putting behind years of winning the Presidents trophy and bowing out early. Alfie also became the first European captain to lead his team to a cup final only to lose to the eventual champion Anaheim Mighty Ducks.  Anaheim was as deep as ever that year and Alfie fell short despite leading all players in goals in the playoffs with 14 at age 34.
Thoughts of 2007 were probably in his mind when deciding where to sign for next season. During that playoff run he looked as though he was 26 and had found the fountain of youth. But Funny what 6 years can do to a hockey players body and attitude.
Alfie Felt it was Time to Step Down
Fast forward to where Alfredsson stands now. Turning down a blank cheque from Bryan Murray and deciding to go with a division rival. It has left Ottawa fans calling our former captain selfish, careless, and a back stabber. Many question his legacy but that should never be in question. "If this is my last season, I don't want to change anything that's going on there," Alfredsson said. "I don't want to demand Bryan or Eugene to … They're going to have to make a push for me here to go for it. I think there are too many good things going on. They stay the course in what they're doing there. The torch is going to have to be passed at one time pretty soon, anyway, and that's pretty much my reasoning for deciding to go and look somewhere else."
From these words you know that deep down it's not about the money but he wants to win a Stanley Cup and after being such a class act for 17 years he has earned the right to do whatever he wants. For years he was unselfish, dedicating countless hours to children's charities along with being the cities spokesperson for mental health awareness. He knows his career is winding down and knows the torch will have to be passed eventually. His decision to sign with Detroit isn't selfish but shows how modest the captain is. He is too kind to tell the team how much he wants. There is no price tag for a player who won the Mark Messier award for leadership this season. He will now have the chance to play with fellow countrymen Henrik Zetterberg and Niklas Kronwall and many other Swedes. He'll bring experience to Detroit's locker room but won't have to be the main voice. Alfie helped groom the young re-tooling Senators and now he is telling Ottawa it's your turn to build something new.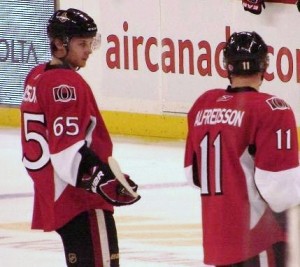 His Legacy Will Never be Forgotten
That to me is how I view his legacy. He loves Ottawa enough to let it go. He loves this city enough to leave, when he himself knows he can no longer wear the C.
Right now the fans won't see it that way and are only looking at Alfredsson as the one man that could never let them down. When Alfie appeared on the Jim Rome Show in May, Rome stated that he had never had so many callers and people tweeting him for a special guest. Wonder how he'd be received now if he were to appear on the show again. He is now cast as a coward for not finishing the job and leaving for no return. You can't blame him, in today's society you no longer see people working the same job for 30 years, today people change jobs more than ever. So why is this any different? It's professional sports and it's sadly  a business. In a perfect world the fairy tale ending would have been for Alfie to retire as a Senator but that's not how sports work. Wayne Gretzky finished his career as a New York Ranger and Michael Jordan finished his career as a Washington Wizard.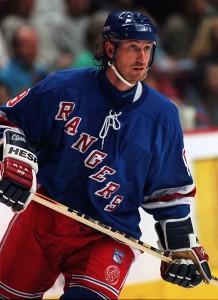 Alfie may have the biggest impact on Ottawa compared to any other athlete in any city.  So why question his legacy when clearly he built one unlike any other this city has ever seen. A small market like Ottawa has been blessed to have the opportunity to watch Daniel Alfredsson represent our team so proudly. Detroit got themselves a hell of a player but they only have him for one year, Ottawa is where his legacy was built over the course of 17 years.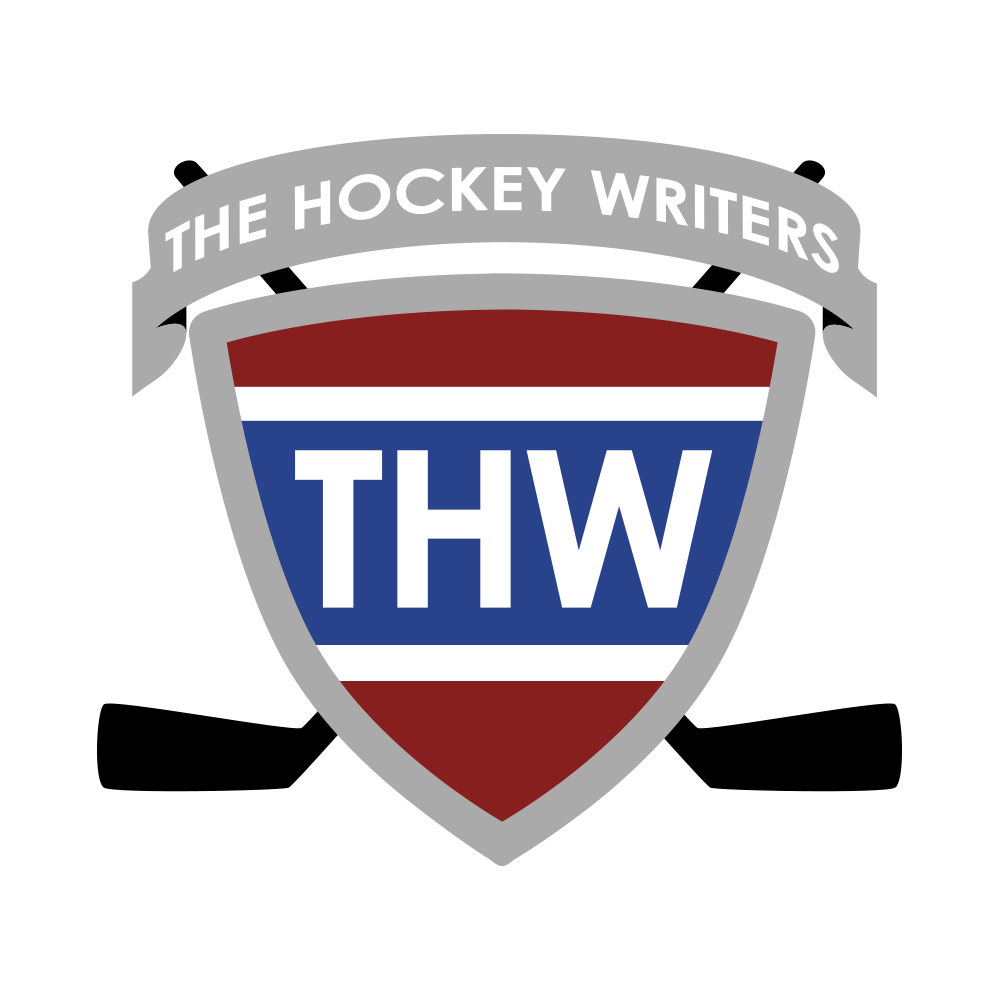 The Hockey Writers is:
1) A top-tier hockey media company delivering a top-notch, in-depth look at the NHL
2) A collective of some of the best hockey writers anywhere
3) A multimedia provider with daily podcasts and YouTube shows
4) Well-respected and widely-cited NHL prospect and draft resource