The Tampa Bay Lightning sure do have a lot to look forward to in the future due to their highly skilled prospects and AHL affiliate the Syracuse Crunch.  There is no doubt that the organization has the tools to become a powerhouse for years to come based on the Crunch alone who lost to the Grand Rapid Griffins in Game 6 of the Calder Cup final this past season.  However the biggest news to come out of Lightning this summer was seen in person for the first time on Saturday morning.
Johnathan Drouin Hits the Ice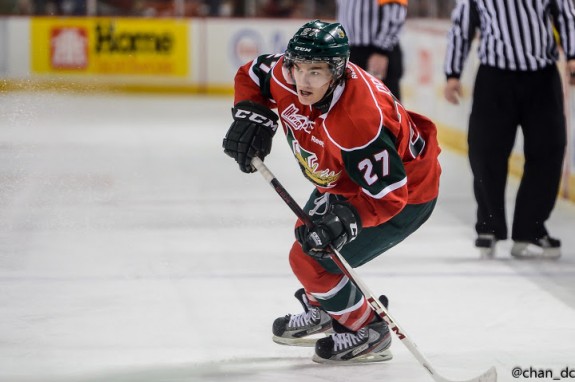 The 3rd overall pick of the 2013 NHL Entry Draft and top Lightning prospect is Jonathan Drouin, who was an invaluable playmaker for the Halifax Mooseheads of the QMJHL last season, which may sound familiar as the team had 4 players selected in the first 2 rounds, including number 1 overall pick Nathan McKinnon (who was Drouin's line mate).  Drouin is a dynamic forward who has been compared to Martin St. Louis, and who has already impressed Lightning coaches with his speed, size, and vision on the ice.  Drouin gets his first taste of an NHL training camp this week in front of an almost standing room only crowd, and so far he has showed why he is expected to break the lineup, and possibly even gain a considerable amount of ice time this coming season.
Last season with the Mooseheads the 18 year old stunned teams around the CHL (Canadian Hockey League) with his quick hands and his ability to make plays in all situations.  He finished the season with 105 points in only 49 games played, which is an astounding average of 2.14 points a game, and a stat that makes any Bolts fan anxious to see Drouin on the ice.  He still needs to pack on a little mass to help his 5 foot 10 inch frame stand up to the rigors of a full NHL season, but if this week's prospect camp tells us anything, expect Jonathan Drouin to do whatever it takes to make his mark on the NHL as soon as possible.  If he can stay healthy, look to see him fighting for Rookie of the Year honors playing alongside St. Louis and Stamkos, or possibly with recent trade acquisition Valtteri Filppula for much of the season.
Matthew Peca Set to Bring Quinnipiac Back to NCAA Championship Game
The Tampa Bay Lightning's 7th round (201st overall) pick of the 2011 NHL Entry Draft could not be any more perfect for a team focusing on electrifying offense, than power and finesse forward Matthew Peca.  Peca has been known for having a true knack for scoring, and for being a big game player.  There is one thing that has been certain throughout his career, he knows how to win and always helps his team compete.  Peca was a huge reason why the Quinnipiac Bobcats of the ECAC made it to the NCAA National Championship game last season, and why they are poised to make a return trip this year.  His vision of the ice and playmaking ability continues to develop each season which has helped him gain international praise.  Now that he is entering his Junior year at Quinnipiac, look for him to continue his dominance, and to soon  make an impact alongside Drouin (most likely by the Lightning's 2015-2016 campaign).
Matthew Peca may choose to graduate with his fellow Bobcats before making the jump to the NHL ranks, but it will be time well spent.  The lefthanded winger needs to continue to focus on developing his skill set so that he can easily make the transition to the Lightning without missing a beat, and so that he can be a dynamic playmaker for head coach Jon Cooper.  His size leaves something to be desired (5 foot 9 inches, 169 pounds) but his compete level is next-to-none and he seems to make plays out of thin air which will definitely be a major asset on one of Tampa's top lines.  The most impressive piece of his game may lie in his attitude which shows his determination to better himself, and to stay a student of the game.  He has even paid his own way to each of the last 3 Lightning Development Camps (every one since being drafted in 2011) just to maintain his NCAA eligibility.  This shows his respect of the game and of his current and future teammates, a quality that will get him far in his career.  He will also need to bulk up over the next season similar to Drouin to make sure he can perform night in and night out, but his leadership and dominant play at such a young age gets coaches excited to see him in the lineup sometime soon.
Overall Jonathan Drouin and Matthew Peca are my top rated Lightning prospects due to their dominant playmaking capabilities and compete levels.  Both of these players will likely be high point contributors, especially as set up men for Stamkos and St. Louis, as long as they can stay healthy in this hard hitting physical league.
Mike has covered the St. Louis Blues and Tampa Bay Lightning in depth for The Hockey Writers since 2013. He is also a contributing writer for KSDK News Channel 5, the St. Louis area NBC affiliate, and has been a credentialed media member of the Blues since 2014. Follow him on Twitter @pep30.