It has been almost 20 years since the underdog New Jersey Devils stunned the hockey world by sweeping the heavily favored Detroit Red Wings in the 1995 Stanley Cup Finals for the franchise's first championship. Since then there haven't been many (if any) occasions when the same group has been together in the same place.
Here is the final minute of that special night in New Jersey in June of 1995:
Perhaps the closest they came was in 2009 when they had a brief ceremony at the Prudential Center before a game with the Red Wings. Ken Daneyko, Jim Dowd, Bruce Driver, Chris McAlpine, Mike Peluso and Valeri Zelepukin were players who returned and stepped out on a red carpet over the ice for the pre-game festivities; Daneyko a.k.a. Mr. Devil dropped the ceremonial first puck. Martin Brodeur and Brian Rolston also were on that championship team and played in the game that night.
Here is the visual evidence of the night honoring the 1995 New Jersey Devils:
A bunch of the players from that team also rejoined a few weeks ago on a team-sponsored cruise:
Great time on cruise with fans and my old teammate Mike Peluso! I couldn't have picked a better guy to come along! #classact @NHLDevils

— Ken Daneyko (@KenDaneykoMSG) August 19, 2013
If you have ever wondered were the players from that memorable 1995 New Jersey Devils championship team are nowadays, look no further, the Hockey Writers have you covered.
Goalies:
Martin Brodeur – The three-time Cup winner is the only active player left from the '95 Champs and is in possession of nearly every major goaltending record.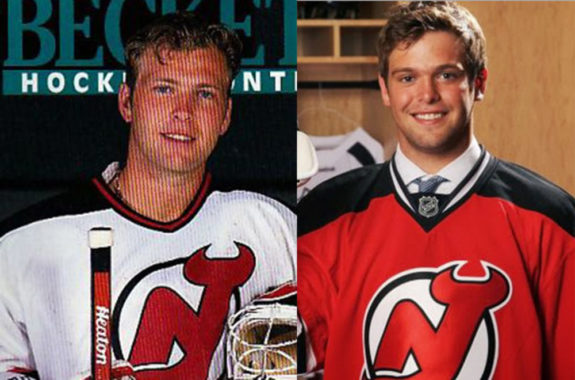 Chris Terreri – The Devils no.1 goalie before some guy named Brodeur came along is currently the goaltending coach for the New Jersey Devils.
Defensemen:
Tommy Albelin – The two-time Cup champion is currently an assistant coach for New Jersey's AHL affiliate Albany Devils. He served as an assistant to Brent Sutter from 2007-10 with New Jersey.
Shawn Chambers – The two-time Cup champion who is sort of infamous for having the lowest-ever rating in a video game, is currently a high school hockey team head coach of the North Lakes Lightning in Minnesota.
Ken Daneyko – The three-time Cup champion who's number 3 is retired by the Devils is always around the only NHL team he ever played for as an analyst for MSG Networks during Devils broadcasts and is an active member of the team's Alumni Association. He can be found on Twitter: @KenDaneykoMSG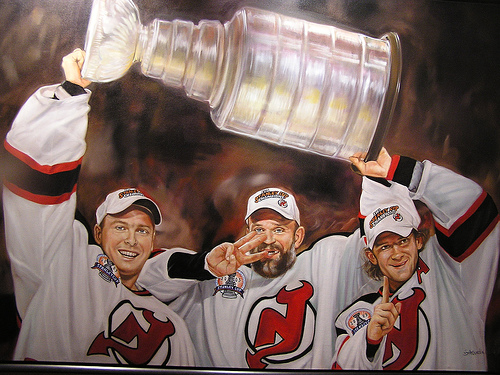 Kevin Dean – He coached the Trenton Devils of the ECHL from 2006-11 when they suspended operations.
Bruce Driver – Currently the head coach for the girls' hockey team at Morristown-Beard high school and is at most Devils home games as one of the most active members of the Alumni Association along with Grant Marshall.
Chris McAlpine – Currently a player agent based out of Minneapolis. He can be found on Twitter: @McAlpine39
Scott Niedermayer – The four-time Cup champion is currently an assistant coach for the Anaheim Ducks and has been a part of their organization since he retired. He was recently elected to the Hockey Hall-of-Fame.
Scott Stevens – The captain of all three of New Jersey's Stanley Cup championship teams is a member of the Hockey Hall-of-Fame and is currently an assistant coach for the Devils.
Forwards:
Neal Broten – Also a member of the 1980 US Olympic Team that won a gold medal, he now lives in Wisconsin and with his wife they run the Sally Broten Horse Company where they raise and train reigning horses. He can be found on Twitter: @nealbroten
Sergei Brylin – The recently retired three-time Cup champion is currently a special assignment coach with the Devils.
Bobby Carpenter – The veteran of 18 NHL seasons and the first American to jump directly from high school hockey to the NHL, currently is a proud dad of two hockey players and one football player.
Tom Chorske – Currently works for Fox Sports North covering the Minnesota Wild and the University of Minnesota Golden Gophers. He can be found on Twitter: @hockeylogic
Danton Cole – Currently is a head coach for USA Hockey's National Under-18 Team.
Jim Dowd – Once a Jersey Boy, always a Jersey Boy, Dowd often organizes charity games in New Jersey and is member of the Devils Alumni Association. He can be found on Twitter: @dowdjim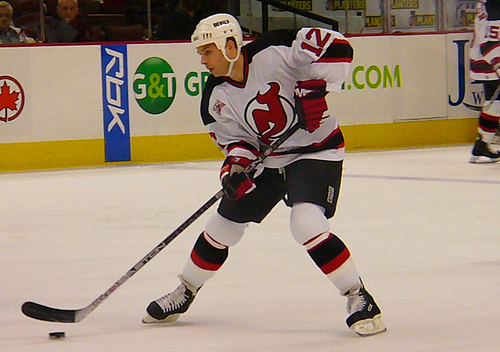 Bill Guerin – The two-time Cup champion is currently a player development coach for the Pittsburgh Penguins and was recently inducted into the USA Hockey Hall-of-Fame.
Bobby Holik – The oft opinionated two-time Cup champion now splits his time between Wyoming and Florida and blogs about family, outdoors & shooting sports at holikonshooting.com; he can be found on Twitter: @HolikOnHockey.
Claude Lemieux – The four-time Cup champion and 1995 Conn Smythe winner has retired and unretired a few times before hanging up his skates for good in 2009. He is currently the president of GRAF Canada – they make hockey equipment, especially skates. He's also the president for North America of 4Sports & Entertainment. The company is based in Switzerland and represents athletes in many different sports. Habs forward Brandon Prust and Marian Hossa of the Blackhawks are two of his many clients.
Lemieux accepts the Conn Smythe & then the team gets the Stanley Cup: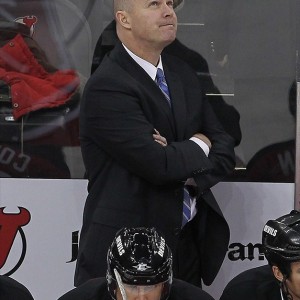 John MacLean – After serving as an assistant in the Devils organization, and then a brief stint as the head coach in New Jersey (33 games in 2010), he is now an assistant coach with the Carolina Hurricanes on former teammate Kirk Muller's staff.
Randy McKay – The two-time Cup champion is currently a volunteer assistant coach for his alma mater Michigan Tech.
Mike Peluso – The former enforcer was recently on the cruise with Devils alumni and told Michelle Kenneth from InsideHockey.com that he had been a scout for the Edmonton Oilers, but didn't like being away from home 280 days a year.
This is how hockey remembers him: History Will Be Made – Mike Peluso: http://t.co/GYnJZCW9y0 #njd95cup

— Michelle Kenneth (@MichelleKenneth) August 19, 2013
Stephane Richer – Currently lives in Florida and also appeared on Battle of the Blades; he has also been outspoken about his battles with depression.
Brian Rolston – The recently retired Rolston is now a family man but often speaks with his brother Ron Rolston, who is the current Buffalo Sabres head coach.
Valeri Zelepukin – Currently the Head Instructor at a Russian Hockey School, victoryonice.com with clinics running in New Jersey, Connecticut, Idaho & Wisconsin.
Coaches:
Jacques Lemaire – After another stint behind the Devils bench (2009-11), he is now a special assignment coach for the organization and is often seen when the team visits Tampa Bay.
Larry Robinson – After guiding the Devils to the 2000 Stanley Cup as a head coach Robinson left and returned to the organization a few times until he departed to become an assistant coach for the San Jose Sharks before the 2012-13 season.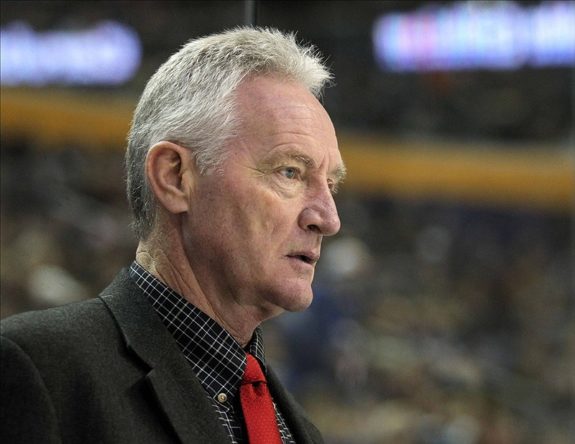 Dennis "Red" Gendron – Currently entering his first season as head coach for the University of Maine after coaching for Yale University.
Jacques Caron – Like Lemaire, he is currently a special assignment coach for New Jersey and still speaks daily with Martin Brodeur.
Dan Rice can be reached via Twitter: @DRdiabloTHW or via Email: drdiablo321@yahoo.com
Dan Rice is in his 9th year of reporting for THW & has covered NJ Devils home games for 15+ years at various websites. He began his journey working for legendary broadcaster/writer Stan Fischler from 2002-04 & completed an internship at the ECHL; he also has been writing features for the NWHL (nwhl.zone) website since 2016.