When you mention the Wilkes-Barre/Scranton Penguins, Tom Kostopoulos is one of the first names that comes to mind, and with good reason.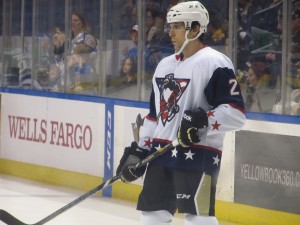 He is the team's all-time leader in goals (97) and points (246) and has also played the most games in a Penguins uniform of any other player (318). Furthermore, he was team captain from 2002 to 2004.
Kostopoulos left Wilkes-Barre after the 2003-04 season and had many stops around the AHL and NHL, from the Manchester Monarchs to the Montreal Canadiens and Calgary Flames. After his stint with the Flames in 2012, however, Kostpoulos was left unemployed.
In January of this year, he signed a tryout deal with the Baby Penguins and received a two-way deal with the Pittsburgh Penguins in March. But, shortly after signing with Pittsburgh, he was claimed off waivers by the New Jersey Devils, and his brief stay in Wilkes-Barre came to an end.
It seemed, though, that he could never let go of his identity as a Baby Penguin, and on Tuesday, he signed a one-year AHL deal to don the black, white and gold once again. It was one of the most appropriate moves the Penguins could make as they celebrate their 15th season, as Kostopoulos is still loved by the fanbase and has a spot in team history.
This season, his teammates and coaches should consider naming him team captain, and there would be little doubt he deserves the honor. Here's why:
Experience
Kostopoulos is 34 years old and has been playing professionally since the 1999-00 season, the Pens' first season in the AHL. In that time, he has been a part of two trips to the Calder Cup Finals with the team (2001 and 2004) and contributed to the Pittsburgh club in the 2003-04 campaign. This was before the Penguins drafted Sidney Crosby, so it's safe to say that Kostopolous knows how to work with both successful and struggling teams.
His NHL experience will also be a big asset to the Baby Pens. He has more than 600 NHL games to his credit and is well-traveled in his career. There are not many AHL teams who can say they have a player with this kind of big-league experience.
Furthermore, some of the more experienced veterans on last year's Penguins team such as Dylan Reese, Trevor Smith and Joey Mormina have departed. The Penguins will need someone to be an example to young players such as Jayson Megna and Philip Samuelsson, and Kostopoulos will fill this role nicely.
Work Ethic
Kostopoulos was a key contributor to early WBS teams, as he had four seasons with at least 50 points scored, as well as three 20-goal campaigns. Although his totals may not be as flashy as those who have had 90 and 100-point seasons in the AHL, Kostopoulos shows up to play on a nightly basis.
He also developed his physical play during those early years, never being afraid to drop the gloves. In fact, in his 630 NHL games, he has 723 penalty minutes. He will stick up for his teammates without being suspended or taking questionable penalties. Some would argue that the Penguins have lacked a true physical presence since Dennis Bonvie, the team's beloved enforcer, retired in 2008.
If Kostopoulos can still show off his gritty side in Wilkes-Barre, he will be able to combine with second-year pro Bobby Farnham and veteran tough guy Steve MacIntyre to show that the Pens will not be pushed around. This could give them an edge against divisional opponents like the Syracuse Crunch and Hershey Bears, who have been known to stir up trouble with the Penguins in the past.
Bringing Together the Past and the Present
It would almost be odd not to give the captaincy to Kostopoulos in the Penguins' 15th season. It would be a real throwback to the team's early days, especially as it established itself in the AHL. His presence could revitalize interest in the Pens from fans who have stopped coming to games or feel the team is missing some excitement.
In fact, when Kostopoulos returned to Wilkes-Barre in January, a video tribute was played during the first home game after his signing and he received a standing ovation. It was a great opportunity for fans to recall their favorite Kostopoulos moments and look back on the early 2000s, which saw over 40 consecutive sellouts at the then-First Union Arena at Casey Plaza and two trips to the Calder Cup Finals.
http://www.youtube.com/watch?v=2dkoIH3sDjw
If Kostopoulos were named captain, it would introduce a new generation of fans to the past, and everyone would be eager to see if he is still the same kind of leader that was so popular over 10 years ago. It would also be good for the Penguins' younger prospects to learn from a WBS legend.
Kostopoulos truly loves being a part of the Penguins and means a lot to the franchise. He understands what it's like to work hard to earn an NHL call-up and be among the many players who have gone to Pittsburgh after honing their skills in Wilkes-Barre. He knows the importance of not giving up, even when your back is against the wall.
In fact, he is already hoping to be a leader on this year's team, as he told Jonathan Bombulie of The Citizens' Voice:
"It's more of a leadership role. I'll be there to help the young guys move up. When I was there last year, I saw they had a really good group of prospects. I'm looking forward to helping them move up."
The former Penguins captain has made it known where his heart lies. Now that he has made his public commitment to helping the Pens build on their run to the Eastern Conference Finals last season, there should be no question that he'll once again wear the "C" in 2013-14.