The Vancouver Canucks dipped into the free agent pool for the second time since signing Braden Holtby and added former Florida Panthers and Ottawa Senators' forward Jayce Hawryluk. General manager Jim Benning had been in discussion with the 24-year-old forward over the weekend and finally got a one-year, two-way contract worth $800,000 at the NHL level and $200,000 at the AHL level done early Monday morning.
Related: 3 Hot Takes for the Canucks' 2020-21 Season – Baertschi, Pettersson & Clark
Hawryluk is definitely not a household name in Canucks Nation, so let's get to know him a bit and find out what he will bring to the team when the games get going in 2021.
Hawryluk's Prolific WHL Career With the Wheat Kings
Before Hawryluk was an effective role player in the NHL, he was a scoring star with the Western Hockey League's Brandon Wheat Kings. He spent his entire junior career there and posted 119 goals and 265 points in 232 games. That included a dominant 2015-16 season where he led the team in scoring with 47 goals and 106 points while also racking up 101 penalty minutes.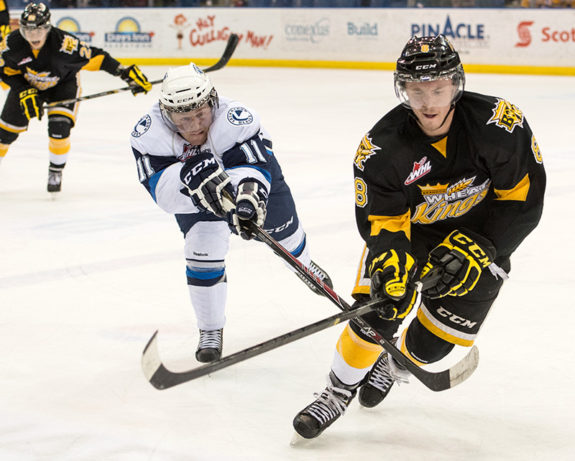 Related: Revisiting Saskatoon Blades Trades: Schenn & Ferland from Wheat Kings
Hawryluk wasn't just a one-hit-wonder in the regular season either, he turned it up in the playoffs to the tune of 22 goals and 60 points in 45 games. He was one of the reasons why they won the WHL championship in 2016 as he was second only to Nolan Patrick with 29 points in 21 games and even scored a hat-trick in the championship-clinching game. He ended up finishing his junior career 19th in all-time goals and points in franchise history.
Hawryluk's Days With the Panthers & Thunderbirds
After being drafted 32nd overall in the 2014 NHL Entry Draft by the Florida Panthers and finishing his epic career with the Wheat Kings, Hawryluk graduated to the American Hockey League's Springfield Thunderbirds for the 2016-17 season. He wasn't able to translate his offensive production to the professional ranks, as he only could generate 27 goals and 94 points in 142 games before his first call-up to the Panthers during the 2018-19 season.
When Hawryluk played his first NHL game against the Toronto Maple Leafs in December of 2018, he showed everyone why he should be a player to watch in the future. He played with energy, tenaciousness, dished out four hits, and even got two shots on goal. He only got a little over five minutes of ice-time but made every minute count when he was out there. The Panthers won the game 4-3 in overtime, but he would have been ecstatic regardless.
It's a special night…Happy to get the win. Just looking forward to the road ahead and getting many more wins with the team… I'll never forget [this game].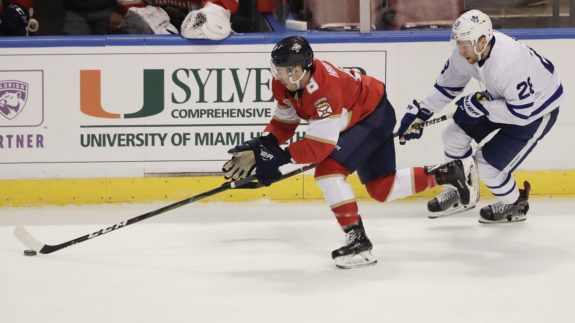 That game must have impressed the coaching staff because Hawryluk only went down to the Thunderbirds around the all-star break and towards the end of the season when the team felt like he needed some extra ice time. Otherwise, he was with the Panthers providing his usual agitating and energetic self because by the end of the season he had played 42 games and scored seven goals and 12 points including a three-point effort on Mar 25. He also scored a beauty of a first NHL goal on Dec 28.
Hawryluk made the Panthers out of training camp this past season, but only played 15 games before he was claimed off waivers by the Ottawa Senators. He was off to a slow start as he had just one goal and three points in those first 15 games.
Hawryluk's Successful (Albeit Short) Stint With the Senators
Despite having some good times with the Panthers, Hawryluk was excited to join a burgeoning young team like the Senators. He got a lot more ice time and even played with leading scorer Anthony Duclair at times. By the end of the COVID-19 shortened season, he played an average of three minutes more than he did in Florida and scored two goals and seven points in 11 games.
Unfortunately, that success did not impress Senators' management enough to extend Hawryluk a qualifying offer for the 2020-21 season. As a result, he entered free agency and signed a one-year deal with another young up and coming team in the Canucks. Now joining his third team, the hope will be that he can put down some roots and establish himself as an everyday NHLer that can make a difference night-in and night-out.
What Does Hawryluk Bring To the Canucks?
The Canucks don't necessarily need any more bodies in their bottom-six, but when you can add a player of Hawryluk's skillset at a reasonable price, you do it. He reminds me a lot of Tyler Motte in the way that he plays. He has the same tenacious, hard-working attitude but unlike Motte, he has more offensive potential to his game. His prolific junior career showed that he has a great shot and quick hands around the net, so with the right players, he could conceivably develop into a 15-20 goal scorer in the NHL.
When you look at scouting reports from when he was drafted, you can't help but wonder if his potential just hasn't been realized yet.
Credited for a strong work ethic and determined forecheck, Hawryluk is a versatile forward capable of filling multiple roles throughout the lineup. His offensive and defensive awareness are both noteworthy and he has shown to be dangerous on the penalty kill.

Brendan Ross, Dobber Prospects
Hawryluk has good speed and very good acceleration, which complements his strong edgework and agility. Still his best assets are his core strength and balance as he is very hard to knock off the puck, forechecks hard, wins board battles, and plays a strong cycle game despite his size.

Ben Kerr, Last Word on Hockey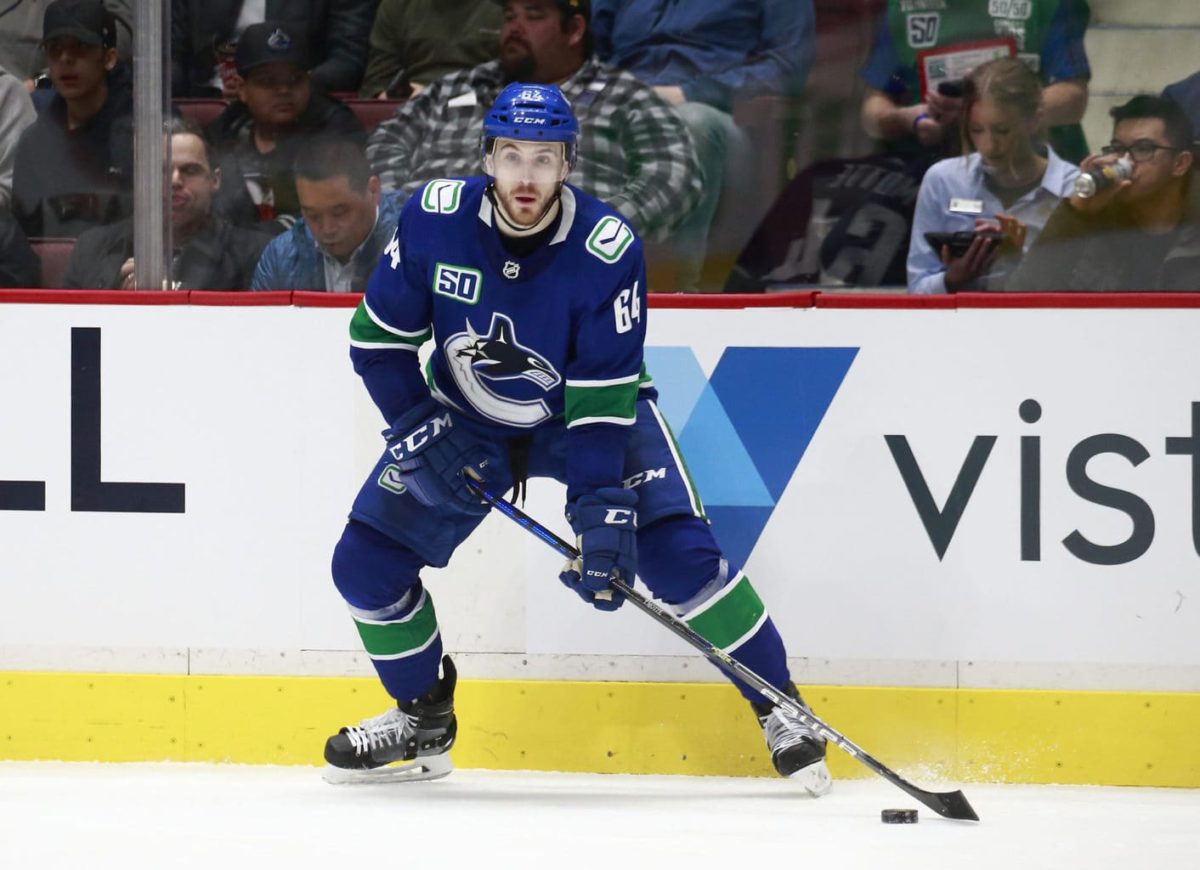 Now tell me that doesn't sound like another tenacious forward the Canucks have right now? Hawryluk has been able to translate all those things to his game in the NHL, except for the production on the score sheet. He plays with a lot of energy and has shown a propensity to throw his body around as well. During his longest stint with the Panthers, he had 101 hits in 42 games, which is also similar to Motte's game. He also supplies that annoying agitation and relentless forechecking that all successful third and fourth liners have in their repertoire. So, maybe the offence is just around the corner?
As for the advanced statistics Hawryluk brings to the rink, they are much stronger than Motte's. In 2019-20, he had a 52.9 Corsi-for percentage (CF%) while Motte had a forgettable 39.4 CF%. That discrepancy might have to do with the quality of linemates they were aligned with though. If Motte was given more offensively inclined players to play with, he might have a stronger CF% too. Regardless, Hawryluk should bring a strong possession game to the Canucks, which is what they need more of in the bottom-six.
Where Will Hawryluk Play?
Everyone is assuming Hawryluk will play in the bottom-six with either Motte and Zack MacEwen or Nils Hoglander and the recently re-signed Adam Gaudette. Both lines would be a combination of hard work, speed, and grit that would drive opposing teams crazy. Again, something the Canucks need more of at the bottom of their lineup.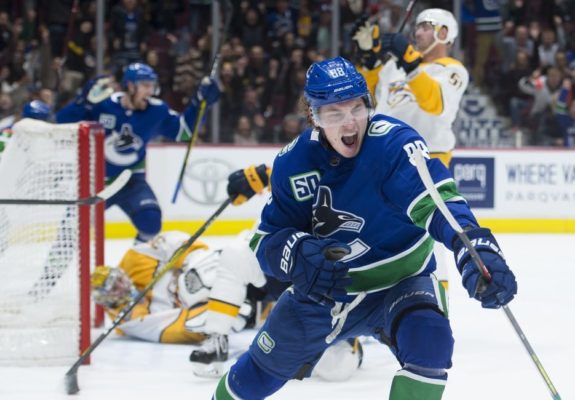 However, Hawryluk could also potentially play in the top-six with Bo Horvat and Tanner Pearson. Again, everyone assumes that Jake Virtanen has that spot locked up, but with the uncertainty surrounding his contract and the fact that he is not the most consistent forward, could open doors for him on the second line. With how hard he works and the type of game he plays, I would not count that possibility out.
Hawryluk is motivated to perform and feels like he's at a point in his career where he's ready to take the next step.
I don't think I've reached my potential at all. I feel like I'm still young and got a lot left in me, and I'm looking to showing that.
If the Canucks do not make any other additions to the top-six, that right-wing spot will have plenty of competition as Hawryluk will fight tooth and nail to make it as tough as possible on fellow combatants Virtanen and MacEwen. If he's anything like Motte, they will definitely have their work cut out for them.
---
---