So the Vancouver Canucks are sending a couple NHL players to their upcoming Young Stars prospects tournament.
They must really want to win this not-so-coveted trophy in front of a scattering of fans in Penticton. That, or they aren't big believers in Nicklas Jensen and Frankie Corrado's potential to play in the big league this season.
Technically, they are both still eligible for this showcase because they have played fewer than 100 regular-season games as a professional. That doesn't mean they necessarily belong there.
Jensen finished last season on Vancouver's top line with the Sedins, for crying out loud.
And Corrado was good enough to be in the lineup for 4 playoff games two years ago when the Canucks were still considered an elite team and Stanley Cup contenders.
These guys have no business playing in a tournament typically reserved for recently drafted prospects with little or no pro experience.
A first-round pick in the 2011 draft, Jensen has played no fewer than 99 regular-season games and has suited up for two playoff games to boot, bringing his pro total to 101. That includes 19 NHL games, 17 of them coming this past spring alongside Henrik and Daniel.
Corrado has even more NHL games on his resume, a combined 22 from the previous regime under former coaches Alain Vigneault and John Tortorella, including 15 regular-season games in 2013-14. He's played 84 regular-season games plus six playoff contests for a grand pro total of 90 after being selected in the fifth round of the 2011 draft.
Despite only being 21 years old, they both made their pro debuts back in 2011-12 and have both played in two prior Young Stars tournaments. This would actually be their fourth if the lockout hadn't cancelled the 2012 edition.
They will most likely be the only two players in this year's tournament with both those distinctions. About a dozen others spread over four rosters will also be appearing in their third Young Stars, but they didn't make their pro debuts until more recently and the majority have yet to play in the NHL.
Jensen should be in a league of his own, a man among boys in Penticton.
No forwards there will boast near his level of credentials.
The Calgary Flames aren't sending Sven Baertschi, a soon-to-be 22-year-old with 51 games of NHL experience but only 26 last year.
The Winnipeg Jets won't be dressing Eric O'Dell, a 24-year-old who made his NHL debut this past season by playing in 30 games.
The Edmonton Oilers will be without Tyler Pitlick, who is turning 23 in November and also got his feet wet with 10 NHL games in 2013-14.
Those guys have all outgrown the Young Stars.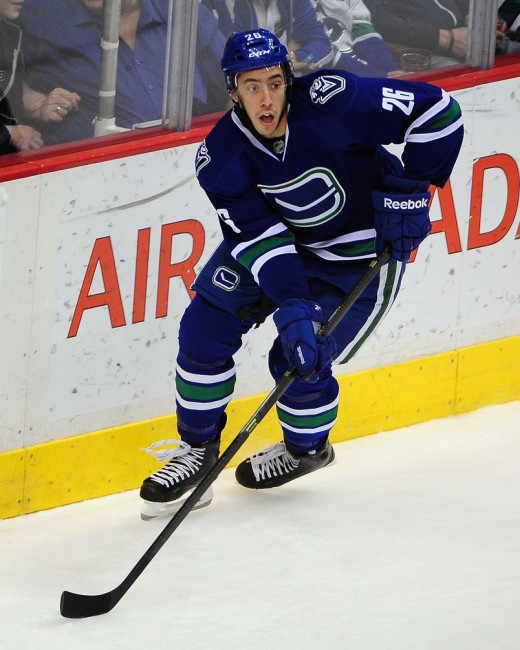 As for Corrado, the two closest comparables in terms of defencemen attending this year's tournament will likely be Calgary's Tyler Wotherspoon (21 with 14 games) and Edmonton's Oscar Klefbom (21 with 17 games). They are the same age as Corrado, and Wotherspoon has also played in every tournament dating to 2011, but they are both coming off their first season of professional hockey (in North America with regards to Klefbom).
In contrast, Corrado has been around the pro game for three seasons already, getting his first taste by playing 6 AHL games in 2011-12, followed by 7 NHL games, including the aforementioned 4 playoff contests, and 3 additional AHL games in 2012-13 after graduating from the OHL.
He's essentially a veteran, along the lines of Edmonton's Martin Marincin, who is 22 with 44 NHL games, all from 2013-14.
Imagine the outrage if the Oilers were to send an established pro like that to dominate against primarily junior players. Or if Calgary sent Baertschi to put on a scoring clinic.
So why should Corrado and Jensen get free passes? They shouldn't, and the Canucks should be scrutinized for this decision. Whoever asked these guys to lace them up — reports indicate they didn't volunteer — should face criticism, defended by a technicality or not.
Vancouver will justify it as an evaluation tool following an off-season full of off-ice changes. This tournament will give the new staff members — most notably, president Trevor Linden, general manager Jim Benning and head coach Willie Desjardins — a first-hand look at two of the franchise's most seasoned prospects, but Penticton isn't the place for that.
They have nothing left to prove at the Young Stars, and there would have been plenty of opportunity to observe their development in training camp and pre-season games against fellow pros for the most part.
Another theory is that Jensen was asked to play because Jake Virtanen, this year's sixth overall pick with a similar skill-set, is expected to miss the tournament while still recovering from shoulder surgery.
Jensen more than fills that void and should light it up playing with another trio of first-round forwards in Bo Horvat (9th in 2013), Hunter Shinkaruk (24th in 2013) and Jared McCann (24th in 2014).
Corrado's inclusion might have something to do with positional depth, as the Canucks are noticeably thin on the back end. But it's not the competition's fault that the Canucks are lacking in good defence prospects and would appear weak without Corrado on the roster.
Now he'll probably end up being a tournament "all-star" and Vancouver fans will come away claiming Corrado's better than Darnell Nurse (Edmonton) or Josh Morrissey (Winnipeg Jets), a pair of 19-year-olds with much higher upside albeit not as polished at this point in their careers.
Funny thing is, Corrado probably won't stand out over somebody like Brenden Kichton (Winnipeg), a 22-year-old blue-liner who put up solid AHL numbers during his pro debut last year. Or possibly Dillon Simpson (Edmonton), a 21-year-old NCAA grad out of the University of North Dakota.
Corrado could also have his hands full with the opposing forwards.
Calgary projects to be the most dangerous with Johnny Gaudreau, Sam Bennett and Morgan Klimchuk. Winnipeg has weapons such as Nikolaj Ehlers, Nic Petan and Scott Kosmachuk. Edmonton might bring up the rear again this year, but Leon Draisaitl, Bogdan Yakimov and Greg Chase are expected to lead the way up front.
Vancouver's forwards will be no slouch and getting those guys the puck, while also quarterbacking the power play, will be Corrado — rightly or wrongly.
If this tournament was held outside British Columbia, it's fair to wonder whether Jensen and Corrado would still be involved. Are they going to Penticton to sell tickets and help put butts in the seats? Perhaps.
However, if the reasoning for their presence has more to do with winning, then that's just wrong.
Larry Fisher is a sports reporter for The Daily Courier in Kelowna, British Columbia, Canada. Follow him on Twitter: @LarryFisher_KDC.
Larry Fisher is a senior writer and head scout for The Hockey Writers, having been an at-large contributor for THW since August 2014. Fisher covers both the NHL and the WHL, specializing in prospects and NHL draft content, including his annual mock drafts that date back to 2012. Fisher has also been a beat writer for the WHL's Kelowna Rockets since 2008, formerly working as a sports reporter/editor for The Daily Courier in Kelowna, British Columbia, Canada from 2008-2019. Follow him on Twitter: @LarryFisher_KDC.