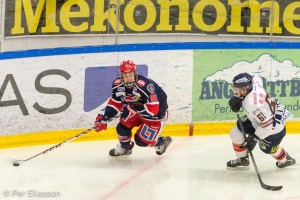 It's not hard to imagine, you know.
The Boston Bruins badly need a right-handed shot. They also need a right winger. Off-winger Loui Eriksson is a question-mark. The other off-winger Reilly Smith still isn't signed. Since all of the variables seem to line up, does right winger and right-handed shot David Pastrnak, the Bruins 2014 1st round draft pick, have an actual shot of making the team and contributing right away?
Yes. But also, no.
Pastrnak joins the Bruins at an interesting time, after an offseason barren of any type of major moves and a pretty grim looking cap situation that could free up some roster spots. In a sense, Pastrnak was the Bruins' biggest offseason acquisition. But of course, there is plenty of concern here.
For one, Pastrnak just turned 18 years old in May. If he were to make the NHL, not only would he be the youngest player on the Bruins' roster, he'd be the lightest. At 6'0″, 167 lbs, Pastrnak's lack of size would be a definite disadvantage on a team known for playing a "heavy" game. Pastrnak would need to get bigger and become better on his feet before the NHL becomes a reality. In all actuality, a late-first rounder who just turned 18 and played overseas shouldn't even really be in the conversation to make an NHL team right out of training camp.
But there's something about him that's different.
The first forward the Bruins have drafted in the first round since Tyler Seguin in 2010, Pastrnak has been doing all of the right things at the right times. He idolizes David Krejci, his favorite NHL player. He's been getting advice from Zdeno Chara. And to top it off, Bruins GM Peter Chiarelli and head coach Claude Julien were impressed with his rookie camp. In fact, even the Bruins PR team are hyping his possible arrival with a poll asking fans if they think Pastrnak will be on the roster on opening night. (52% say no.)
Pastrnak shined in the Summer Developmental Camp scoring three goals and one assist in four games, including a two-goal/three-point game against Canada. He's good and he's going to be even better than he is right now. That's exciting, if you're a Bruins fan.
The problem is, though he has a legitimate chance to break into the NHL and make the Bruins roster as an 18-year old, he shouldn't. The Bruins shouldn't rush Pastrnak and they have the depth in the system not to.
There's no doubting his offensive upside. He can play a quick game and set-up plays that will make his linemates better around him. But he's still developing. Though Pastrnak signed a three-year, entry level deal this July, he wouldn't be eligible to play with the Bruins' AHL affiliate the Providence Bruins. Instead, he'd likely return to the Swedish Elite League and play out the season overseas. In a sense, it's a better option for Pastrnak who, unlike many other rookies, wouldn't have to return to Juniors but rather a league with some developed players for a season.
Rather than burning one year off of his ELC and having him be somewhat of a non-factor, the Bruins should take their time with an offensive-minded, highly-touted prospect like Pastrnak. It can only help his situation and hopefully temper the expectations of what could be an excellent player if the Bruins control his development properly.
Follow Mike on Twitter for more Bruins news, updates, and commentary.