See our picks for most underrated Kings forwards of all time here >>>
See our picks for most underrated Kings defensemen of all time here >>>
Here's a few guidelines for my list of most underrated Kings of all time:
I'm only evaluating players' careers in LA.
Obviously, no major NHL award winners will be eligible (I really wanted to sing Justin Williams's praise).
Perhaps controversially, I'm eliminating players who represented Los Angeles in an All-Star Game, as that's a fairly significant form of national recognition.
So underappreciated goalies like Rogie Vachon and Mario Lessard get the shaft…again.
This is the last of a three-part series. Part one focused on forwards and part two addressed defensemen.
Sharing co-hosting duties is Joe Pelletier, founder of hockey history blog Greatest Hockey Legends. After my pick, Joe will weigh in with his selection.
The most underrated Kings goalie of all time is…
Kelly Hrudey
The difference between Hrudey and Jonathan Quick isn't as great as you might think.
For one, both 32's played flamboyant, heartstopping styles:
And like Quick, fans loved arguing about Hrudey on the internet. Even in 1994. Here's some choice quotes: "Hrudy is the best goalie in the league." "I don't really think that Hrudey is the worst goalie in teh league. Close, nbut not worst."
And my favorite: "Storr won't take long to become #1."  But I digress…
Hrudey, unlike his American successor, usually toiled behind clueless defensive units. Old Jim Rome fans will remember that those defenders were nicknamed "The Escort Service."
In 1993-94, for example, Hrudey was pelted by an astounding 2,219 shots against. Only 11 goalies have ever weathered over 2,200 shots in a season: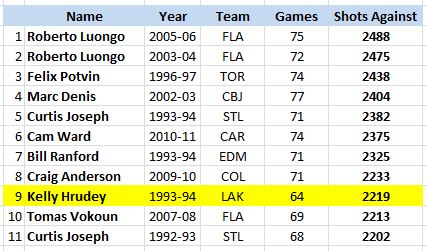 And if we calculate shots against per game? Hrudey has an argument for being the most overworked goaltender in a season in league history: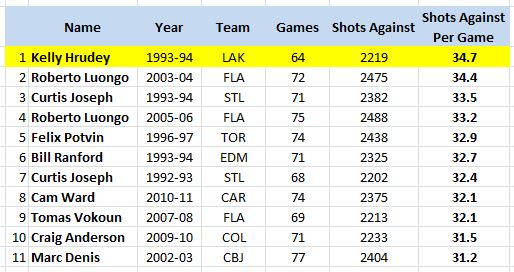 He keeps this dubious honor even among the 57 keepers who have dealt with over 2,000 shots in a year: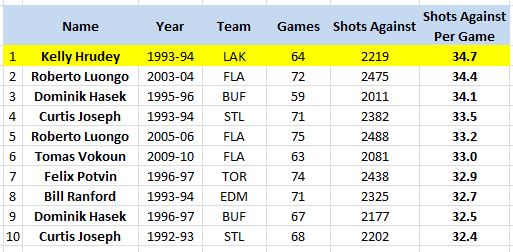 But workload withstanding, how did Hrudey perform behind such circumstances?
Los Angeles's annual goals against ranking points a finger at the blue bandana: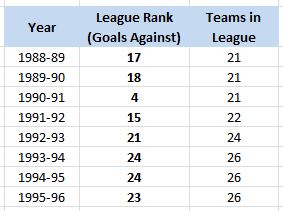 However, new Hockey-Reference.com stat GSAA (Goals Saved Above Average) is far more forgiving.
(Essentially, GSAA tells us how many goals—more or less—a netminder has given up compared to a league-average goalie with the same workload. A GSAA of +30 means a goaltender has saved 30 more goals than average in a season; a GSAA of -30 means surrendering 30 more than average. Read more about how GSAA is calculated here.)
Using GSAA, let's see how many more goals Hrudey saved versus Joe Goalie:
Not bad! Over his Tinseltown run, Hrudey kept out 65 more goals than the average. How does this figure look opposite his contemporaries?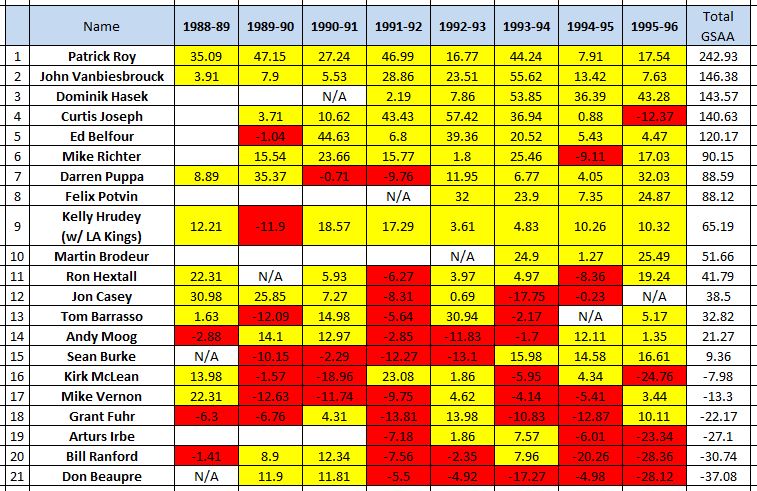 (Some years are N/A because calculating GSAA has a shots faced threshold.)
While not "elite," Hrudey consistently outdueled peers with the rep and the rings like Barrasso, Vernon, Fuhr, Moog, and Ranford. There's a reason why "Hollywood" bested Hall of Fame teammates Wayne Gretzky, Luc Robitaille, Jari Kurri, and Rob Blake for team MVP honors in 1991-92 and 1994-95.
So with two-way monsters like Drew Doughty and Anze Kopitar in front of him? I think Hrudey would have done just fine:

Joe Pelletier's Pick: Kelly Hrudey
"I don't know if there is a Kings goalie who is an obvious underrated player. Kelly Hrudey never got the respect he probably should have because everything was Wayne Gretzky back in those days. He benefited too, but also contributed."
Our list of most underrated Kings ever is now complete! See the forgotten forwards! The daring defenders!
Special thanks to Joe Pelletier of Greatest Hockey Legends for his valuable time and insight. Make sure to check out his blog…it's the internet's definitive lookback at hockey yesteryear!