The Vancouver Canucks selected Jonah Gadjovich 55th overall in the 2017 NHL Entry Draft and have been very pleased thus far. Gadjovich, or 'The Man Child', just capped off his time representing his country at the 2018 World Junior Championship with a gold medal and was nothing short of a beast throughout the tournament. The 19-year-old is currently an Owen Sound Attack product and is leading his squad with exceptional statistics and well-rounded play — Gadjovich is not far off from being NHL-ready.
https://twitter.com/JanikBeichler/status/949487510849245185
Gadjovich at the WJC
There was a lot to like about Gadjovich's game in the tournament but his strongest facet is the fact that he plays both sides of the puck hard, intelligently and efficiently. His two-way game is stronger than the majority of players showcased in the tournament, and his size, strength, and physicality are the triple-cherry on top.
In the seven games of tournament play, Gadjovich put up two goals and one helper while carrying a plus-four rating. He also finished with 14 shots in the WJC and displayed a simplistic approach in the offensive zone that is widely appreciated in the game of hockey – drive the net, shoot the puck, and make quick decisions.
Gadjovich knew his role in the tournament and was happy to contribute in any way that helped his team win gold.
"It's just playing hard, finishing my check, blocking shots and doing whatever it takes to win. If I can do that and motivate the team in that way, I'll be successful," said Gadjovich in an interview with Sportsnet 650.
Along with his line-mates, Gadjovich was able to hem his opponents in their own end with a physical forecheck and relentless pressure. All over the ice, he was a smothering presence and it was very noticeable during the outdoor game against the Americans — being an outdoor game, the play is slower and a lot more chippy, which is paradise for 'The Man Child'.
The big 19-year-old was a penalty-kill specialist for Canada and he did a very impressive job clogging shooting lanes and winning battles along the wall for loose pucks. His role in the tournament was certainly on the defensive side of his two-way abilities, but that shouldn't discredit his very impressive offensive game.
Related: Timmins Discusses His Golden Assist, Team Canada & His Game
Gadjovich – On the Attack
Looking at Gadjovich, you'd probably think a couple of things. One, please don't eat me, and two, this guy's probably a goon. Those assumptions couldn't be more wrong — he's a very nice guy and he's also an offensive weapon. Not to say he couldn't eat you or be a goon.
In the 2016-17 season with the Attack, Gadjovich tore up the league with 46 goals, 28 assists and a plus-35 rating in just 60 games — not bad for a 6-foot-2, 210-pound fellow. To finish with those offensive stats and also carry a season rating as impressive as that is nothing short of beast-like.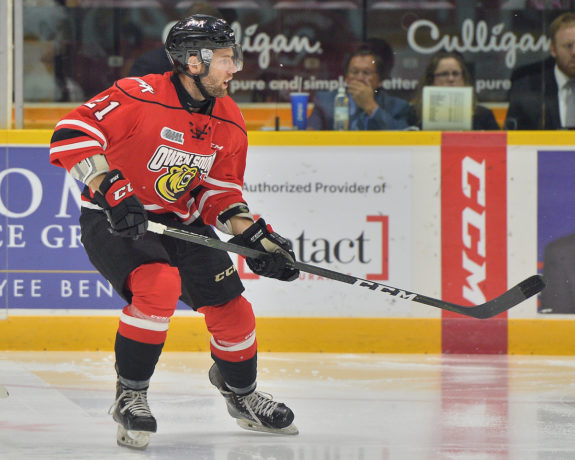 So far this season, with the Attack, he has 15 goals and 11 helpers in 21 games, showing that he's the real deal and not just a one-off.
True two-way players are seemingly getting harder and harder to find these days, but I think the Canucks have found one they can really sink their teeth into.
With the Canucks
The Canucks have really liked what they've seen with the big Whitby, ON native, and signed him to an entry-level contract a few months ago in mid-October
When you take a look at the Canucks' roster, a guy like Gadjovich makes an abundance of sense. A player who is tough to play against and also chalks up points is an absolute dream for the Canucks at this stage of the club — especially at left-wing.
Down the left side, the Canucks are old, slow, soft or all of the above — Daniel Sedin, Thomas Vanek, and Loui Eriksson are all in their 30s, Sven Baertschi is talented but soft and Brendan Gaunce is tough but not overly talented. Granted, wingers are interchangeable and can flip sides if need be or even slot in at center, but as far as natural left-wingers go, Gadjovich is the most well-rounded in the system.
Related: 4 Things the Canadiens Need Most in 2018
Next season, Gadjovich will get a serious look from the Canucks and I'm fully confident that he can crack a roster spot in the bottom-six if he keeps playing the way he is, and progressing at the rate in which he has.
Matt is a longtime fan, player and student of the game of hockey. Broadcast and Online Journalism student at the British Columbia Institute of Technology.