The Calgary Hitmen are having a down year. Between some injuries and some challenges facing their veteran players, it became apparent early in the season that making the playoffs would be an uphill battle. Facing the possibility of losing some of their top players to the professional ranks for nothing at the end of the season, Hitmen general manager Jeff Chynoweth has made several trades to get a return for his expiring assets.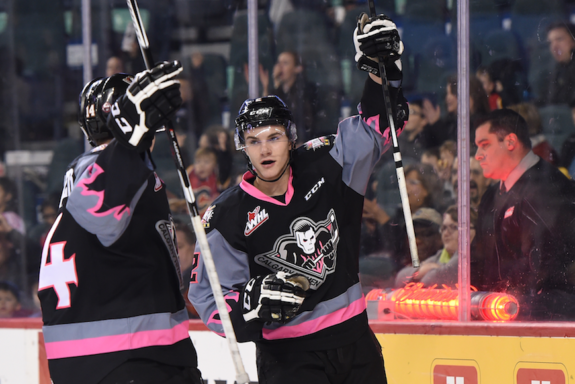 On Saturday night, sitting 11 points out of a playoff spot, the Hitmen traded away their biggest asset – perhaps in over a decade. After weeks of whispers and speculation league-wide, the Tri-City Americans acquired defenseman Jake Bean from the Hitmen in exchange for a package of players and draft picks.
The Deal
Just two points out of first place in the U.S. Division, the Americans get a top-flight defenseman. Bean, 19, just returned from his second trip to the World Junior Hockey Championship where he won a gold medal. In 187 games with the Hitmen dating back four seasons, Bean has 42 goals and 175 points. He was a first round selection of the Carolina Hurricanes in the 2016 NHL Draft and is expected to go pro next season. He joins a club that already features offensive weapons like Michael Rasmussen and Juuso Valimaki.
Jake Bean arrived home in Calgary this evening, WJC gold medal in hand, and has just been traded from hometown his Hitmen to the Tri-City Amerians. Talk about whirlwind. #WHL

— Brendan Parker (@BParkerTV) January 7, 2018
The Hitmen get a lot of pieces for Bean. Center Carson Focht and defenseman Dakota Krebs join the Hitmen right away. Focht, 17, was a first round bantam selection in 2015 and has 24 points in 101 WHL games so far. Krebs, 18, has 12 points in 151 WHL games. Both will likely benefit from expanded roles in Calgary. The Hitmen also acquired a second round pick in 2018, a first round pick in 2019 and a second round pick in 2020.
The Hitmen Tear-Down
Since the season began, the Hitmen have done a very effective job at trading away players that weren't going to be returning next season into future assets.
Traded Away: D Jake Bean (19), F Matteo Gennaro (20), import F Andrei Grishakov (18) and F Beck Malenstyn (19), along with a 2018 fifth round pick
Acquired: G Ethan Hein (15), D Dakota Krebs (18), D Dom Schmiemann (18), F Carson Focht (17), F Conner Chaulk (20), F Riley Stotts (17), F Josh Prokop (17), two 2018 second round picks, 2019 first and third round picks, and a 2020 second round pick
The Hitmen aren't what they were a few years ago, but Chynoweth (in his first year as their general manager) has done a savvy job of flipping assets for futures. He's opened up an import slot for the upcoming draft, acquired seven players to play for his team, and five draft picks for his scouting team to work with. For a GM just beginning to put his stamp on the club, it's a tidy bit of work.
Ryan Pike has covered the Calgary Flames and the NHL Draft extensively since 2010 as a Senior Writer for The Hockey Writers and Senior Contributing Editor of FlamesNation.ca. A member of the Professional Hockey Writers Association, he lives in Calgary.