Andrei Kuzmenko is having a dream start to his Vancouver Canucks career. In 73 games, he has scored 37 goals and recorded 68 points while also developing strong chemistry with Elias Pettersson. With most of the focus being on his impressive offensive campaign, it is also important to note that he has been getting better defensively as he learns to adapt to the NHL. While there are still moments that cause coach Rick Tocchet to bench him for long periods of time during games, he has proven, based on his overall play this season, that he can be reliable at both ends of the ice on a consistent basis.
Kuzmenko Strong Even Strength Play
At even strength, Kuzmenko has registered 24 goals and 52 points so far this season. When it comes to goals, he ranks tied for 16th with seven others, including Tage Thompson and Austin Matthews, while he ranks tied for 21st in points with Brock Nelson and Tim Stützle. Although he definitely has benefited from playing beside Pettersson, his individual play at even strength speaks for itself. For example, he has created 68 individual high-danger chances and is involved in the play, as evident by his 74.29 IPP or Individual Points Percentage, which tracks how many times a player records a point when they are on the ice and their team scores.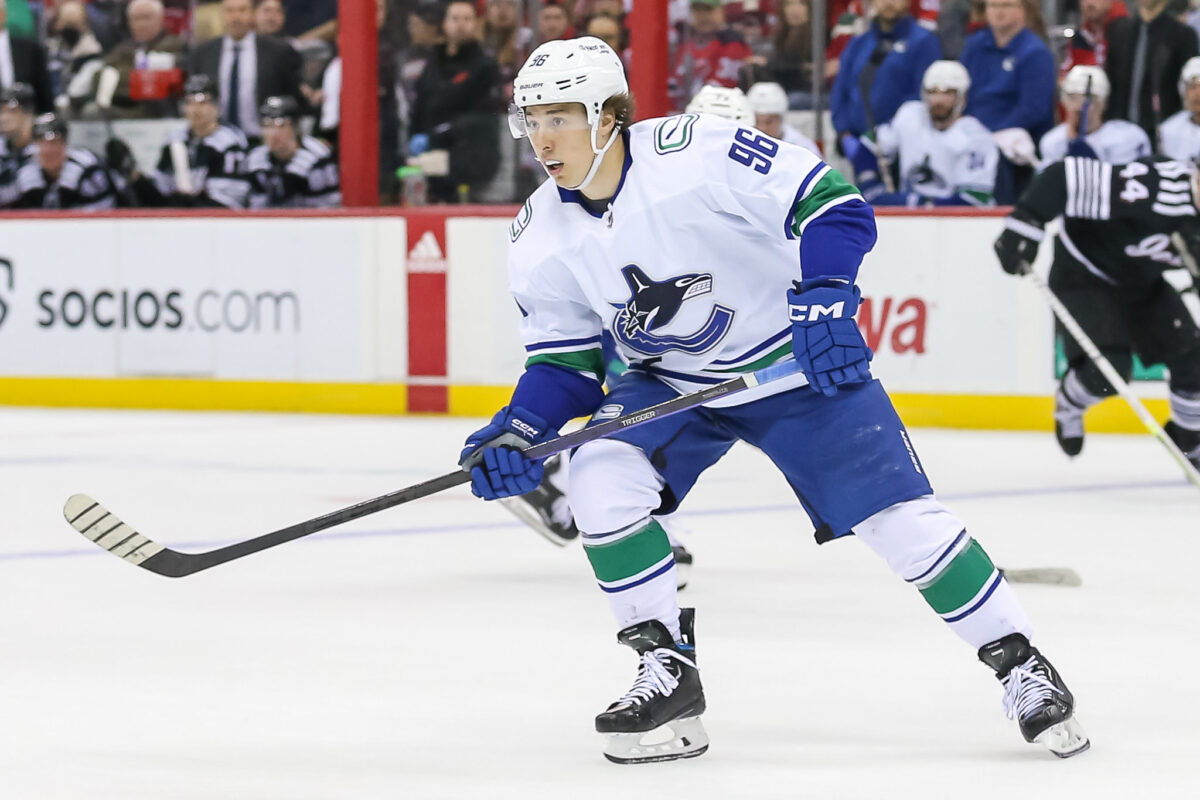 As for his play away from the puck, the analytics show promising results for the future. He has created 29 takeaways which ranks fifth on the Canucks while also blocking 18 shots. He also has the team's best Corsi% of players who have played at least 25 games this season at 53.98% and ranks third in expected goals for percentage (XGF%) players who have played at least 25 games at 53.09%. The advanced analytics show that he has been one of the best Canucks players all season, which is an encouraging sign knowing that he is set to play a key role for this team next season.
Kuzmenko Building Strong Duo With Pettersson
The chemistry and partnership between Kuzmenko and Pettersson has been one of the most exciting things to watch for Canuck fans all season. The duo has played just over 700 minutes at even strength this season and have looked nothing short of sensational. So far this season, Vancouver has scored 180 goals at even strength, with 57 or 32% of those goals occurring when the Canucks new dynamic duo are on the ice. Vancouver has also outshot the opposition 395 to 312 and created 167 high-danger scoring chances compared to allowing 130 while the two are on the ice. They are also having all of this success despite an on-ice save percentage of 86.86%, which begs the question, what would their seasons look like if they go average goaltending all season?
Related: Canucks' 3 Up, 3 Down: Hughes, Pettersson, Kuzmenko & More
---
Latest News & Highlights
---
Playing with Pettersson has its obvious advantages, so it is important to look at how he plays with other players. In just over 257 minutes of even-strength ice time playing beside players like J.T. Miller, the Russian winger has a 50.49% Corsi but a 45.33 XGF%. One of the reasons behind this low number is despite Vancouver staying even in terms of shots on goal, they have allowed seven more high-danger chances than created when he is on the ice without his usual linemate. While he is a talented, offensive winger, the analytics show he needs a strong center to play off of in order for him to be at his best.
A Fan Favourite Already
In a passionate hockey market like Vancouver, players need to be marketable to the fan base. Kuzmenko has the rare gift of being just as personable on the ice as he is off. Whether it is him posing for pictures with puppies, reading out line-up cards or drinking a Pepsi and eating a banana on the bench, he has provided light-hearted moments all season.
The Canucks are taking advantage of his newfound fame by marketing him as much as possible to the fans. His photo was included in Vancouver's season ticket holder renewal email, and he was mentioned by name in President of Hockey Operations Jim Rutherford's letter to the fan base, which was included in the email. In a sport where players are not the most exciting off the ice, it seems that the Canucks have hit gold with Kuzmenko and are doing a great job so far showing off his unique personality.
Kuzmenko Signing A Rare Win For The Canucks
One thing has become clear as the season has progressed, Kuzmenko has become arguably the best free agent signing for the Canucks in the past decade. He has exceeded all expectations and has been one of the feel-good stories around this team in a season that has gone off the rails. With just a handful of games left in the season, his quest for 40 goals will be something to monitor as he looks to join an exclusive group that includes Pavel Bure, Alexander Mogilny and Daniel Sedin, who have scored at least 40 in a season for the Canucks.
Advanced Analytics Provided By Natural Stat Trick
---
---