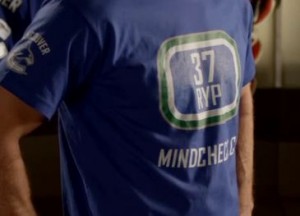 On January 24th 2012, the Canucks, in association with the Canucks for Kids Foundation, Fraser Health and Provincial Health Services Authority and BC Children's Hospital, announced the launch of a new website dedicated to increasing awareness and understanding of mental illness in young people. The program was named Mindcheck and is dedicated to the memory of former Vancouver Canucks player Rick Rypien, whose passing on August 15th, 2011 was attributed to clinical depression.
The purpose of the program is to raise community awareness about mental illness, depression and substance abuse problems, that often start at a young age. The program also hopes to be a place for young people to seek help and resources to help combat these issues. The sad passing of Rypien is being used as a wake-up call that mental illness should not be left untreated and that a young person does not have to stay silent and suffer alone.
A major spokesman for the Mindcheck cause is Canuck's player Kevin Bieksa, a good friend of the late Rypien, who has played a large role in the project. Bieksa understood Rypien's pain as well as the cost of depression on Rypien's friends and family and he hopes to help others in the same situation. Bieksa spoke about the program;
"I obviously have a personal interest invested in this and it's near and dear to my heart to carry on his legacy. I went through it with him the last few years and understand the struggles and mental health challenges and how underestimated it can be and how overlooked, too. There's still not a lot of conversation out there and we're trying to raise awareness and erase the stigma associated with it. Hopefully, we don't have to see anybody else go through something like that.
Obviously, it's a tribute to Rick and to help carry out his legacy and it's something he always wanted to do and never had the chance to do, this is me following through on his wishes. He was close to doing it on a number of occasions and he really wanted to help out kids and wanted to go around to the schools and share his story with whoever he could. This is obviously the best next way and we feel it's going to help a lot of kids who are struggling with mental health challenges across B.C. Hopefully, this can point them in the right direction."
Information about the program can be found at http://mindcheck.ca/about-us and there are two contact numbers for anyone in BC wishing to touch base with an expert, Mental Health Support and Information- 310-6789 and the Kid's Help Phone Line (for anyone aged under 20) on 1800-668-6868.