When Manny Malhotra departed the Vancouver Canucks assistant coaching staff to join the Toronto Maple Leafs, he left a vacancy that has yet to be filled. General manager Jim Benning has assured us that management is on the hunt for a replacement, but there hasn't been much news or leaks since his comment in September. (from 'Canucks coaching shuffle: Eye in the sky Manny Malhotra leaves club for Maple Leafs.' The Province, 09/18/2020)
Benning said the long-term plan is to hire a new assistant coach and that they'd start looking at candidates to interview but the process would be methodical.
While Benning continues his search to replace the eye in the sky, will he seek to bring in a new faceoff wizard to build upon the foundation left by Malhotra, or will he seek to provide head coach Travis Green with an assistant who can help the team progress in the final year of Green's contract?
Whoever that assistant may be, Malhotra, who can be attributed with the improvement of faceoff wins during his Canucks tenure, will surely be missed, but whenever one door closes, another opens. So, let's have a look at who may enter through the door and possibly become a member of the Canucks assistant coaches this upcoming season.
Before we begin, I've observed that the Canucks have a trend behind the bench. Like Malhotra and Travis Green, Benning has chosen former players to coach his current squad. In addition to that, the two remaining Canucks assistant coaches Newell Brown and Nolan Baumgartner are also former players and, therefore, this list of potential suitors will use that trend as a guideline.
Jason King
Behind Door No. 1, let's look from within the system at Jason King. Currently serving as an assistant coach to Trent Cull of the Utica Comets, King tops our list because of the length of service. Not including his playing time with the Canucks, he has seven years of coaching experience, both as an assistant coach and as director of hockey operations with the St. John's IceCaps. Therefore, it might be time for him to hand Benning his resume and make his return to the NHL as assistant coach of the Canucks.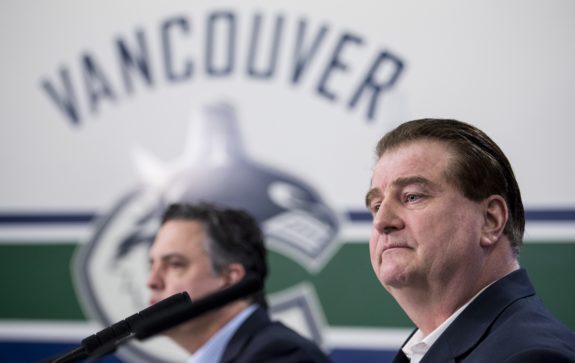 When King's playing career concluded in 2013, he was quickly retained by the IceCaps to serve as assistant coach and, within a few seasons, was promoted to director of hockey operations where he oversaw until the Canucks moved their AHL affiliate to Utica and he once again became an assistant coach. Since then, the loyal King has been guiding the Comets and gaining experience as an assistant coach for the last four seasons.
Personally, I think it is important to include that this upcoming season, whenever it may begin, will be affected by COVID-19. As we are seeing in the NFL, players and lineups are shuffling, games are being postponed and if I were in the shoes of Benning, I would like to have a coach with knowledge of our system. This way if, not when, Benning needs to call up a player on a two-way contract, he can trust that the team won't skip a beat. With four years of experience with the farm team, someone like King fits that role.
If Benning does choose King to come up to the Canucks' assistant coaching staff, his knowledge of the Comets gives the team an advantage when deciding upon prospects and players on two-way contracts, and how to use them. But this strategic and forward-thinking move isn't the only reason to promote King. If he's brought up to replace Malhotra, he brings a unique experience of playing tic-tac-toe with the Sedin twins during his playing career on the line dubbed, "The Mattress Line" (Two Twins and a King).
With that knowledge of the system and experience playing with the Sedins, King has also previously stood alongside current head coach Green. Before Green was promoted to bench boss of the big club, Benning chose King to serve as Green's hand of the king. Should Benning once again chose to reward King, he would be an excellent choice to replace Malhotra.
Chris Higgins
Following in the footsteps of Malhotra — who joined the Canucks as a development coach and was then hired to become an assistant coach — could be former player, Chris Higgins.
Currently serving as the Canucks' assistant director, player development, Higgins could slide in alongside Brown and Baumgartner to create an interesting trio. The reason for this intrigue is that during his playing career, Higgins became known as a two-way player with good skating, capable of contributing offensively while remaining defensively responsible.
 If he can transfer his knowledge to say, the newly re-signed Jake Virtanen, another speedy two-way forward who possesses the ability to generate scoring chances and is arguably on the cusp of reaching his potential, then perhaps Higgins in an assistant coaching role can help players develop into an even better version of themselves.
The path for Higgins, which was paved by Malhotra, depends on if Benning thinks that his team can become unequivocally better by promoting Higgins the way he did Malhotra.
By leveraging the developmental progress he has made with some of the Canucks young stars, along with his knowledge of the talent on the roster and which players share synergistic traits – should COVID-19 cause any last-minute line shuffling – Higgins has a valid case to present to Jim Benning, should he apply for the role of assistant coach.
Of these two candidates, which do you think has the stronger claim to the throne? Let us know in the comments who you think may fill in as an assistant coach and consider all options.
Remember Steve Ott, the bruiser on the St. Louis Blues? Well, he went from suiting up with his teammates to donning a full suit behind his teammates as an assistant coach. Shortly after Ott stepped behind the bench, the Blues went on to utilize his familiarity and win a Stanley Cup.
Maybe there is a missing piece hidden in plain sight and Benning is methodically waiting to pluck the right person for the role of assistant coach so we, too, may share the same fate as the Blues. One can only hope.
---
---