The New York Rangers agreed to terms with restricted free agent (RFA), Ryan Strome at the final hour on Friday before heading to arbitration. The 6-foot-1, 193-pound center from Mississauga, Ont. has played the last two of his eight NHL seasons in a Rangers uniform and scored 18 goals in both campaigns along with 15 assists in 63 games in 2018-19 and 41 assists in 70 games last season. He seemed to find his role this past season and he's been rewarded for it with a two-year contract worth $9 million.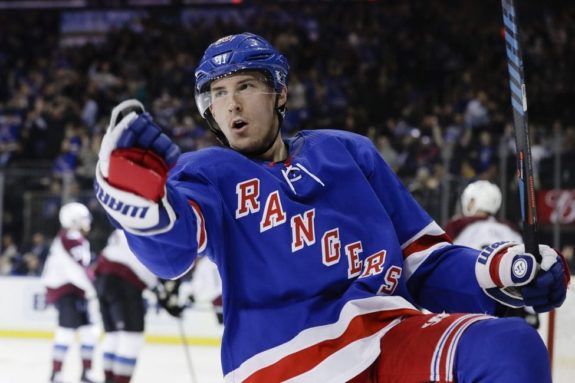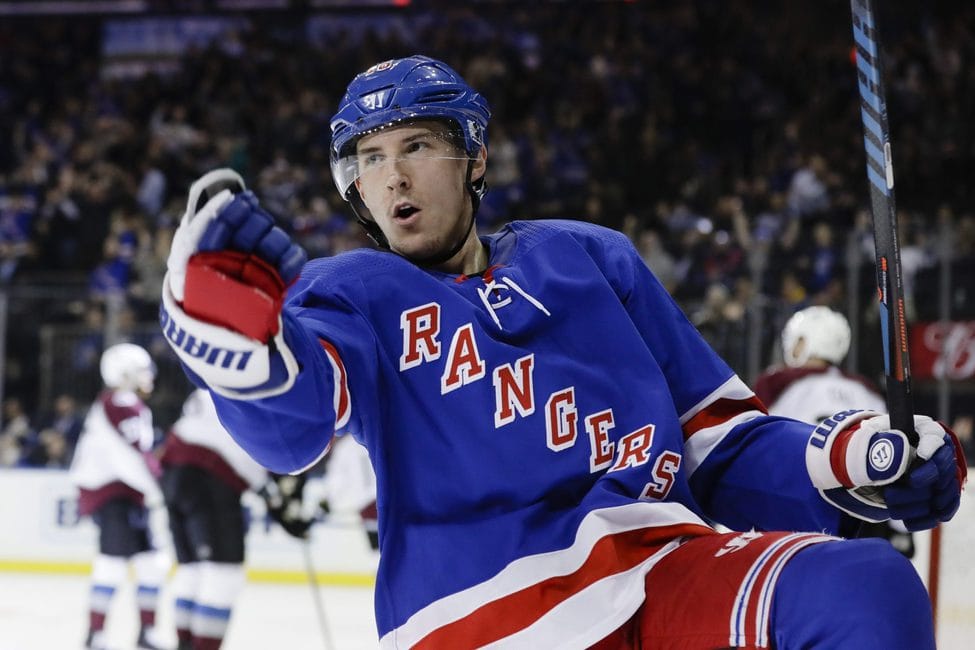 The 27-year-old had this to say via Twitter after he signed: "Very happy to back for 2 more years! No place I'd rather play than in front of our great fans at MSG." Strome was the fifth-overall pick in the 2011 NHL Entry Draft, and racked up 254 points in 491 games played with four teams in his career. He's also scored 10 points in 18 career playoff games.
Rangers MVP Artemi Panarin is probably happy to have his center signed for two more seasons. Panarin scored 95 points playing with Strome last season and the two combined for a plus-23 rating.
Lemieux Inks 2-Year Deal as Well
The Rangers also avoided arbitration with their final RFA, Brendan Lemieux. Lemieux, son of former NHL agitator Claude, signed a two-year contract worth $1.55 million per year, according to Larry Brooks of the NY Post.
He joined the team near the 2018-19 trade deadline and scored six points in 19 games. This past season he had six goals and nine assists in 59 games playing primarily on the fourth line. The gritty left-winger also racked up 111 penalty minutes.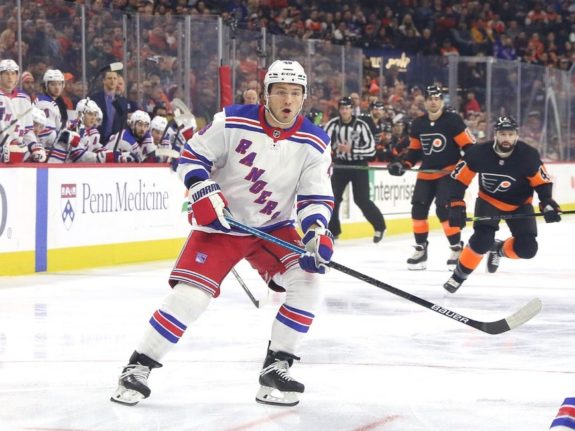 Lemieux was suspended for the first two games of the qualifying round after a hit on Joonas Donskoi of the Colorado Avalanche just before the season was paused and only played in one of the three games in their play-in round series against the Carolina Hurricanes. With the firepower the Rangers have, Lemieux will play an important role in providing toughness to help make the Blueshirts harder to play against. It's what they need after being swept out of the expanded 2019-20 NHL Playoff format by the Hurricanes.
Rangers and Hockey Fights Cancer
Hockey Fights Cancer is an NHL and NHLPA initiative to support cancer patients and their families. The Rangers have helped promote HFC Assist, which brings youth and local hockey teams together to raise funds for cancer patients. They have a Hockey Fights Cancer night every November. Cancer survivors are invited to Madison Square Garden for a game and a ceremonial puck drop. They typically honor 10 children with help from Northwell Health. Last year a couple of cancer survivors sang the national anthem at MSG.
National Cancer Awareness day was Nov. 7 and the NHL has been at the forefront of the No-Shave November movement, promoting cancer awareness and helping to raise funds for cancer research by selling merchandise and taking donations. The Rangers team up with Northwell Health and the Lustgarten Foundation every year to help inspire and give hope and courage to those fighting with, going through, and moving on from a battle with cancer, promoting No-Shave November
The Rangers are also working with the Garden of Dreams Foundation that helps make dreams come true for children and families who are battling cancer throughout the NY area. Garden of Dreams is partnered with 30 organizations that all chip in for a good cause.
Signings Solidify the Roster
Coming off a successful NHL Entry Draft and after signing first overall pick Alexis Lafreniere to an entry-level contract, it's good that management has also re-signed their RFAs. The Rangers had already bolstered their roster after signing Tony DeAngelo and Alexandar Georgiev last month, but adding Strome and Lemieux rounds things out.
November has been great so far and with these new contracts and with the work the Rangers are doing in the community and for Hockey Fights Cancer, fans should be proud to be part of the Rangers family.
---
---