Finishing last in the NHL is a death sentence for any coach. Coming off one of the worst seasons in the salary cap era, many people thought that the Detroit Red Wings would fire head coach Jeff Blashill as soon as the opportunity presented itself. Instead, general manager (GM) Steve Yzerman decided to retain his current bench boss for at least the start of next season after finishing with 39 points before the stoppage in March.
With the Red Wings, Blashill has a career record 153-194-32 and is certainly coaching for his future next season. With an improved team on paper and a plethora of prospects in the system, the question then becomes what would a successful season look like for the Detroit-born head coach?
Look at Blashill's Tenure as a Whole
I know many people will want to focus on last year and how dreary it was, because that's exactly how the 2019-20 season was for the team. Completely dreary, with little to no fanfare outside of the Red Wings' younger players and their development. But when it comes to evaluating coaches, you have to — outside of a few specific situations — consider their entire tenure.
Blashill's best season as a coach came in 2015-16 when he led the Red Wings to a 41-30-11 record, earning 93 points along the way, and eventually losing to the Tampa Bay Lightning in five games in the first round of the playoffs. Since then, he's posted seasons with 79, 73, and 74 points, before falling into an abyss with 39 points this past season. So, in a matter of five seasons, he's reversed his 93 point total to 39 points, which doesn't look good at all. But while being head coach, the team hasn't been what you'd call "good."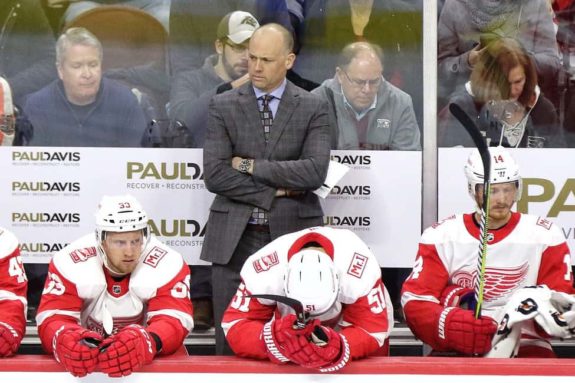 Since adding Blashill as head coach, the Red Wings have been falling off the contender level every season as they returned with core veterans that were clearly on the downfall. They were stuck in "not good enough to win, not bad enough to tank" purgatory and delayed an inevitable rebuild that they're finally getting to now. So, while you can put some of the onus on Blashill, quite a lot of it revolved around a significant change in the team's upper management group that lost their long-time owner in 2017 and changed GM's in 2019.
That turnover in management and lack of roster turnover wouldn't be easy for any coach. Now that we've seen substantial roster moves for the first time in recent memory, there's a great chance for Blashill to have success behind the bench. Of all the wacky things to happen in 2020, seeing him do well with the Red Wings would fit right in with how this year has been going.
Sizing Up This Season's Red Wings Team
Speaking of substantial moves for the Red Wings, they might actually have quality NHL players that Blashill can lean on this season, instead of relying on 2015-16 Justin Abdelkader to help win games. Those moves include signing Thomas Greiss, Bobby Ryan, and Troy Stretcher in free agency, all of which were for reasonable/team-friendly deals. Adding these players helps give the Red Wings a better chance of winning, which is all Blashill and the fans are asking for.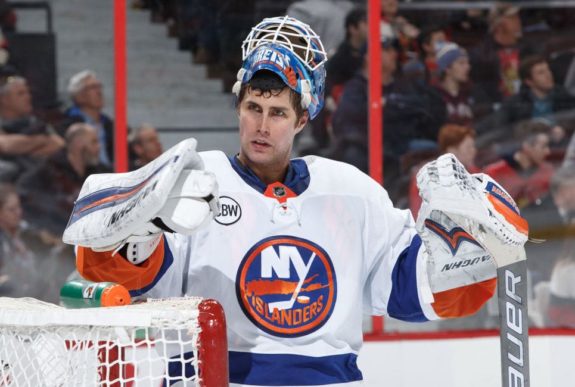 In fact, I'm willing to say this is the second-best Red Wings squad that Blashill has coached outside of his 2015-16 team that made the postseason. He has stability in net, a top line that should score plenty of goals, and a defense that is certainly not giving up 267 goals against like in 2019-20. The pieces are there for his team to be better, but there are still young players in the system to also keep an eye on.
A key factor for Blashill is who will their opponents be. I touched on what the potential schedule for the Red Wings in 2021 might look like, but if you size them up within their division, it could be challenging. Outside of the Boston Bruins and Tampa Bay Lightning (who are still great teams), I would argue that every team in the Atlantic Division improved over the offseason, meaning that the Red Wings' level of competition could be even tougher than last season. If that's the case, it puts Blashill in a situation where he needs to bring his A-game every night and there are no excuses this time around with this roster.
What Should Expectations Be for the Red Wings?
I spoke highly of the Red Wings' roster in the previous paragraph, but that's because of how positive I feel about this team. They made significant changes over the offseason (for the better), they had one of the best draft classes of the entire NHL in September, and for the first time in a long time, there is a sense of hope for the Red Wings fan base. This team can't be as bad as last season and if they are, then major changes are coming.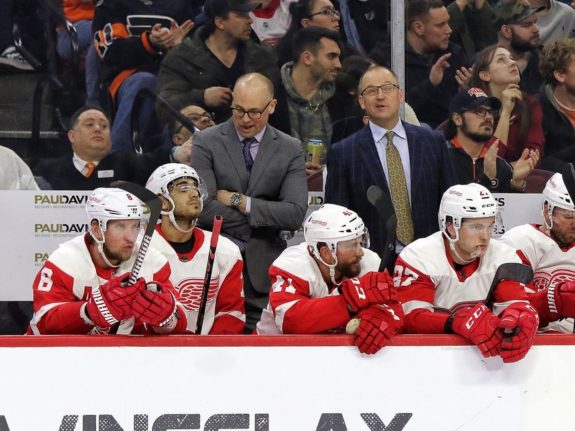 That's why I think we'll see modest growth in the Red Wings' performance this season. No team has finished with the worst record in back-to-back seasons since the Buffalo Sabres in 2013-14 and 2014-15, both teams that this season's Red Wings would excel against handily. In this era of parity, there's no way Detroit could be even worse than last year and it's likely we'll see them move up a few spots in the Eastern Conference.
With the improvements in net and on defense, I think the Red Wings can win anywhere from 28-35 games when healthy. That would've put them between 12th and 14th in the Eastern Conference last season and I believe that's a good, level-headed prediction on where this team should be next season. Detroit probably won't be making the playoffs, never mind competing for a Stanley Cup, but I would be happy if they won 10-15 more games. Anything more than that is house money for the Red Wings.
It's All About Finding the Right Balance
The goal for the Red Wings should be to win 10-15 more games, which equates to 20-30 points more. Blashill has had success coaching this team before, so there's no reason why he can't this season. However, if Detroit performs the same, or worse, than last year, then the coach will be the first to go. However, my guess is Blashill helps this team move up a few spots in the standings, keeping his job for at least this season, and playing out the rest of his contract. That's the best-case scenario for the Red Wings.
---
---