Despite the postseason being out of grasp for the Vancouver Canucks, there is still plenty to watch over the final 33 games of the season. There will be some intriguing storylines to watch in who Vancouver decides to deal before the trade deadline and where the Canucks will end up in the draft order. There will be some players looking to surpass career and team-based milestones down the stretch. Here are six milestones to keep an eye on after the 2023 All-Star break.
300 Career Points- Elias Pettersson & Brock Boeser
One race to watch is who gets to 300 career points first, Elias Pettersson or Brock Boeser. The two have played their entire careers with the Canucks and will be looking to become the 27th and 28th players to reach 300 points with the franchise. The only question is, which one will reach the milestone first?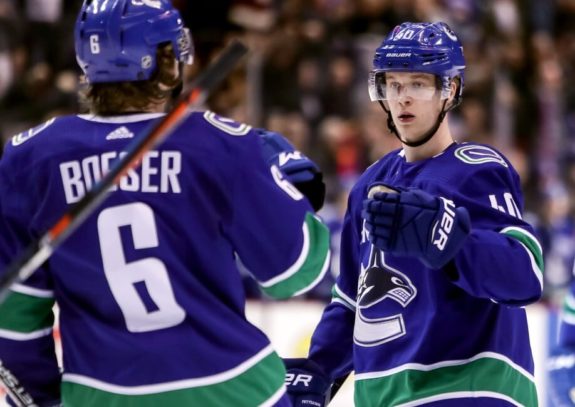 Despite Pettersson having seven fewer points with 279 in his career, he would be the favourite to hit 300 points first. He is Vancouver's leading scorer this season and could become just the fourth Canuck in franchise history to have a 100-point season. That being said, Boeser has been heating up as of late and had eight points in the 10 games before the All-Star break. If he can continue his strong play out of the break, he could get the 14 points needed to beat his Swedish teammate to the milestone first.
200 Career Assists- Quinn Hughes
Already one of the best defensemen in franchise history, Quinn Hughes should pass another career milestone in short order with his 200th career assist. He currently sits at 186 for his career but should have no problem dishing out another 14 apples before the season concludes. When he does pass the milestone, he will become the 23rd skater and sixth defenceman in franchise history to hit 200 assists as a Canuck.
Related: Canucks Midseason Awards 2022-23
---
Latest News & Highlights
---
After setting the Canucks record for most points in a season by a defenceman last season with 68 points, Hughes is on pace to smash that record, having already recorded 45 points in his first 45 games. He is also on pace to surpass his career-high of 60 assists in a season and goals, which stand at eight. A key member of the team's core, he will also be wearing an "A" on his jersey down the stretch.
200 Career Goals and 500 Career Points- J.T. Miller
J.T. Miller is closing in on two career milestones and should get them in short order once Vancouver hits the ice after the break. The first one he will hit is the 500-point mark for his career. He is currently sitting at 498 and would become the seventh member of the 2011 Draft class to hit the career milestone. So far in his Canucks career, he has 261 points in 251 games, with the other 237 points in his career coming while wearing New York Rangers and Tampa Bay Lightning jerseys.
The other career milestone is 200 career goals which he is currently just 13 away from hitting. He currently sits at 187 with 92 of those coming as a Vancouver Canuck. As for how he stacks up against others in his draft class, eight others have hit the 200 career goal mark with Miller expected to be number nine later this season.
1,000 Career Saves- Spencer Martin
This season has been a tough one for Spencer Martin. With Thatcher Demko injured, he has been thrust into the starters position, and his 27 games played this season are more than anyone thought he play coming into the season. Despite his struggles, he is closing in on a milestone and is set to make his 1,000th career save, which could come in his next start.
Related: Canucks' Martin Deserves More Starts in Net Than Demko
Through 36 games in the NHL, Martin has made 976 saves on 1,098 shots. That means he is only 24 saves off hitting the millennium mark for his career. As mentioned, it has been a tough season for the Oakville, Ontario-born goaltender, so it will be nice to see him able to celebrate a career milestone this season.
Canucks In Search Of Franchise First As Well
This season has not turned out the way the Canucks had expected, but that means Vancouver could also achieve a franchise first. They are in a good spot when it comes to the draft lottery, and if they win, it would be the first time in franchise history the Canucks would be picking first at the NHL Entry Draft. While the season may be lost, there is plenty still left to play for whether it be career milestones or watching this team grow and develop so fans can experience playoff hockey next season.
---
---