In this edition of Vancouver Canucks News & Rumors, I share the news that Jim Benning hopes to sign Vasili Podkolzin to a contract soon. I'll discuss some of the line combinations early in the Canucks' training camp and wonder what these might mean for the team.
Related: Vancouver Canucks News & Rumors: Hamonic, Ferland & Podkolzin
Finally, I'll share a short video where Elias Pettersson is asked what advice he's given to Quinn Hughes about starting a second season as an NHL player.
Item One: Jim Benning Will Try to Sign Vasili Podkolzin After KHL Season
Canucks' general manager Jim Benning is hoping he'll be able to sign young Russian prospect Vasili Podkolzin when the KHL season ends. Podkolzin just finished playing in Edmonton for Russia at the World Junior Championships. Team Russia lost in the consolation round to Team Finland Tuesday for the bronze medal against Finland.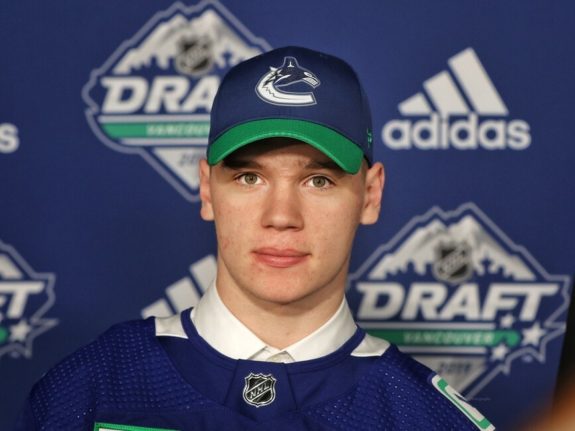 Podkolzin, who was the captain of Team Russia, scored two goals and two assists in seven games. He was the Canucks' first-round (10th overall) draft pick in the 2019 NHL Entry Draft. Podkolzin is a power-house forward who brings with him a tremendous finishing ability. He's tough to play against. Clearly, both he and the Canucks hope that he's able to play during the 2020-21 regular season.
Item Two: Nils Hoglander on a Line with Bo Horvat and Tanner Pearson
In a bit of a surprise, head coach Travis Green started training camp with a line made up of Nils Hoglander, Bo Horvat, and Tanner Pearson. That line matchup now begs the question: What happens to Jake Virtanen?
The grouping was a highlight of the Canucks' Group B practice. Hoglander obviously has become a candidate to be a top-six forward for the Canucks entering the 2020-21 regular season. He had scored five goals and 14 points in 23 games with Rogle BK of the Swedish Hockey League before he came to Canada for the team's training camp. 
Item Three: The Canucks' Early Top Line?
Green's early choice for the Canucks' top line included Brock Boeser skating with Elias Pettersson and J.T. Miller. Jake Virtanen was viewed as a potential top-six candidate for a spot in 2020-21. However, Virtanen started the training camp on a line with Tyler Motte and Brandon Sutter Monday. 
Item Four: Elias Pettersson Suggests Quinn Hughes Will Keep Getting Attention
That the Canucks made the 2019-20 postseason surprised many NHL pundits. At the start of the season, few really believed 2019-20 would be Vancouver's season. But, led by a number of young stars, the team made it. Among those leaders were second-year player Elias Pettersson and rookie Quinn Hughes.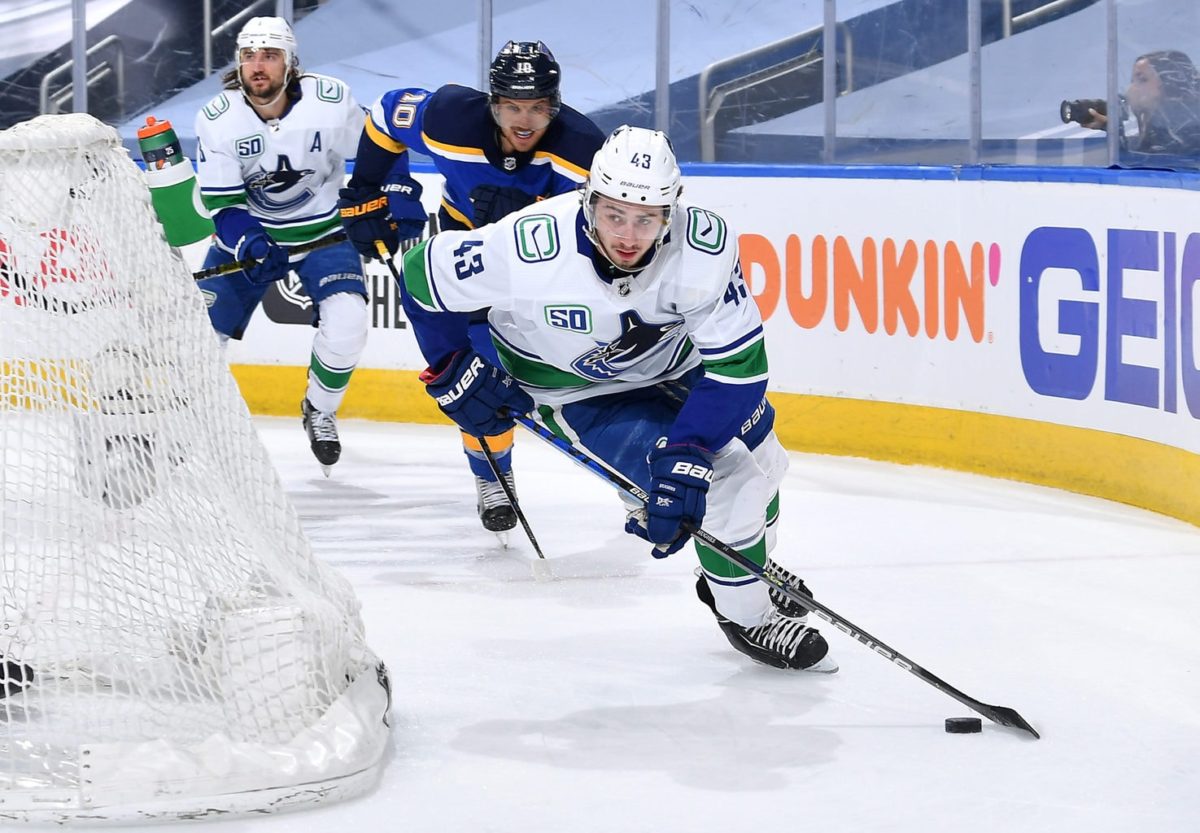 The postseason series each had played prior to facing the Vegas Golden Knights was tough, playoff hockey. But it was nothing like the team would face when it matched up against the Golden Knights. Both Pettersson and Hughes were roughed up constantly. The camera often showed each Canucks' star first on the ground, then jumping up to get back into the play.
In one sense, it was a coming-out party for both young men. Neither ever quit. Every time the youngsters were knocked down, they got back up. By the end of the series, although the Canucks lost to the Golden Knights, fans knew that they had two tough young players in Peterson and Hughes.
As the 2020-21 training camp begins, Pettersson reminds Hughes that more "attention" is coming. Specifically, when questioned at the end of Monday's training-camp practice, Pettersson was asked if he had given any advice to the one-season less-experienced Hughes. Pettersson politely really didn't answer the question; however, his answer suggested that Hughes should expect more of the same treatment this season that the Golden Knights gave him in the playoffs.
In the video titled "What advice does Pettersson have for Hughes heading into sophomore season?" Pettersson talks about the "attention" (which means being roughed up) Hughes will receive just because he's a "special player" in the NHL.
Related: Vancouver Canucks: Top 10 Rookie Seasons
The writer asked Pettersson "How different is year two from year one?" then immediately asks "Have you offered or said anything to Quinn about what this year is going to be like?"
Pettersson's answer recalled the two young players' postseason treatment. Pettersson certainly doesn't come across as a whiner, but any Canucks' fans who watched the playoffs know exactly what Pettersson's referring to.
Pettersson praises Hughes for his maturity and his skill when he says, "I think for me my second year (was different because) they knew who I was." And then he added that becoming known meant "I was getting more attention."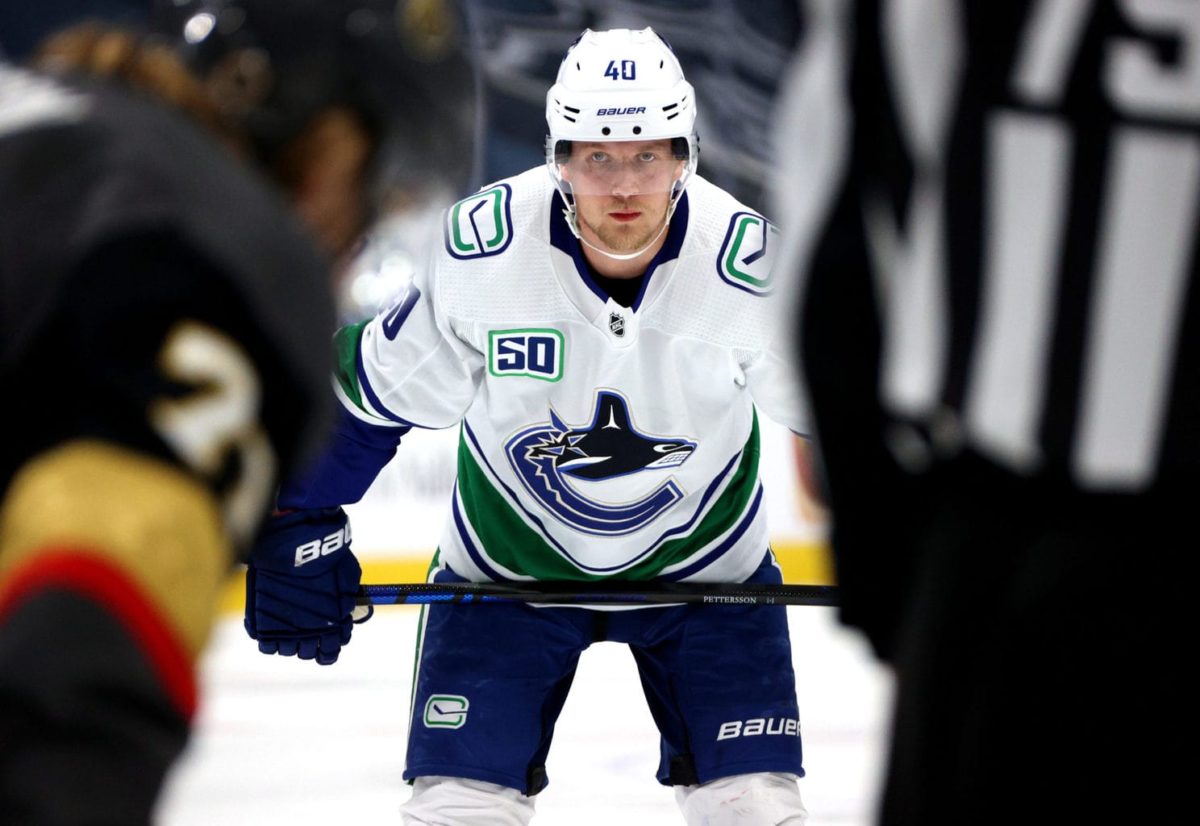 Pettersson added, "I think Quinn was already getting that attention last season especially in the playoffs, so … he already has their attention on him. Pettersson noted about this season, "It's still first day of training camp and he's a smart player and he learns fast."
In other words, Peterson's warning Hughes that more attention is coming; but he also believes Hughes is ready for that attention. In other words, reading between the lines from the third-year player to the second-year player, get ready to be roughed up and don't quit playing good hockey.
What's Next for the Canucks?
To this point early in the Canucks' training camp, I've heard very little about the Canucks' goalie situation. Most news has been about surprises in the line combinations. It seems as if the team is looking to build lines that are both good offensively and defensively.
As the training camp continues, it will be interesting for fans to see if anything that happens gives hints of any changes in philosophy from the coaching staff.
Related: Canucks News & Rumors: Bailey, Baertschi, Podkolzin, Hamonic & More
It's early yet in the training camp, but there have been surprises. What other surprises might be on the way? I'm particularly interested to see how Jack Rathbone fares in his fight for a roster spot.