In this edition of Calgary Flames News & Rumors, I'll take a look at some decisions the organization is making to settle its roster prior to the start of the 2020-21 regular season. As well, I'll report some of the news emerging from the early days of the training camp.
Related: 7 Cool Things About Jarome Iginla: Calgary Flames Hall of Famer
Item One: Josh Leivo Begins Training Camp with Elias Lindholm and Matthew Tkachuk
Talk about landing well. Newcomer Josh Leivo, who most recently played with the Vancouver Canucks, has opened training camp partnered on a line with Elias Lindholm and Matthew Tkachuk. What a good place for Leivo to begin his career with the Flames.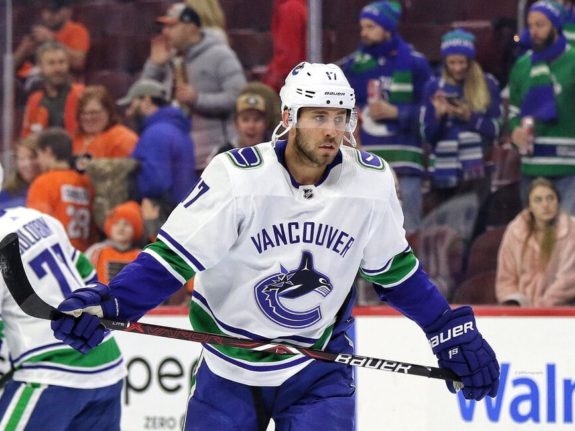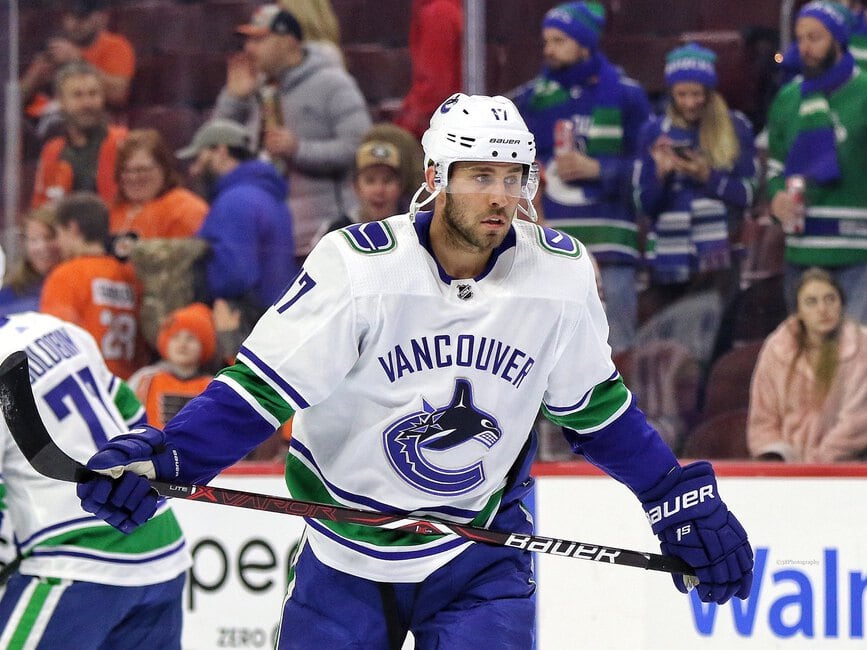 Leivo only scored seven goals and 12 assists (for 19 points) during the 36 games he played with the Canucks last season. It wasn't that he played badly, but he missed the last 33 games of the regular season and all the postseason because of a fractured kneecap. The word is that he's fully ready to begin the 2020-21 season. 
Leivo shared that the Flames' head coach Geoff Ward and general manager Brad Treliving had "talked to me when we were about to sign … about their plans." (from "Leivo gets shot alongside Tkachuk, Lindholm, Daniel Austin, Calgary Sun, 05/01/21).
Related: Jarome Iginla's 5 Greatest Highlights
Leivo admitted that, although Ward and Treliving didn't say who he would be playing with, he was told that they were counting on him to play "an offensive role."
Leivo added, "Those are two guys (Lindholm and Tkachuk) who definitely know how to play that style, so that's exciting to see and exciting to be part of that. We've played a couple (scrimmages) and started camp together, so it's been going good so far and should be an exciting time."
Item Two: Martin Pospisil Tests Positive for COVID-19
After testing positive last month for COVID-19, 21-year-old Slovakian player Martin Pospisil will miss training camp with the Flames. He was the organization's fourth-round (105th overall) draft pick during the 2018 NHL Entry Draft. During the 2019-20 season, the young center played 26 games for the Flames' AHL affiliate the Stockton Heat, scoring three goals and seven assists.
This offseason, he has been playing for Kosice HC in the Slovak League. On Dec. 8 he tested positive, but has recovered and began playing again on Dec. 30. Fortunately, he's healthy.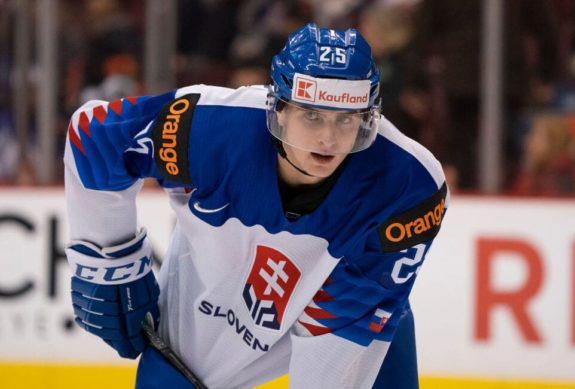 The Flames decided that, because he would have to quarantine for 14 days when he reached Calgary and because he would probably only play again in Stockton, it made better sense to fly him to Calgary prior to AHL training camp, which begins on Jan. 15. He'll then quarantine before he begins that training camp.
Item Three: Tyler Parsons Will Miss the Flames' Training Camp
Tyler Parsons, a 23-year-old goalie who was chosen by the Flames in round two (54th overall) of the 2016 NHL Entry Draft) but has not yet played his first NHL game, suffered a setback, and he won't be attending the Flames training camp.
Related: Let's Talk About the 2021 Metropolitan Riveters Captains
Parsons underwent ankle surgery in December after signing a one-year, two-way contract with the Flames in October. Parsons recorded an 11-9-2 with the Kansas City Mavericks of the ECHL last season, with a goals-against-average of 3.03 and a save percentage of .911.
Item Four: Defenseman Michael Stone Signs PTO with Flames
Michael Stone, a 30-year-old NHL veteran who's already played four seasons with the Flames, is attending training camp on a professional tryout (PTO). General manager Treliving was clear about the reason, noting that the organization wanted to add as much depth as possible to the defensive corps.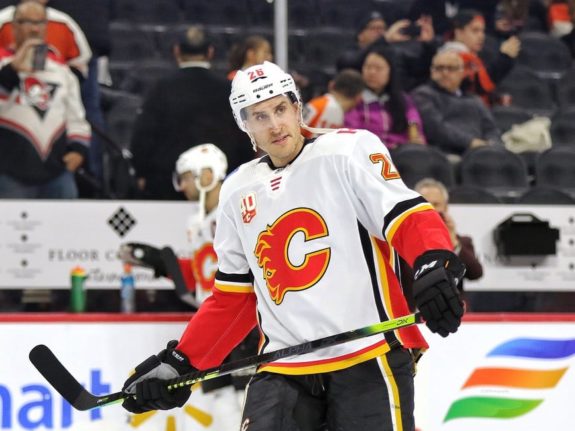 That said, no contract is currently in place for Stone and the 30-year-old right-shot defenseman will have to earn a roster spot during training camp. Stone played 30 games with the team last season, scoring seven points.
Item Five: Johannes Kinnvall Stays in Sweden for 202-21 Season
After the Flames signed Johannes Kinnvall in April, the organization decided he would start his two-year deal during the 2021-22 season. As a result, the 23-year-old right-shot defenseman will stay in Sweden to play for HV 71 Jonkoping of the Swedish Hockey League.
The youngster has a nice offensive touch. This season, Kinnvall scored five goals and 12 assists (for 17 points) in 20 games. Last season, in 51 games he scored 40 points (11 goals and 29 assists). The plan is for Kinnvall to travel to North America in time for the beginning of the 2021-22 regular season.
What's Next for the Flames?
The Flames have the large number of players under contract – 46 players in total. A number of them, including Connor Zary, Jakob Pelletier, and Dustin Wolf, will play another season in junior and will have their contracts slide for 2020-21. However, there's a limit of 36 players in camp and 40 players under contact, so someone's on the outside looking in. But who?
Related: Flames News & Rumors: Kylington, Labarbera, Sigalet, Wolf & More
Perhaps that's one reason why, as I noted in this post, a number of the Flames' prospects will stay playing in Europe. It will be interesting to see who emerges from the training camp to complete the Flames' roster.
Fans will likely get more news on that as the week goes on.
---
---