As we approach the start of the 2020-21 season, questions have popped-up about the Toronto Maple Leafs' lineup in regards to what it will look like from here on out. Head coach Sheldon Keefe wasted no time on Sunday as he already gave a glimpse to his line choices to start training camp.
Some of the decisions are definitely interesting to say the least, but also very exciting. Keefe is clearly trying something new heading into camp, switching up the lines that were used in the past. The Hockey Writer's Maple Leafs writers will give their reaction to some of the lineup decisions Keefe made as the team preps for the start of the season.
Chris Faria: Hyman Demotion Won't Last Long
Since joining the Maple Leafs back in June of 2015, Zach Hyman has worked tirelessly to establish himself as not only a fan favourite, but also as a legitimate top-six winger.
After coming into the NHL initially as more of a bottom-six grinder, he's been able to elevate his offensive game while maintaining that unique puck-hounding style that's made him such a great fit alongside stars like Auston Matthews and John Tavares. This past season in particular, we saw the Toronto-native truly break out with 21 goals and 37 points in just 51 games. That 34-goal, 60-point pace placed him 80th among forwards in points-per-game — making him a fringe first-line player. 
All of this is to say that Hyman has done everything in his power to improve his game and earn a full-time role in the Maple Leafs' top six, and over the past four seasons that's exactly where he's played. Now, coming off a career year, it's nothing short of a head-scratcher that the 6-foot-1 winger has apparently been demoted to the third line alongside Ilya Mikheyev and Alexander Kerfoot.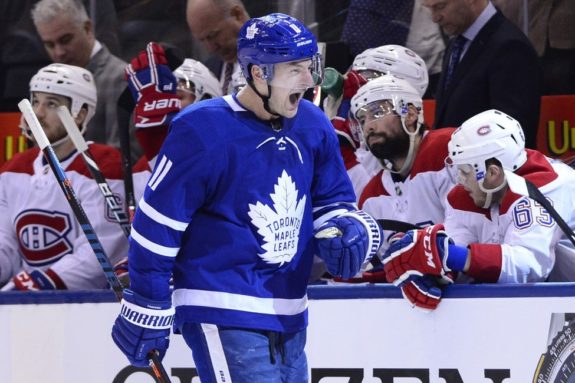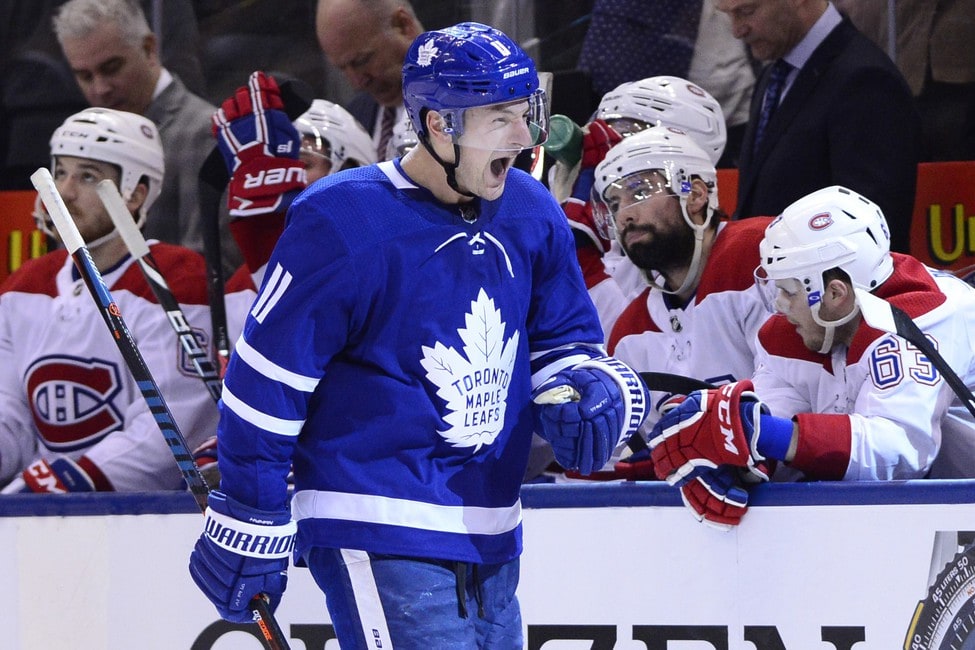 Now, to be clear, is this move a demotion in the true sense of the word? Probably not. I think what's likely going on is Keefe wants to experiment with a bit of a different lineup, at least to start the season. I think putting Hyman on the third line gives the Maple Leafs far more depth and offence across their top three lines, and it also gives the staff a chance to see what Joe Thornton and Jimmy Vesey can potentially give the team in more prominent roles.
Do I think Hyman spends the entire season — or even just a significant portion of it — on the third line? Once again, probably not. I don't put a ton of stock into these preseason lines because, well, it's preseason. It's the perfect time to experiment and learn about your new players. With so many new faces on the team and only 10 days to get ready, the Leafs have no choice but to try new things.
Even if Hyman does begin the season on the third line, I suspect he'll work his way back onto the wing of either Matthews or Tavares. Then again, the experiment may work out better than expected, giving the Maple Leafs their best third line in a long time. Either way, it's good to have options and the team certainly has those in abundance this season.
Andrew Forbes: Thornton on the Top Line
Let's be completely honest. Most of us didn't have Thornton slotted into a role higher than the third line. In fact, for the most part, we believed he would be playing center and taking key face-offs down the stretch. But, as Keefe revealed, the big man will be starting the year on the wing with Matthews and Mitch Marner on the team's top line.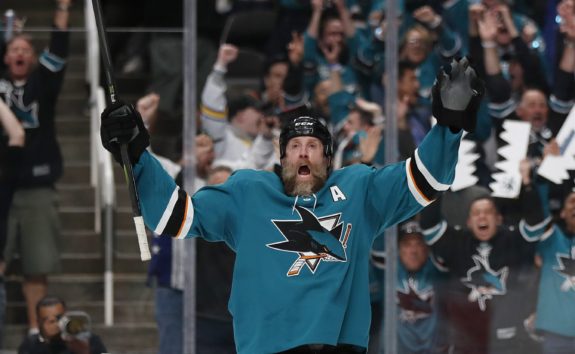 While it likely comes as a surprise to most, the presence of Thornton on the top line might make more sense than you'd think. He gives a veteran presence on a line that, believe it or not, is still quite young in comparison to some other top lines around the league. But it might be his playmaking that makes this move even more important.
Earlier this offseason, Marner discussed his want and need to shoot more. It's something that Peter and I also discussed on an earlier episode of the Sticks in the Six podcast, mentioning that Marner's ability to make plays shouldn't take away from his opportunities to score as well.
Thornton — a veteran playmaker and known for his ability to open up the ice for his linemates — takes pressure off of Marner to be the playmaker for a guy like Matthews. Instead, it opens up the ice for a guy who already has the ability to possess the puck in the offensive zone and could create more opportunity for Marner to put up career highs on the goal side of the spectrum as well.
Now, don't expect Thornton to be an 80-point guy like years past. After all, this is a guy that's coming off a 31-point season in 70 games last year with the San Jose Sharks. That said, that's also with nearly a career low in shots at just 76 for the season.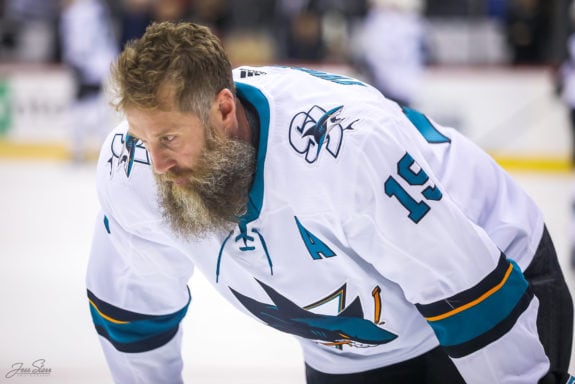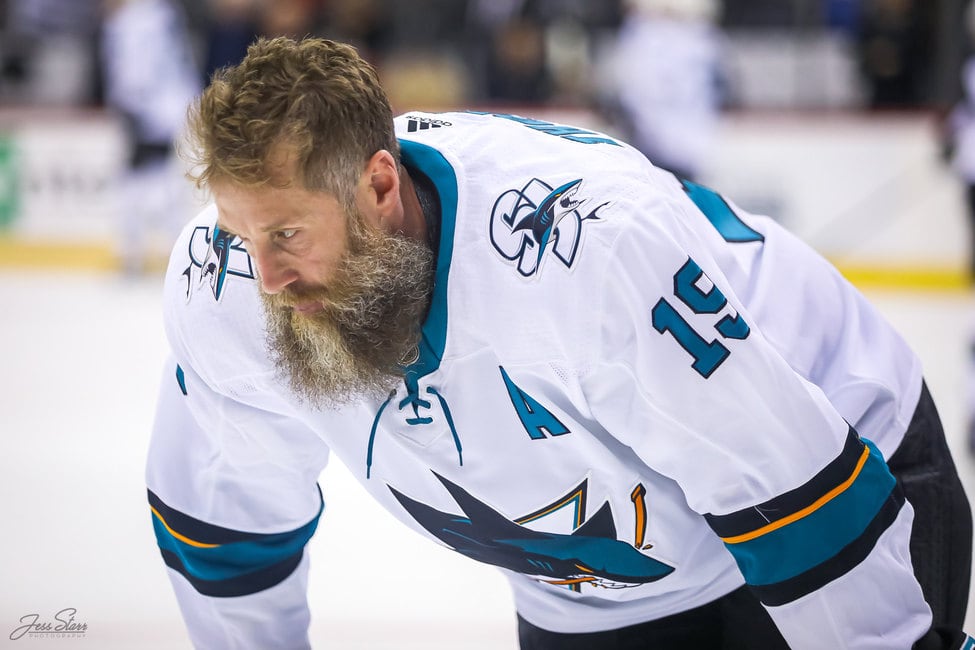 What might benefit Thornton is the fact that he has continued to play throughout the offseason in Switzerland and has an opportunity to play with two of the more exciting players in the league in Matthews and Marner. Obviously this will be an experimental period for the Maple Leafs as Matthews and Marner haven't always played together and the team will want scoring to be spread throughout the lineup, but this is an opportunity to see just what the 41-year-old has left in him with the potential for a big offensive year if it work in the team's favour.
While some might remain critical of the choice, remember that Thornton has averaged 0.92 points per game over his career during the regular season. And with a new division and new division rivals, the opportunity to play close to home for the first-overall pick in 1997 could prove to be a masterful decision by the Maple Leafs head coach.
Peter Baracchini: Vesey Has a Chance to Prove Himself
Heading into camp, many expected that a second-line spot would go to Mikheyev. Before suffering a major wrist laceration, he was putting together a good rookie campaign.
While seeing Thornton on the top line was a big surprise, seeing Vesey's name beside Tavares and William Nylander does raise some eyebrows. Vesey has a connection to the Maple Leafs as his dad is an amateur scout with the team. After signing a one-year, $900,000 contract, he has a lot to prove. Based on where he fit on the depth chart, it looked like Vesey would be in a fight to make the roster after the depth the team added in the offseason.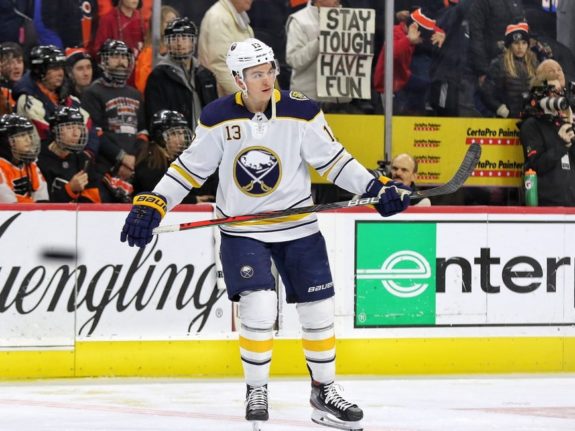 Vesey is coming off his worst statistical season with only nine goals and 20 points with the Buffalo Sabres in 2019-20. His underlying numbers don't jump off the page either, as he had an expected goals-for percentage of 48.59 and a scoring chances-for percentage of 48.80. Despite having a shooting percentage of 9.7, 57.1% of his shots made it through on net while playing 13:48 per game on a Sabres team that, once again, didn't look great at all. 
It's easy to say that Vesey won't be much of a factor after putting up less than stellar numbers last season. However, he does have great speed for his size and a strong shot that made him a sought after commodity after he didn't sign with the Nashville Predators. His goal total did take a major dip after back-to-back 17-goal seasons with the New York Rangers. Clearly, Vesey wasn't given a fair opportunity with the Sabres. 
Keefe might have a different vision in mind, playing to his strengths and getting him back into a top-six role. Playing alongside a top centreman in Tavares and a versatile goal scorer in Nylander would definitely be the jump-start that Vesey needs to find his game and get back to his potential that everyone was high on. It could be a big year for him as he's looking to prove a lot.
The coach seems to have faith in him starting him off in the top six. If all goes well for Vesey in this shortened season, the best-case scenario is he matches or even slightly surpasses his point total from the previous season. If he doesn't seem to click in that role, then we can easily see Hyman back in that top-six role.   
Kevin Armstrong: Barabanov is the Lottery Ticket
When Alexander Barabanov signed an entry-level deal with the Maple Leafs, an article on Sportsnet referred to him as "another Russian lottery ticket." That was way back in April of 2020 and the Leafs are about to see if that ticket is a winner. Keefe placed Barabanov on the fourth line with Wayne Simmonds and Jason Spezza. Sure, it's not the top six, but given Toronto's crop of young forwards looking to crack the lineup, it's quite an accomplishment.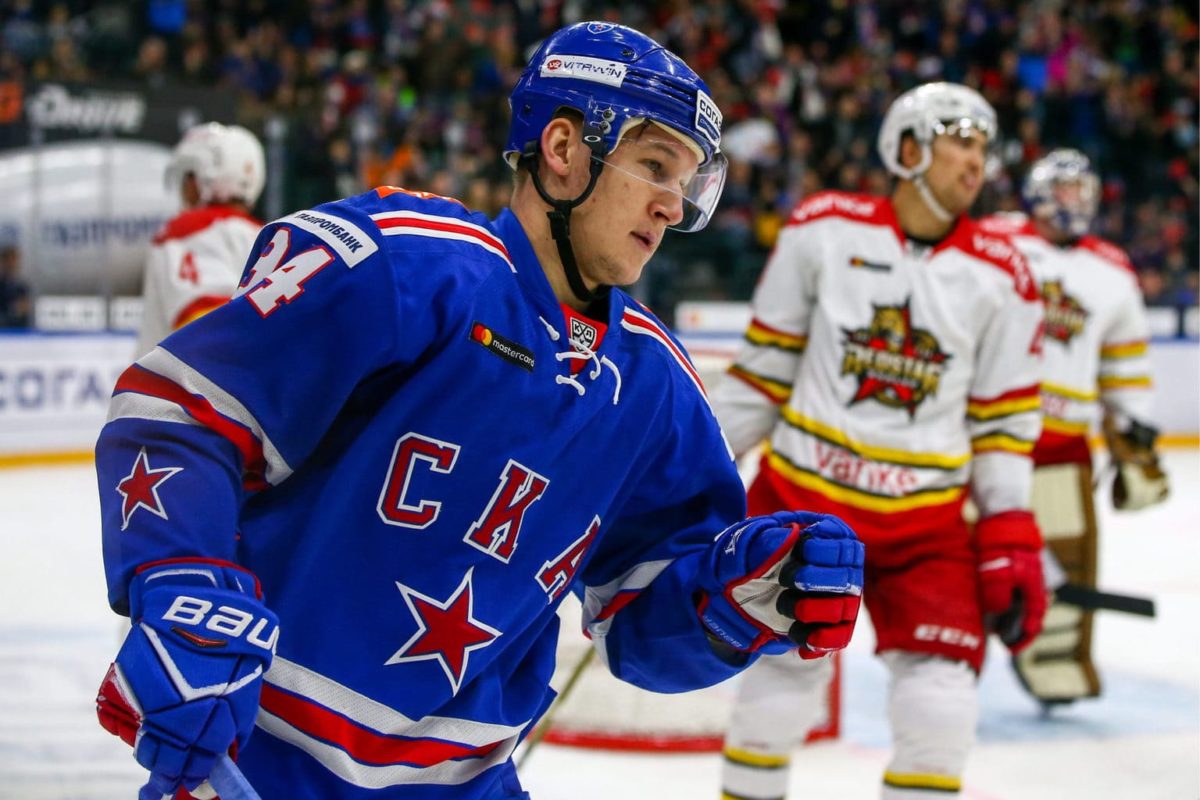 Barabanov will wear No. 94 — the most successful Maple Leafs player to wear that number was fellow Russian Sergei Berezin. Both guys are 5-foot-10 and just over 190 pounds. Beyond that, it is hard to draw comparisons between players separated by two decades. 
To come up with a more likely assessment, let's look at the Maple Leafs' last Russian lottery ticket, Mikheyev. His speed caught a lot of teams by surprise as he worked his way to the top six, recording 23 points in 39 games. Before coming to Toronto, he played four full seasons in the KHL putting up 122 points in 224 games. 
Those numbers caught Toronto's attention, so it is no wonder Barabanov hit their radar as well. He's another speedy player who played in 242 games in five full seasons in the KHL, racking up 130 points. That comes to 0.53 points per game, nearly the same as Mikheyev. If he keeps matching his countryman, he could put up more than 30 points in the 56-game regular season. However, that will be a challenge given his potential lack of ice time on the fourth line. I believe he will earn more ice time and move his way up the roster giving himself a chance to play with Toronto's core-four. 
What do you think of the Maple Leafs' training camp lineups? Share your thoughts in the comments section down below!
---
---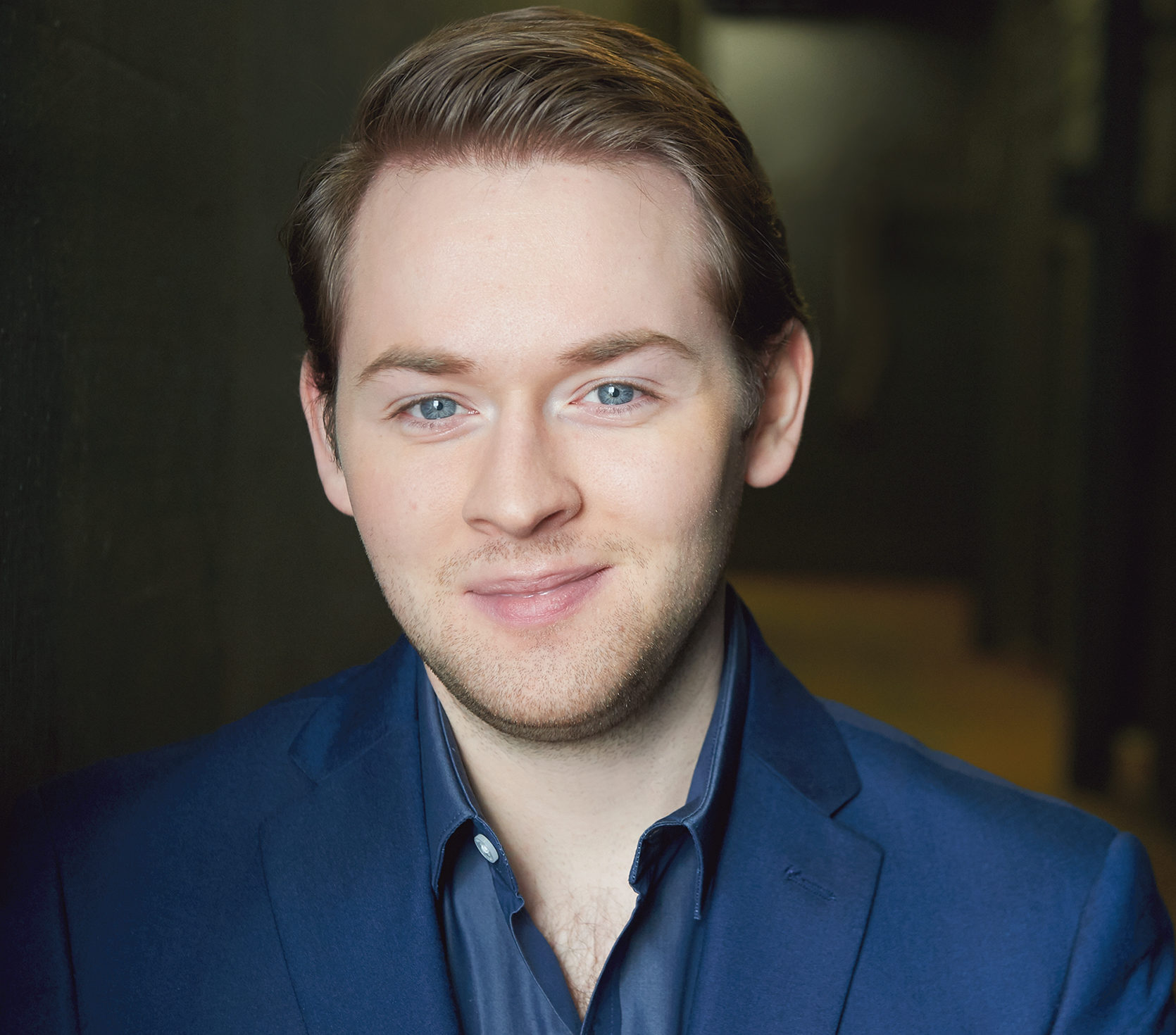 Peter is in his third year with The Hockey Writers, covering the Toronto Maple Leafs and heading the Draft and Prospects section. He has previously interned at The Hockey News and worked on Toronto Marlies broadcasts for Rogers TV. He currently is the co-host of the podcast Sticks in the 6ix and a frequent guest on Maple Leafs Lounge. Aside from hockey, he also enjoys drumming, animation and impressions/ voices.