There's no doubt that this was going to be an offseason devoted to increasing the Toronto Maple Leafs' depth upfront and on the back-end. With the transactions made by general manager Kyle Dubas, it's safe to say that he did just that. With the number of players he added to the team, there are limited roster spots.
The Maple Leafs have loaded up on depth players who are poised to make an impact for a team that has struggled to get past the first round of the playoffs. With that comes the intriguing notion of who is going to make the roster out of the players that Dubas acquired.
There are many players that are going to fight for a spot. Not even players who played on the team during the 2019-20 season are safe. Here are six players that are on the bubble, battling to keep or fight for a spot for the 2020-21 season.
Justin Holl
After the free-agent signings of T.J. Brodie and Zach Bogosian, the Maple Leafs made major improvements to a struggling blue line. Also add in the fact that Travis Dermott signed a one-year deal just under $875,000. Dubas has mentioned that Dermott could be spending some time on the right side. With a lot to prove, and Dermott looking to try and crack the top-four, Justin Holl could be on the outside looking in.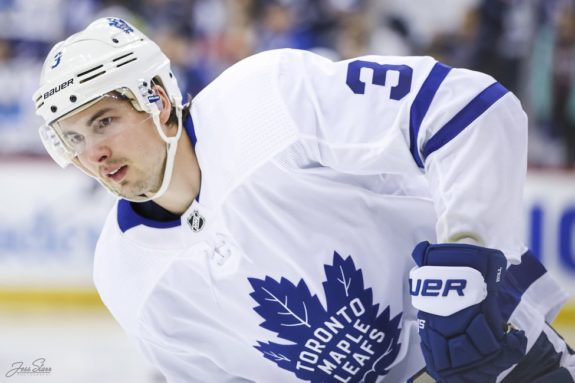 There were times this year where Holl played well alongside Jake Muzzin. However, without Muzzin, Holl struggled. 
| | | |
| --- | --- | --- |
|   | Justin Holl with Jake Muzzin- 5v5 | Justin Holl without Jake Muzzin- 5v5 |
| Corsi For % | 52.92 | 51.92 |
| Goals For % | 53.85 | 45 |
| Expected Goals For % | 56.26 | 45.09 |
| High Danger Goals For % | 61.29 | 38.46 |
While Holl was still a contributor at five-on-five in shot attempts, he lacked results, as his GF%, xGF%, and HDGF% took a major hit when he wasn't with Muzzin. He also struggled during the playoffs when Muzzin was out during the play-in round. Though, Dermott looked pretty comfortable playing top-four minutes.  
Holl, however, could be a decent third-pairing defenseman. But with Mikko Lehtonen being a left shot that is comfortable on the right side, he could possibly push Holl to being the seventh defenseman. And with the way Lehtonen is playing, it'll be tough for Holl to push himself past Lehtonen on the depth chart with his speed and puck-moving abilities.
While Holl is battling for a spot, it's possible that he might be on the way out, as the Maple Leafs need to get under the cap when the season starts. While $2 million is still good value for a player seeing regular minutes, that's a big number for a player who could be in and out of the line-up. 
Mikko Lehtonen
Speaking of Lehtonen, as impressive as his hot start and offensive production is in the KHL, his spot on the roster is not a given. Although many project him to make the team, he's battling for a spot on the team's defense. If he can translate his game in Europe over to North America, then he's all but certain to secure a role on the third pair.
Lehtonen has been unstoppable for Jokerit, scoring eight goals and recording eight assists to lead the league among defensemen with 16 points. In the process, he's averaged four shots on goal, close to 23 minutes of ice time per game, and 25.5 shifts. There's a reason why he received a lot of attention when making a decision to sign a contract. With moves like this, it's easy to see why the Maple Leafs wanted to land him. 
The reaction from fans has been overwhelming on social media. He continues to make unbelievable plays and is always making something happen when the puck is on his stick. He has great awareness to hustle back or when to back off as to not put everyone else on the ice out of position. 
His inexperience on the smaller ice could be a factor, but there's no doubt that with his play, he could adapt quickly and be an impactful defenseman. If he solidifies a spot on the blueline, it may be hard to take him out of the lineup.
Pierre Engvall
During the 2019-20 pre-season, Pierre Engvall played relatively well as he was battling for a roster spot. Even though it wasn't enough, he did get his opportunity, earning a call-up in November and playing in his first NHL game against the Vegas Golden Knights. He'd eventually score his first career NHL goal, a short-handed marker against the Arizona Coyotes. 
It was a promising start to his career, earning 15 points in his first 48 games, even earning time on the penalty-kill. He replaced Frederik Gauthier during the play-in round and was very noticeable in a fourth-line role, being aggressive on the fore-check.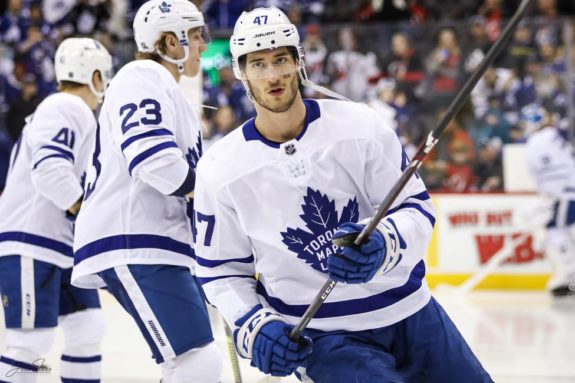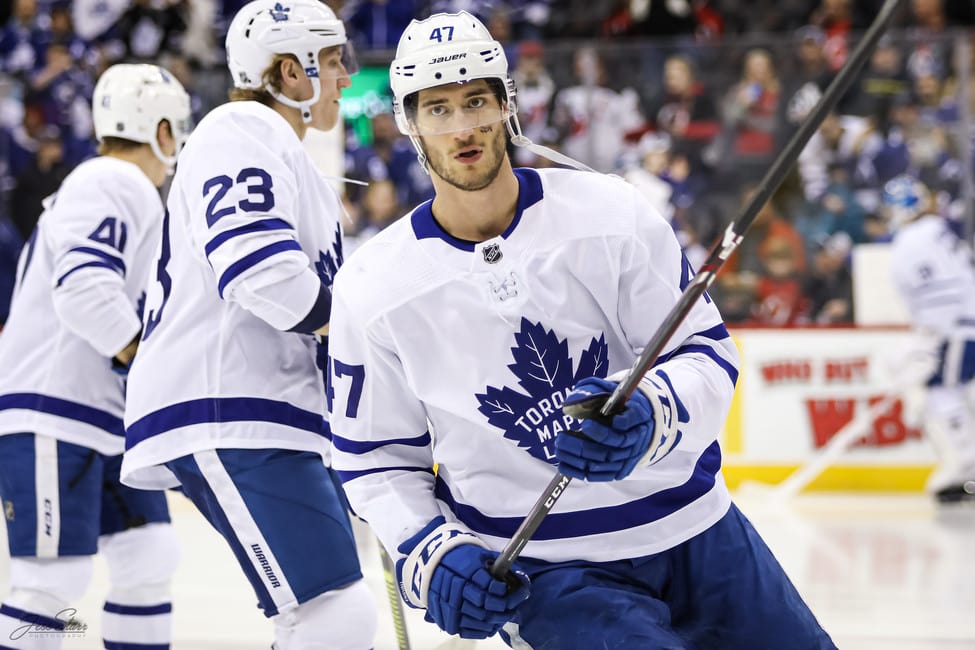 With the recent off-season transactions to bolster their wing depth with leadership and more tenacity, Engvall is back at square one where he needs to battle in order to keep his spot. He has experience, although it's a small sample. With an experienced player in Wayne Simmonds coming in and many others battling for limited spots up front, Engvall has his work cut out.
Similar to Holl, the Maple Leafs could move Engvall's contract to get under the salary cap. Though, it might be better to hold onto him, as he could still fill a spot on the penalty-kill now that Kasperi Kapanen is gone.
Jimmy Vesey
There was a lot of promise surrounding Jimmy Vesey, as he was a highly-touted prospect who entered the free-agent market after choosing not to sign with the Nashville Predators. After finding some success with the New York Rangers, Vesey saw a slow increase in his production, including a 35- point season in 2018-19. However, he had a disappointing 2019-20 with the Buffalo Sabres, only scoring nine goals and tallying 20 points. 
Vesey signed with the Maple Leafs to a one-year, $900,000 contract. He has a lot to prove this time around, as he mentioned his struggles to produce in the past. This is an opportunity for him to start fresh and produce on a team looking to find more success.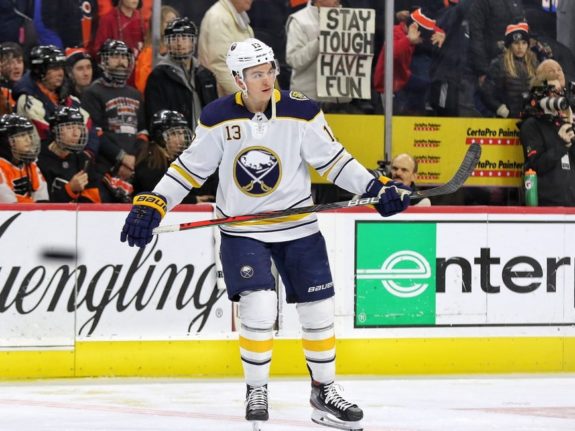 It also helps that there's some familiarity with the club. His father is an amateur scout with the team and reunites with Harvard teammate Alex Kerfoot. Having him around could help Vesey to get back on track and be a difference-maker on the Maple Leafs' third line. Finding that chemistry that he once had with him could help in that regard. 
Vesey is ready for the opportunity to try and get back to what made him successful, a strong winger with size and offensive upside. Other players looking for a spot are in the same boat as him. Can he turn things around, and will it be enough? 
Yegor Korshkov
If there's a prospect that's starting to turn heads, it's the Maple Leafs' second-round pick from 2016. It took a while for him to develop, but Yegor Korshkov is beginning to pan out the way the Maple Leafs expected him to.
After recording 16 goals and 25 points in his first season at the pro level with the Toronto Marlies, Korshkov possesses the size and skill to be a competitive player and strong power forward. He was off to a hot start, scoring five goals in five games. He earned a call-up mid-season and scored his first goal in his first NHL game against the Buffalo Sabres. 
Being on loan to Yaroslavl Lokomotiv, Korshkov is making the most of time to push for a roster spot, with six goals and 13 points in 19 games. It also helps that he scored a goal on an impossible angle. 
While the Maple Leafs could've selected someone like Alex DeBrincat or even Samuel Girard, who have established NHL careers, they're starting to find value in drafting Korshkov. His size and power are his greatest assets. The fact that he's continuing to develop and stay in game shape until camp starts could be beneficial in trying to earn a roster spot.
Alexander Barabanov
When the Maple Leafs signed Alexander Barabanov during the stoppage in play, we knew that he would bring a well-rounded offensive game, possibly being a third-line player for the team. On top of that, his contract is affordable, given their cap situation.
At that point, it looked like he had a good chance to make the roster. However, with the off-season that Dubas has had, that became much more difficult.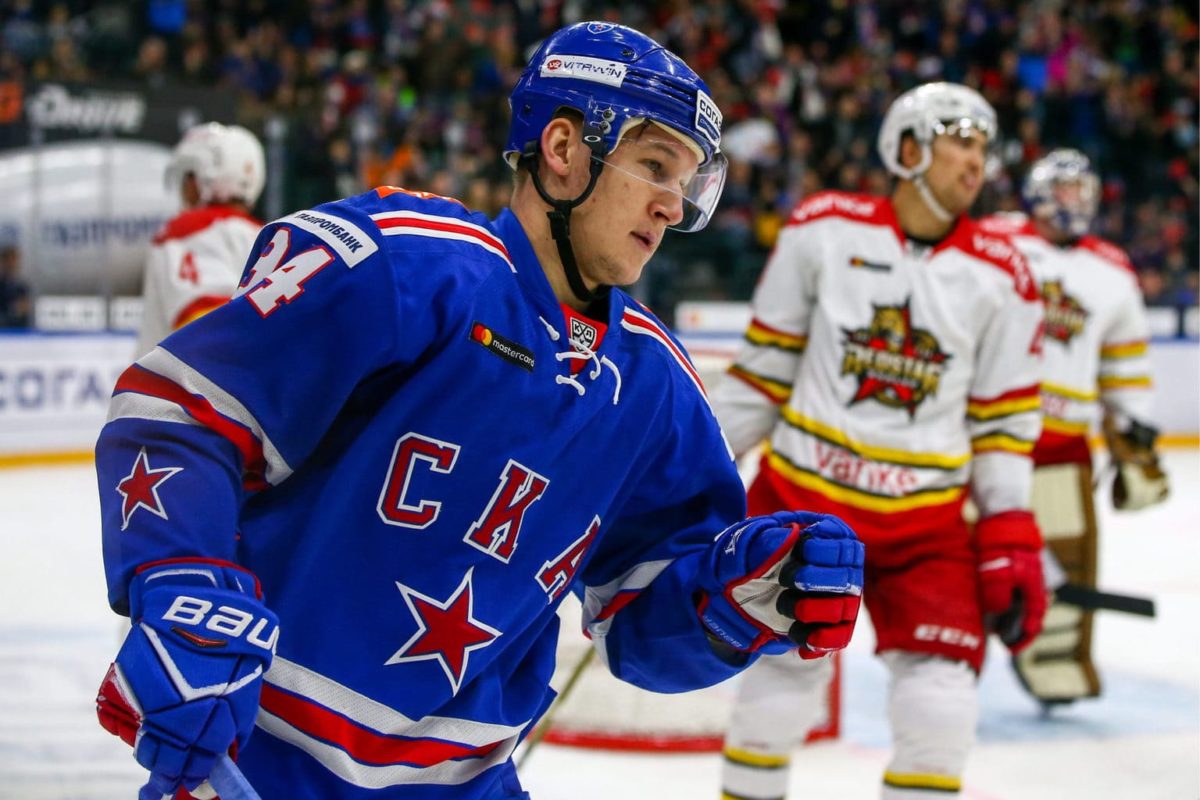 With Vesey eyeing for a spot on the third line as well, Barabanov could be at a disadvantage considering he has little experience on the North American surface. He came over for a shot to play in the NHL. He could still make the roster, but he may not see as much time as he had hoped when he signed back in April. Knowing his speed and ability to battle for the puck, he could be a player that may be hard to leave off.
It seems more likely he could see regular fourth-line minutes if he plays his way onto the team. He could also move up in the lineup if there's an injury, and he could make an impact when given the opportunity. 
There are a number of players looking to make a name for themselves when training camp arrives, but few spots are available. The competition is going to be fierce, and there could be other players who surprise the coaching staff.
Who else do you think could battle for a roster spot?
Statistics from Natural Stat Trick.
---
---