When the great British Prime Minister Winston Churchill described the intentions of Russia in 1939 as World War II was beginning in Europe, he admitted he couldn't describe them. They were, as he suggested, "a riddle, wrapped in a mystery, inside an enigma."
Jimmy Vesey's Hockey Career: A Riddle, Wrapped in a Mystery, Inside an Enigma
In a much less intense way than World War II, Jimmy Vesey's hockey career has been just that – "a riddle, wrapped in a mystery, inside an enigma." In a word, Vesey's career has been puzzling. Why that matters to the Toronto Maple Leafs is that yesterday general manager Kyle Dubas signed Vesey to a one-year contract. As a result, he brings the next chapter of his puzzling career to the Blue and White.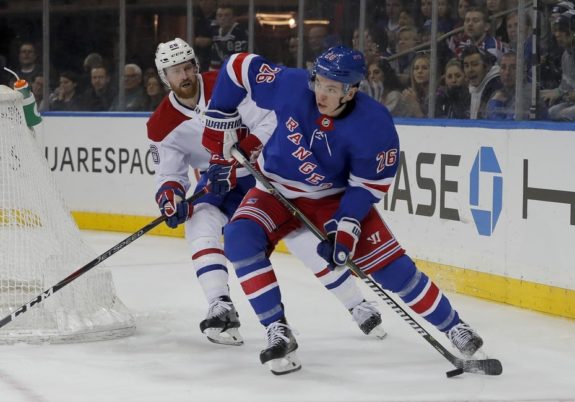 The specifics of the deal are that Vesey's contract is valued at $900,000 for a single season. From watching the team, it's so like Dubas as a general manager to take a flyer on an interesting young player. He did the same for Nic Petan in February 2019, and simply noted then that Petan "fits how the team wants to play." However, anyone who knows Petan's story understands that he's also an interesting young man.
So far, Petan's signing hasn't been exciting, but it hasn't been a dud either. He's still around with the organization on a $775,000 contract, moving up and down between the Maple Leafs and the Toronto Marlies. Dubas might be trying it again with Vesey, who might turn out well for the team and, then again, he might disappoint. But, for less than a million, he's worth a gamble.
What Is Jimmy Vesey's Story?
Here's a short version of Vesey's story that makes him so interesting. He grew up playing hockey in the Boston area and, during the 2011-12 season, was named the Eastern Junior Hockey League MVP after he scored 48 goals and 91 points in 45 games. Both were league records. That success put him on the radar of NHL teams, and the Nashville Predators drafted him during the third round of the 2012 NHL Entry Draft. But, instead of signing with the Predators, Vesey chose to attend Harvard and play hockey with the Crimson.
Related: Maple Leafs News & Rumors: Babcock, Parayko, Bracco & More
His Harvard career was amazing. After his 2012-13 rookie season, when he scored 18 points (11 goals and seven assists) in 27 games, Vesey was named the Ivy League Rookie of the Year. He also made the East Coast Athletic Association All-Rookie team and was named to the ECAC All-Academic team. Not only was he a good player, but he was an intelligent college athlete as well.
He had a similar season as a sophomore, but during his 2014-15 junior season Vesey started to score. He led the entire NCAA Division I with 32 goals and accrued a number of awards as a result.
First, he was named the ECAC and Ivy League Player of the Year. Second, he was named to the NCAA East First All-American Team. Third, he won the Walter Brown Award, which is awarded each year to the best U.S.-born college hockey player in New England. Finally, he was named as one of three finalists for the Hobey Baker Award, which is awarded to the top player in college hockey.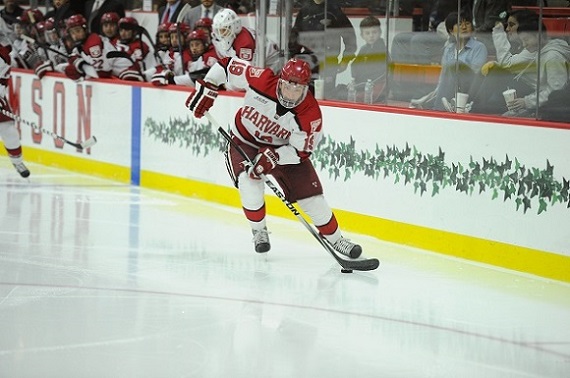 During his last season at Harvard, Vesey's stellar play continued. During that 2015-16 season, he scored 24 goals and 22 assists (46 points) in 33 games. He won the Hobey Baker Award as the best player in all of college hockey, won the Ivy League Player of the Year for a second time, was named to the NCAA East First All-American Team, and won the Walter Brown Award for the second time (only the fifth player in 64 years to do that).
Signing Vesey's to an NHL Contract Was Difficult
But after his amazingly successful college career, Vesey chose not to sign with Nashville, which was his right. After four seasons of college hockey, he wanted to name his own destination. The Predators finally traded his rights to the Buffalo Sabres in June 2016; however, Vesey also chose not to sign there. At 24 years old, Vesey became an unrestricted free agent in August 2016.
Related: Maple Leafs' Auston Matthews Is Undergoing a Transformation
At the time, he was such a hot prospect that many teams entered the chase to sign him. However, only four days after he became a free agent, Vesey signed a two-year, entry-level contract (ELC) with the New York Rangers at $925,000.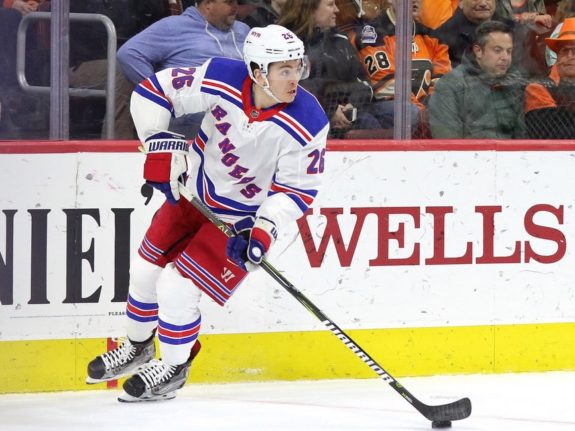 As a side note, there are a couple of interesting things about Vesey's NHL contracts over the years. First, the contract signed with the Maple Leafs is the least expensive contract Vesey has signed – $25,000 cheaper than his ELC. Second, Cap Friendly shows that, although Vesey's contract was only a cap hit of $925,000, both during the 2016-17 and the 2017-18 seasons he made $2.85 million in performance bonuses, which was the maximum amount allowed.
Vesey's NHL Career
Vesey made an impressive start as a rookie with the Rangers. He scored his first NHL goal in his third game against the San Jose Sharks. Shortly afterward, he had his first multi-goal game when he led the Rangers to a 4-2 win over the Washington Capitals. Vesey started his rookie season with nine points (six goals, three assists) in his first 10 games, but he couldn't keep up the pace. He finished the season with 27 points (16 goals, 11 assists) in 80 games. He added a goal and four assists in 12 playoff games that season.
Although Vesey scored 50 goals during his first three seasons with the Rangers, his stock had fallen and he was traded to the Sabres on July 1, 2019, for draft choices. During his first season with the Sabres, he played 64 games and scored nine goals and 11 assists before the NHL's regular season was suspended with COVID-19.
Last season with the Sabres was his worst so far. Now he lands with the Maple Leafs on a one-year contract. He's 27 and still has size at 6-foot-3 and 200-plus pounds. He also undoubtedly has hockey skills, and his game shows flashes of offense.
Coming off a four-season NHL career, he'll likely be considered somewhere in the team's bottom-six where he can contribute at both wings. He might even be thrown into the top-six if injuries occur.
Vesey's Connections with the Maple Leafs
Vesey has a few interesting connections with the Maple Leafs. First, his father Jim was also a hockey player, and skated for 15 NHL games with the St. Louis Blues and Boston Bruins. He's currently a scout for the Maple Leafs. Second, the Maple Leafs chose Vesey's younger brother, Nolan, during the sixth round (No. 158) of the 2014 NHL Draft. Third, during his last season at Harvard, he was captain of the team and played with another current player on Toronto's roster – Alexander Kerfoot.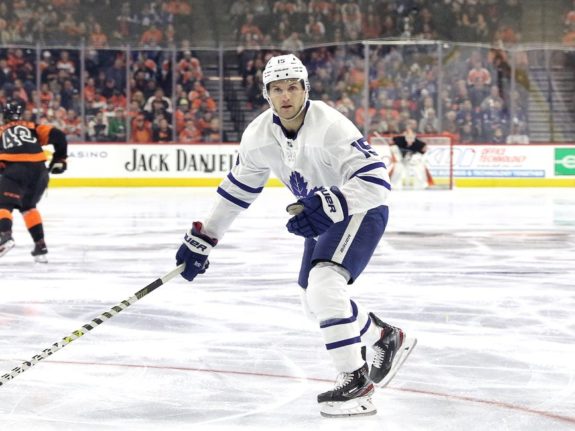 Might that mean it's now more likely that the Maple Leafs will trade Pierre Engvall rather than Kerfoot? Did Dubas ask Kerfoot what he thought about Vesey?
What we do know is that Vesey might be a project on this team, and at less than $1 million he was worth taking a flyer on.
---
---