The 2020 NHL Draft and free agency have brought change to the New Jersey Devils in net. Cory Schneider's contract was bought out, Guelph Storm goaltender Nico Daws was selected 84th overall and most recently the team acquired free agent netminders, including former Stanley Cup champion Corey Crawford, and Scott Wedgewood.
Related: Who Were the Best Full Right Goalies in NHL History?
Despite these moves, a brunt of the workload will still be on the shoulders of Mackenzie Blackwood, who has shown stints of brilliance in his young NHL career. Now, with these champion players and fresh talent in the system, what does this mean for New Jersey's goaltending in the 2021 season?
Crawford's New Home, Blackwood Keeps Learning
A member of the Chicago Blackhawks since 2005, Crawford put up a .917 save percentage (SV%), 2.77 goals against average (GAA) and 7.52 goals saved above average (GSAA) in 40 games in the 2019-20 season. He was a consistent starter in net for the team throughout his many years with them.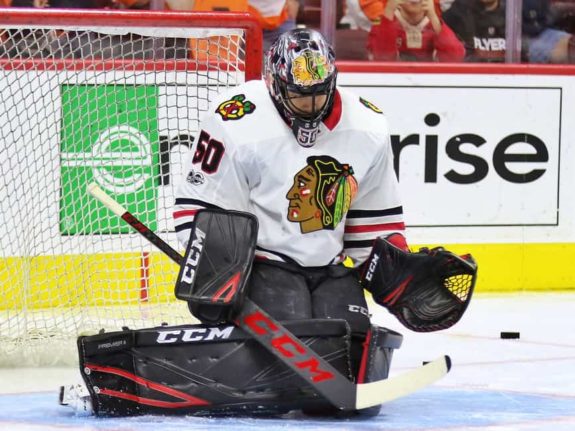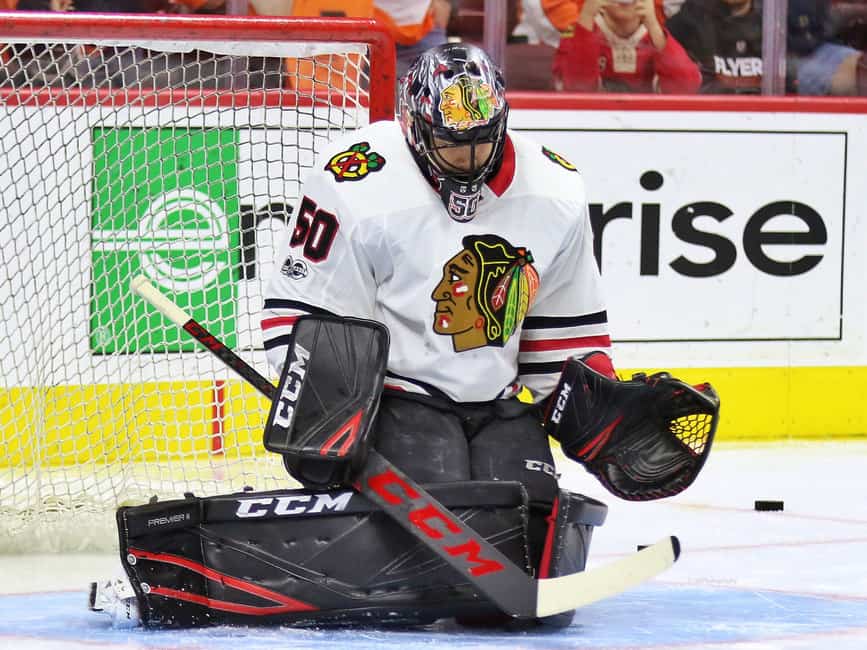 Blackwood now has some time as a starter under his belt — he's a 23-year-old goalie with a ton of potential and a perfect opportunity to showcase his skills in the NHL. He has shown he can be a Devils first choice with 2.77 GAA, .915 SV% and 7.30 GSAA in 47 games played before the pandemic cut the season short.
The Devils now have two solid potential starters for next season with similar stats, allowing for the team to constantly interchange them. Both goalies put up save percentages over .925 after Jan. 1 of this year, a promising stat that shows these two have been solid in net for their respective teams. With a shortened season and the potential for a multitude of back-to-back games, Crawford and Blackwood could each start one. This takes full advantage of the talent in the net and allows for a fresh and ready starter each night, neither one too tired. 
The influence of Crawford on a young Blackwood still learning the ropes and working his way up can make for a great pair — it gives the team confidence no matter who they choose to put between the pipes.
The Deal With Daws
Daws just played his third season with Guelph in the Ontario Hockey League (OHL), where he lead the league with a .924 SV% and was named Goaltender of the Year. This was not always the case for him; in his first two OHL seasons he served as the backup under Anthony Popovich. This season, the Burlington, Ontario native excelled in the starting role, going 23-8-6 in 38 games played with a 2.48 GAA.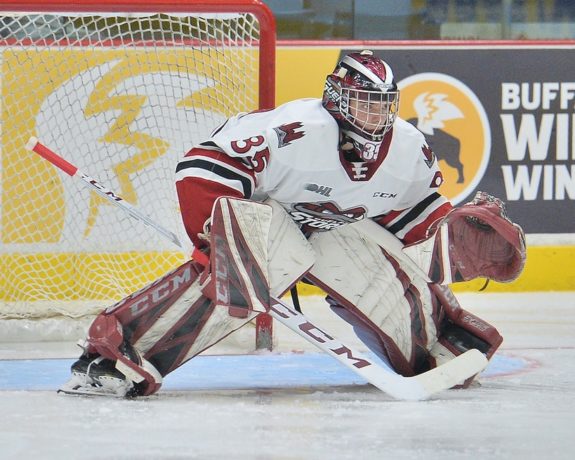 Daws' height and athleticism can be compared to that of Blackwood, both are 6-foot-4 and incredibly agile. Young, tall goaltenders looks like a pattern in the Devils' net, with one learning the ways of a starter and another on the horizon. Giving Daws someone similar to himself that he can look up to could help in the long run.      
Related: The 10 Best Undrafted Goalies in NHL History
Daws was ranked first among North American goaltenders, and was the sixth one drafted this year. Although he is not likely to crack the big club's lineup for a few years, Daws will have some more time in the OHL as well as an opportunity in the American Hockey League to develop his already solid base in goaltending.
Proving Themselves
Crawford and Blackwood will be the Devils' starters as long as they are healthy and displaying peak performance, while Wedgewood plays up north with the Binghamton Devils as a decent third string. Crawford and Blackwood are looking to prove that they can be the starters for New Jersey and make the goaltending more solid and consistent. On the other hand, Wedgewood has been a Devil before and wants to show he can play at the NHL level. All of this along with the veteran mindset of Crawford, the young but experienced mind of Blackwood and the promising future of Daws contributes to this team's rising goaltending.
---
---