The New Jersey Devils look like a team that's in the wrong place at the wrong time. They should be better than they were a year ago when they were last in the Metropolitan Division after a poor start left them out of the playoff race before Christmas. They should see improvement from the team that finished 26th in the NHL last season by going 28-29-12.
Unfortunately for the Devils and their fans, the pandemic-induced NHL realignment has placed them into an even tougher division this season — the East has four teams that finished in the top seven in the NHL in points percentage last season. Even worse, the top four teams in each division, rather than the top eight in each conference, will qualify for the Stanley Cup Playoffs. Barring a drastic improvement, there won't be any playoff hockey at Prudential Center again; New Jersey has qualified for the postseason once since getting to the Stanley Cup Final in 2012.
That doesn't mean the Devils won't be better this season under new coach Lindy Ruff and general manager Tom Fitzgerald — they will. But it's not likely to be enough to get them back into the playoffs.
Help for Blackwood
One area that will definitely see improvement is goaltending. By the time Mackenzie Blackwood established himself as the No. 1 goalie last season, the Devils' fate was already sealed because of the struggles of Cory Schneider and Louis Domingue. Fitzgerald, with some help from Hall of Famer Martin Brodeur, gave Blackwood a well-pedigreed partner by signing two-time Cup-winner Corey Crawford as a free agent after the Chicago Blackhawks opted to let the 36-year-old walk.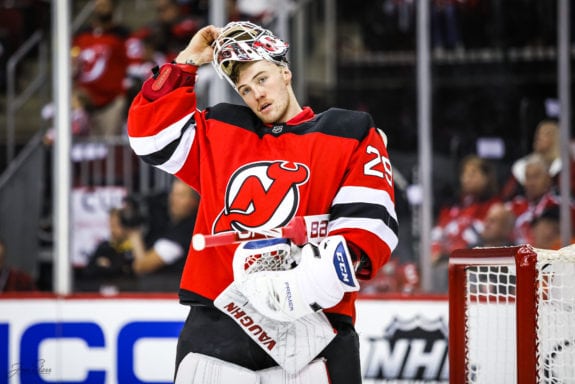 Crawford's concussion problems appear to be behind him, and his 16-20-3 record and 2.77 goals against average (GAA) are more a function of Chicago's defensive woes than any slip in his play. Crawford's save percentage (SV%) was .917, better than the league average of .910, despite playing for a team that did its checking at the bank. He and Blackwood should make a good tandem and hopefully can help New Jersey covert more leads to victories; the Devils lost six games last season in which they led by multiple goals.
Better play from the players in front of them would help a lot.
Getting defenseman Ryan Murray in a trade with the Columbus Blue Jackets was a solid move. Murray, the No. 2 pick in the 2012 NHL Draft, has been fine when he's healthy. But that's been his problem — staying healthy. Injuries limited Murray to 27 games last season, and he's played more than 60 games just once in seven NHL seasons.
The Devils also hope that Ty Smith, their first-round pick (No. 18) in the 2019 Draft, is ready to contribute. Damon Severson is solid, and the Devils will count on free-agent addition Dmitry Kulikov for a physical presence.
Subban Must Step Up
But getting better play from P.K. Subban is even more important. Subban takes up $9 million of salary cap space but didn't give the Devils anywhere near that kind of value last season after coming over in an offseason trade with the Nashville Predators.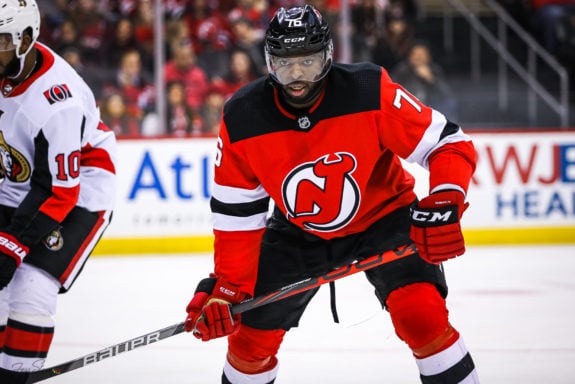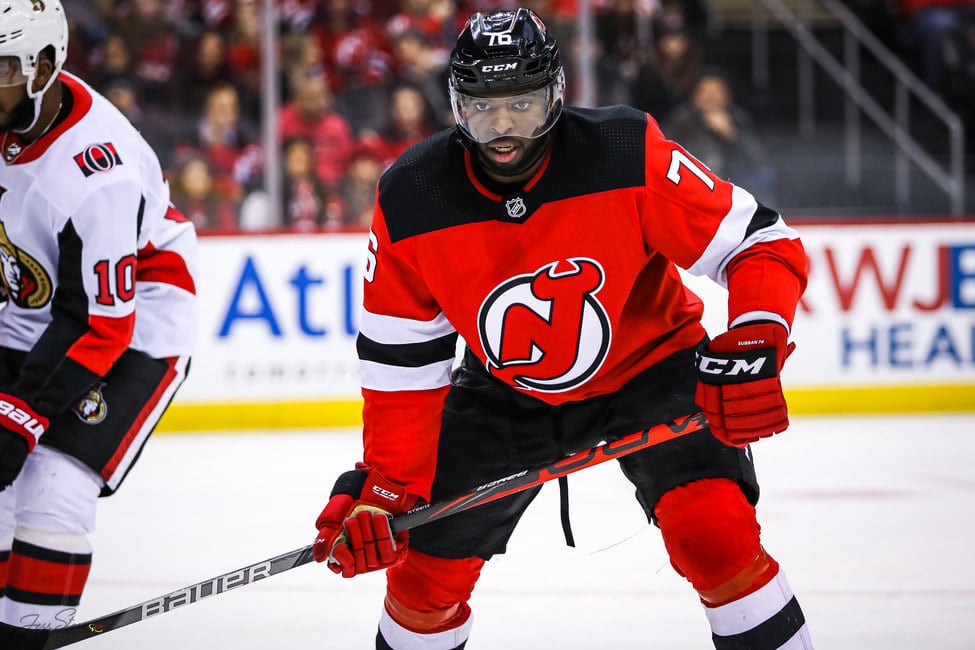 The Devils had to hope his offensive skills were still good enough to make up for the decline in his defense – but they weren't. He managed just seven goals and 18 points and was a career-worst minus-21.
That doesn't mean there aren't reasons to be optimistic.
Reasons for Optimism
Nico Hischier, the No. 1 pick in the 2017 NHL Draft, is entering his fourth season and looks like a player ready to take a big step forward. He was actually more productive after the Devils traded their best offensive player (and Hischier's regular left wing) Taylor Hall to the Arizona Coyotes in December. At worst, he turns into one of the best No. 2 centers in the NHL.
The biggest reason for hope this season is the expected improvement of center Jack Hughes, the first player selected in the 2019 NHL Draft. Hughes looked like he was in over his head during much of last season, finishing with seven goals, 21 points and an awful minus-26 rating while looking like a player who would have been much better off spending another year or two in juniors or playing college hockey.
Hughes says he's put on about 15 pounds during the Devils' long offseason, getting him to around 180; he probably needs about 15 more to have the kind of strength needed to be the type of player the Devils want him to be. The potential for stardom is there for Hughes, but for this season, the Devils will probably have to accept some more growing pains.
Kyle Palmieri led the Devils last season with 25 goals and 45 points. He has scored at least 24 goals in each of the past five seasons — including 11 on the power play in four of those five. His production, especially on the power play, perked up after the Devils traded Hall. But he turns 30 on Feb. 1, and with unrestricted free agency a possibility next summer, Fitzgerald may have to decide before the trade deadline in April whether Palmieri can help his team more on the ice or with what he could bring back in a trade.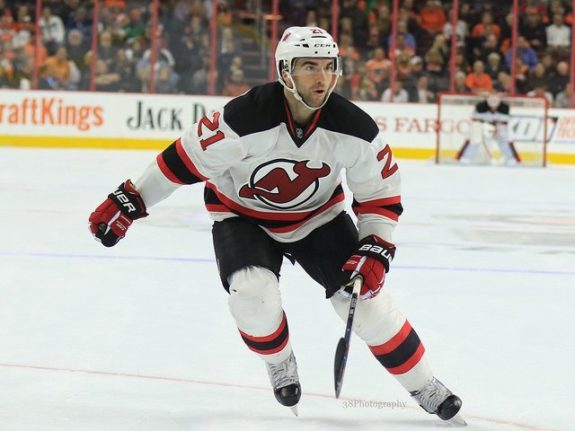 Palmieri is the only returnee who broke the 20-goal mark last season; Blake Coleman scored 21 before the Devils traded him to the Tampa Bay Lightning on Feb. 16.
The 'Goose' Is Loose
The best hope for more offense might be Nikita Gusev, who showed in the second half of the season that he can make things happen; he ended up second on the team with 44 points (13 goals, 31 assists), including 16 (five goals, 11 assists) in New Jersey's last 20 games. Ruff said he expects the former KHL star to be more comfortable in his second NHL season, especially on the defensive side of the puck. Gusev's offensive skills blossomed after the Hall trade when he got more playing time and elicited cries of "Goose" (his nickname) from the Prudential Center faithful.
Ruff and Fitzgerald Look to Lead Turnaround
Ruff, who turns 61 next month, comes to New Jersey after three seasons as an assistant with the archrival New York Rangers. He hasn't been in charge of a team since the Dallas Stars cut ties with him after missing the playoffs in 2016-17. He's sixth on the all-time NHL list with 736 wins, but unlike the five men in front of him, his teams have never won the Stanley Cup. In contrast to his coach's experience, Fitzgerald is in his first full season as GM; he was named interim general manager on Jan. 12, 2020, after Ray Shero was fired, and had the "interim" tag removed in July.
The Devils were 11-5-5 after the All-Star break, though by then, there was no pressure because they had no prayer of making the playoffs. The record may be better this season, but it's hard to envision anything but another season in Newark that ends all too early.
---
---