The Vancouver Canucks will be entering the 2020-21 season with plenty of uncertainty on their roster. As of this writing, they are over the salary cap and could be forced to start the season with no significant improvements to their forward group and a couple of holes in their defence core.
Related: Canucks Ready To Gamble on Prospects To Complete the Blue Line
That opens the Canucks up to a lot of scary predictions on how the 2020-21 season will go down. So in the spirit of Halloween, let's take a look at a few of them that could come true. Turn out the lights and get ready for some jump scares because these are quite frightening to talk about. Don't be surprised if they give you nightmares.
Miller Comes Back Down To Earth, Transforms Into Vrbata
For the record, I don't think JT Miller is anything like former Canucks forward Radim Vrbata. Though it's entirely possible that he doesn't have the same season he had in 2019-20 where he posted career-highs of 27 goals and 72 points in 69 games.
Vrbata's first season with the Canucks was very similar, as he excelled on the top line with some elite Swedish talent in Henrik and Daniel Sedin and put up a career-high 63 points in 79 games. His experience was eerily similar to Miller's as he was also a key part of their return to the playoffs after a lengthy absence.
For the Canucks sake, the comparisons better end there, or we will be in for a chilling season on the West Coast. Miller was a very important part of their resurgence, so if he takes a step back as Vrbata did in 2015-16 where he put up only 13 goals and 27 points in 81 games, they are definitely missing the playoffs. More frightening still, they probably will find themselves in the basement fighting for a favourable draft lottery position too.
Loui Eriksson Plays in the Top-Six
Brace yourself Canucks Nation, we are venturing deeper and deeper into the dark with this one. Loui Eriksson is the $6 million monster in the dark that torments your dreams. He is still on the roster, and it's entirely possible that he begins the 2020-21 season with the team. According to Harman Dayal of the Athletic, they could have some issues sending him down to the AHL in order to clear salary. That means, unless Jim Benning can entice another team to take on his contract, he will be available to Travis Green on opening night.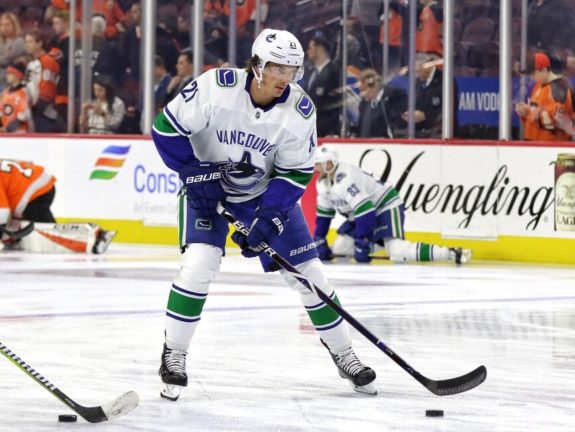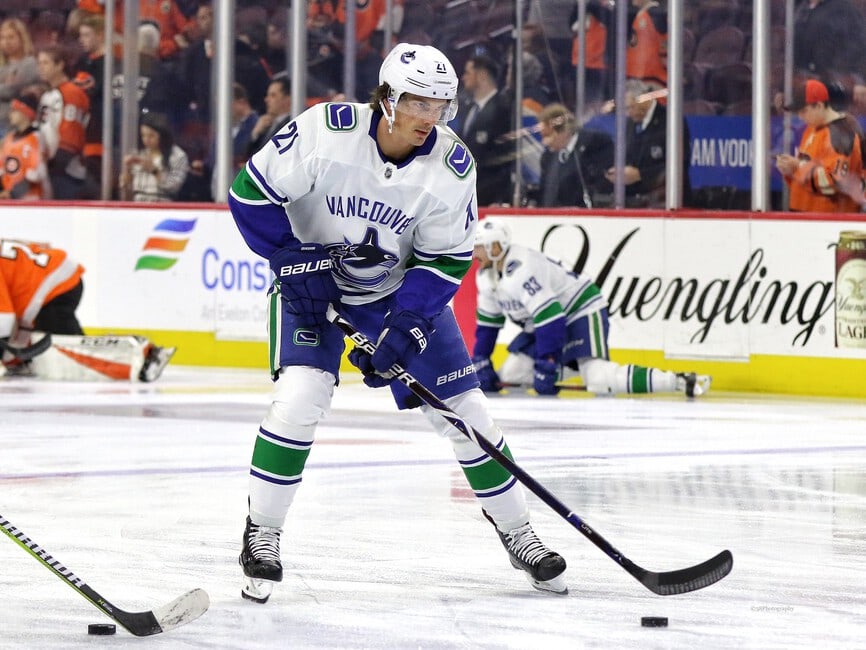 Eriksson has played in the top-six with Bo Horvat and Tanner Pearson in the past, so it's not out of the question to see him take up residence there once again. With Toffoli signing elsewhere and Jake Virtanen the less-than-ideal candidate to take his place, there aren't many others that could play on the second line in a matchup role. Here's another disturbing reminder, it was Eriksson who was playing there before Toffoli returned to the lineup in the playoffs.
Quinn Hughes Has a Sophomore Slump
Quinn Hughes had a rookie season to remember, but like all rookies, he will be susceptible to the dreaded sophomore slump. Just like Pettersson, every team will now be game planning to limit his effectiveness. We already saw a bit of that in the playoffs as the Minnesota Wild and St Louis Blues could not slow him down, but the Vegas Golden Knights were able to use physicality to make him less of a factor.
Related: Canucks: 2020-21 Defence Pairings and Goalie Situation
Without Hughes at his absolute best, the Canucks are a worse team overall. With the departure of Tanev to free agency, he will be missing his most consistent partner, so we could see him struggle to adjust without him. Schmidt is likely to take over that role, but he just doesn't have the same defensive instincts Tanev does. So he will have to look after his own zone a little more with him by his side. The same can be said if Myers becomes his partner in crime, maybe even more so.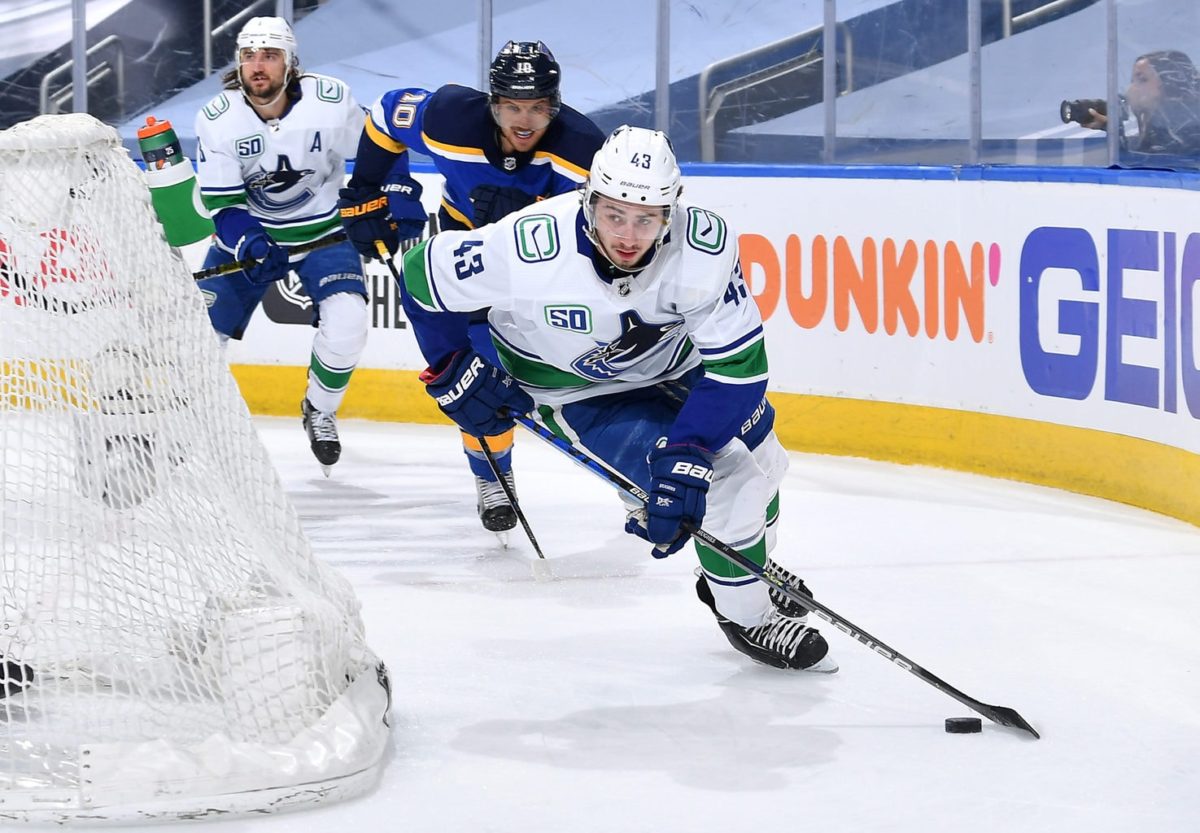 Hughes is an exceptional defenceman, so if anyone can overcome a sophomore slump, he should be well equipped to do so. Like Pettersson, he will probably adjust quickly and turn in another impressive season in a Canucks uniform. But it's a scary prediction that bears mentioning nonetheless.
Turn on the Lights, the Nightmare Is Over
Now that Halloween is over, let's try and forget these frightening predictions. Actually, let's put a positive spin on them instead. Miller is younger and more skilled than Vrbata, and will probably see a few more seasons of productivity with the team. So I don't foresee Miller having the same depressing campaign he had in his second go-around with the team.
Despite Benning's inability to clear Eriksson's salary off the books, he likely will find a way to make him disappear before the 2020-21 season begins. For the Canucks to move forward with the promising young players they have on their roster, he cannot play another game in Vancouver. If he does, that means fans will have to suffer through another two seasons with him on the team, unless the Seattle Kraken does the team a favour and selects him in the expansion draft.
Related: Canucks: Projected 2020-21 Forward Lines
Finally, Hughes will continue to add to his legacy with the Canucks. He is just too good of a player to have a sophomore slump. He knows what he has to do to overcome the tighter checking now, and will come into 2020-21 ready to adjust his game to counteract anything the opposing team throws at him. He's a tactician and student of the game, so he should be the least of our worries going into next season.
So let's turn on the lights and start looking forward to January with glasses half full, rather than half empty. Exorcise those demons and start thinking about the joys of Christmas and Canucks hockey in 2021!
---
---