After a two-week hiatus, the Vancouver Canucks prospects report is back with news from the 2021 World Junior Championship (WJC) and Nils Hoglander's upcoming debut in North America. We also check in with Jackson Kunz in the USHL and Jack Malone in the NCAA as they continue their strong start to the 2020-21 campaign.
Costmar's First WJC Goal With Team Sweden Is a Beauty
After seeing Hoglander tear it up at the 2020 WJC, I'm sure Canucks' fans were chomping at the bit to see if yet another Swedish prospect could wow them in this year's iteration of the tournament. Costmar did just that in his first game against the Czech Republic with a near miss on a breakaway and then a nifty re-direct on a great pass from Arizona Coyotes' first-rounder Victor Soderstrom. It was his first-ever WJC goal and helped set the stage for a dominating 7-1 victory to extend Sweden's round-robin winning streak to 53 games.
Related: 2021 WJC: Team Sweden Final Roster
Costmar's first-period tally was only the icing on the cake, as he had a solid game throughout. He played a regular shift on the second line with Carolina Hurricanes' 2020 second-round pick Noel Gunler and New York Islanders' 2019 first-round pick Simon Holmstrom and was a thorn in the side of the Czech Republic all game long. He won some key faceoffs in the defensive zone and was even the lone forward on the penalty kill while his team was down two skaters.
The defensive effort Costmar displayed throughout the game is exactly the sort of thing you want to see from a burgeoning NHL prospect. He seems to have a great mind for the little things and as a result, is always in the right place at the right time. Team Czech Republic isn't the toughest competition Costmar will face, but if he can continue his strong play against Russia and the United States, the hype train should have plenty of passengers by the end of the tournament.
Podkolzin Shows Intangibles In First Game with Team Russia
Eventually, everyone will have to accept the fact that Podkolzin will never be a prolific point-producer in the NHL. However, he will be someone you want in your top-six and in your locker room. Like current captain Bo Horvat, his compete level is remarkably consistent and the leadership he exudes goes a long way with his teammates on and off the ice. Those things alone will make him a glue guy that every NHL coach will want on their team, including future bench boss Travis Green.
You can see his leadership in the locker room. He has earned a huge amount of respect from every player…I think he is someone who should be a captain anywhere that he plays.

Defenceman Daniil Chayka, Team Russia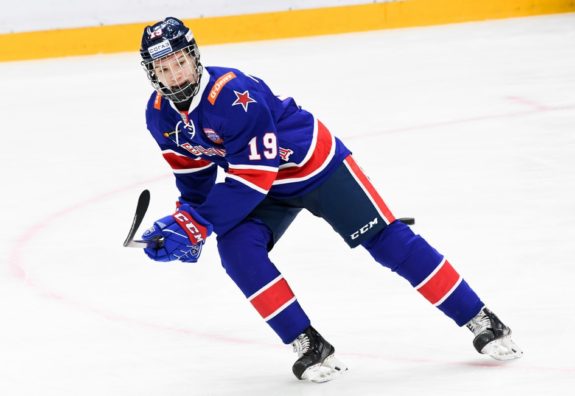 Podkolzin's first game got mixed reviews. Some said he should have generated more chances and points being a high first-round pick, while others said he was one of the best players on the ice. In the end, he finished with zero points in just over 20 minutes of ice time. That stat line might look like he had a bad game, but if you watched him away from the puck and after the whistle, you would see that was simply not the case.
When his teammates were getting into some ill-advised scrums, Podkolzin was the one pulling guys out of the pile to avoid any unnecessary penalties. He was also his usual physical self, and despite being a little slow on one of the American goals, was a rock defensively too. He will get his goals and points eventually, but in the meantime, his team will still benefit from his two-way play and neverending motor in all three zones on the ice.
Related: Canucks Prospect Vasili Podkolzin Will Dominate the 2021 WJC
Podkolzin's consistent two-way game is what will make him a long-term NHLer and Selke Award winner one day, not his occasional spurts of flash and dash. He is not Hoglander or Elias Pettersson, and the quicker everyone realizes this, the better off they will be.
Hoglander Ready to Compete for a Spot in Canucks Training Camp
After playing his last game of 2020 in the SHL, Hoglander is now quarantining in Vancouver and preparing for his first NHL training camp. He will likely be in competition with veterans Sven Baertschi, Brandon Sutter, and Antoine Roussel for that coveted left-wing spot alongside Adam Gaudette and may even get some looks with Pettersson and JT Miller on the top unit.
Hoglander had a solid final two weeks in the SHL with Rogle BK posting four points in five games, including a between-the-legs goal that had everyone's jaws on the floor from Sweden all the way to Vancouver. His creativity will be a welcome addition to the Canucks, as they will need all the help they can get as they begin their battle in the exciting and tough North Division.
Other News & Notes: Karlsson, Kunz, Malone & More
Away from the World Juniors, the Canucks had a few other prospects continue their strong play in the early going of the 2020-21 season.
Linus Karlsson continued his impressive season overseas by posting another two points in his last three games. He now has 9 goals and 27 points in 27 games for BIK Karlskoga in the HockeyAllsvenskan.
Kunz has been on a roll lately with the Green Bay Gamblers, scoring three goals since our last update. He improved to six goals and nine points in 11 games, as his team will carry a three-game winning streak into their showdown with Team USA on Dec 30.
Malone still has not scored in his return to the USHL, but he did add another three helpers to his season total. He now has five assists in seven games for the Youngstown Phantoms.
After going 11 games without a goal and five games without a point, Karel Plasek now has two goals and three points in his last four games. The one-game demotion to the Czech2 league must have got him fired up because he has two points in his last three since returning to HC Kometa Brno of the Czech league.
2021 WJC Continues For Costmar & Podkolzin
The 2021 WJC will continue for Podkolzin on Dec 27 with a match against the Czech Republic, where he will be looking for his second career WJC goal. The action gets going at 6:30 pm Pacific.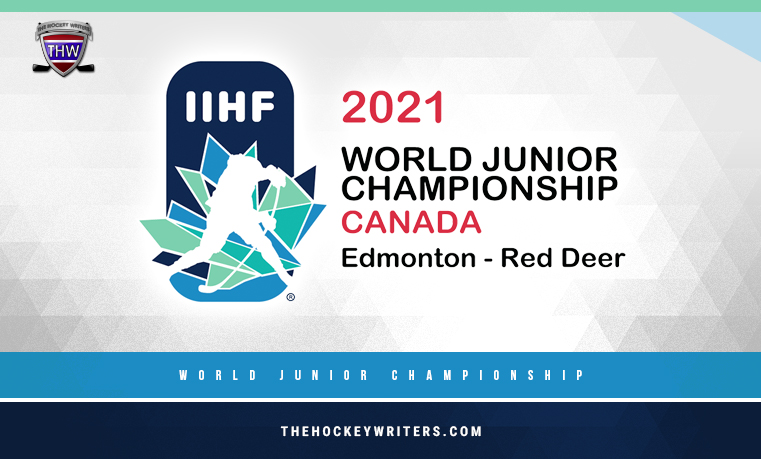 Costmar will get a chance to add to his strong performance against Austria on Dec 28 at 3:00 pm Pacific. Both games can be seen on TSN in Canada and the NHL Network in the United States.
---
By this time next week, Canucks training camp will be in full swing, and we will finally get to see prospects Brogan Rafferty, Jack Rathbone, Kole Lind, Marc Michaelis, and Olli Juolevi step into the spotlight after months of darkness. Until then, keep it locked on The Hockey Writers as we strive to keep you updated on all things Canucks.
---
---