The NHL free agency frenzy begins Wednesday, and the Washington Capitals are still looking for the top-six forward that GM Brian MacLellan asserted he was looking to sign. Trade rumors involving the Blues' T.J. Oshie, the Blackhawks' Patrick Sharp and even the Islanders' Kyle Okposo have surfaced but sunk quickly. One other name is often mentioned: Right wing Radim Vrbata of the Vancouver Canucks.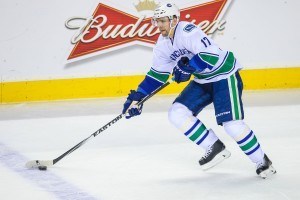 Given that MacLellan is likely aiming for a short-term deal to fill the void left by Eric Fehr and Joel Ward (both of whom will be snatched up after July 1 as unrestricted free agents), Vrbata is a strong candidate for a move to America's capital.
Vrbata's Career-High Season
Vrbata, 34, set career highs in Vancouver last season in assists (32), points (63) and shots (267) at right wing on the Canucks' top line alongside the incomparable Sedin twins – who, pound-for-pound, are just as good as their Capitals' counterparts Alex Ovechkin and Nicklas Backstrom. Vrbata was also extremely strong on the power play for Vancouver with 23 of his 63 points scored with the extra man on ice. Additionally, Vrbata scored a team-high 31 goals for the Canucks last term, 12 of them on the power play. Those stats are a perfect fit for Washington and their coach's offensive-minded approach, and seeing him feature on the Caps' already powerhouse power play would be a welcome sight.
The 6' 1", 194-pound forward left Arizona a year ago as a free agent and signed a two-year $10 million contract with Vancouver. He has a 2015-16 cap hit of $5 million and is due that same amount for his services next season. Is he on the trading block in Vancouver? Absolutely, because the Canucks have 17 players on the books for 2015-16 but only around $5.6 million of cap wiggle room. They also have a couple of RFAs to attend to.
Vrbata would slot nicely into the Capitals' first line alongside Ovechkin and Backstrom, but more likely he'd feature on the second line alongside left wing Marcus Johansson and center Evgeny Kuznetsov because Andre Burakovsky has earned the right to prove his worth on the top line and could easily switch from the left wing on the third line to right wing on the first.
Compensation for Vrbata
The Canucks don't need any more salaried players on their books in return for Vrbata should they decide to trade him. So, that leaves out possible deals involving the Caps' wingers Troy Brouwer or Jason Chimera. More likely, the Canucks would look to the future by trading for prospects or entry-level players such as the Caps' Connor Carrick or Stanislav Galiev (an RFA who Vancouver could acquire the rights to in a deal). Throw in future draft picks and that equates to adequate compensation.
MacLellan needs to ink a top-six forward in the coming days. There is no blockbuster deal on the horizon, and Vrbata is a solid player with a few more good years on the clock. If the Capitals sign him for a one-year deal, and he's a success – that's a win-win for MacLellan because he can re-sign him a year for now for a possible further two years. If Vrbata's a bust in Washington, then he becomes an unrestricted free agent next summer anyway, and MacLellan might land an even better option at that time.