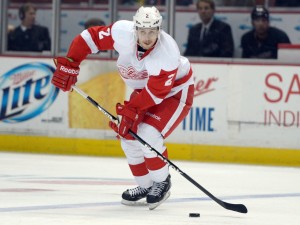 The Detroit Red Wings won't even let soon-to-be restricted free agent Brendan Smith hit the market on July 1.
The team and player have come to terms on a contract extension that will keep him with the Red Wings for, at least, the next two seasons. The deal is worth $5.5 million total, and will pay him $2.75 million per season.
The deal sees a raise of nearly $1.5 million more per year for the 26-year old Toronto native.
RECENT NEWS:
[catlist categorypage="yes" numberposts=3 excludeposts=this]
Detroit's first-round pick in the 2007 NHL Entry Draft, Smith played in a 76 games for the Red Wings last season, a career high. In those 76 games, Smith posted four goals and nine assists for a total of 13 points.
Though it wasn't as successful of a statistical season as the 2013-14 season, Smith still proved enough to Ken Holland and the Red Wings brass to warrant a nice bridge extension.
With this new deal in place, Smith is going to be expected to be a key piece of Detroit's defensive unit going forward. Whether he'll find himself in the team's top-four pairings next season remains to be seen, but the opportunity is there, for certain.
Michael is a former Managing Editor for The Hockey Writers. He's covered the Buffalo Sabres, along with the NHL in general, for various outlets since 2009. His work has been featured on outlets such as Yahoo, Sports Illustrated and Fox Sports.