With the trade deadline just over two weeks away, the Vancouver Canucks once again appear to be gearing up to be "sellers." After "winning" last year's deadline by successfully grabbing a pair of highly-touted prospects in Nikolay Goldobin and Jonathan Dahlen, GM Jim Benning has a few more unrestricted free agents to dangle this go-round.
Here is a look at three deals the Canucks should make.
Trade No. 1: Maple Leafs – Canucks
To Leafs: Erik Gudbranson
To Canucks: Matt Martin, Nikita Soshnikov, 2018 Second-Round Pick (From San Jose)
What better place to start than a good ole' trade between the Maple Leafs and the Canucks. Quite frankly, this deal works wonders for both teams. Yes, it may seem like a steep price for the Leafs to pay, but this trade would benefit them in a number of ways.
First, it would give the Leafs another dependable defender that can log big minutes and play on the penalty kill. Gudbranson, with nearly 400 NHL games under his belt at the age of 26, is 6-foot-5 a right-hand shot. With the Leafs currently having four defenders logging 22 minutes per game or more, they could certainly use Gudbranson as a third-pairing, penalty-killing specialist.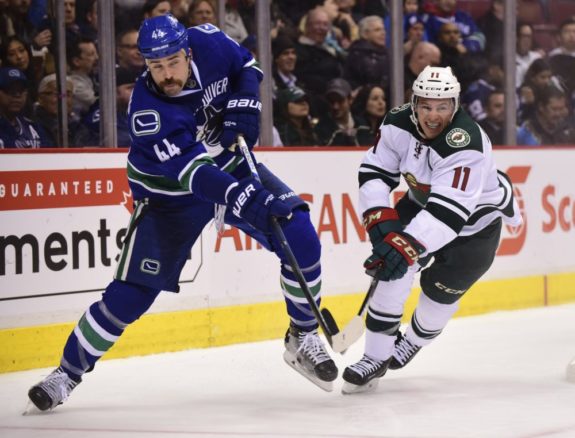 Second, by packaging Martin and Soshnikov, the Canucks would actually be doing the Maple Leafs a few favours. At the moment, the Leafs have 50 contracts; the maximum an NHL team can have. By doing a two-for-one deal, that gives the Maple Leafs an extra contract spot and some flexibility for other moves. Also, by dealing Martin, they are dodging the final two years of his four-year, $10-million contract. Perhaps they would have to retain some of the salary, but with the Canucks absorbing the contract, they would certainly be happy campers.
So why would the Canucks do this deal? At the moment, they have eight healthy defencemen. Gudbranson is also an unrestricted free agent at the end of the season. By doing this deal, they are guaranteeing they aren't losing him for nothing in the offseason. Although Martin's contract isn't the prettiest, he could certainly fill the void as a fighter that Derek Dorsett's sudden retirement left. Add in Soshnikov, who is still young and very talented, and you have yourself an interesting proposal.
Trade No. 2: Blues – Canucks
To Blues: Thomas Vanek
To Canucks: Prospect Jordan Kyrou
If there is anything we have learned from Jim Benning, it's that he loves trading for prospects rather than draft picks. Although the Canucks will potentially have to settle for a second-round pick from a "buyer" at the deadline, this trade would be very beneficial to both clubs.
Even with the Blues recently getting first-line winger Jaden Schwartz back from injury, they are still struggling mightily to find the back of the opponent's net. They are lacking production from their bottom six and are 23rd in the NHL with 2.76 goals per game. The Blues are also capitalizing on only 16.0 percent of their power plays—good for fourth-worst in the league.
Enter Thomas Vanek.
Vanek, who has been fantastic for the Canucks, has 15 goals and 37 points—both good for second on the team. He has 14 points on the man-advantage this season, helping the Canucks' power play erupt from second-to-last in the NHL last season to sixth-best this year. For the Blues, only Brayden Schenn has 14 power-play points this season.
Jordan Kyrou, like Dahlen and Goldobin last season, is a prized prospect with tremendous offensive upside. At 6 feet and 177 pounds, Kyrou is a natural scorer, currently scoring at a two-points/game clip in the OHL with the Sarnia Sting. Although that sounds like a steep price for the Blues to pay for a rental player, their deep prospect pool and already young forward group in the NHL makes this deal possible.
Trade No. 3: Lightning – Canucks
To Lightning: Christopher Tanev
To Canucks: Cal Foote, Boris Katchouk, Conditional 2018 First-Round Pick
With this deal, the Lightning go all in on this season. Although they have been relatively healthy on the back end, a team can never have too many bodies on defence. Especially one as tough as Tanev, who is down six and a half teeth after taking a shot to the jibs a month ago.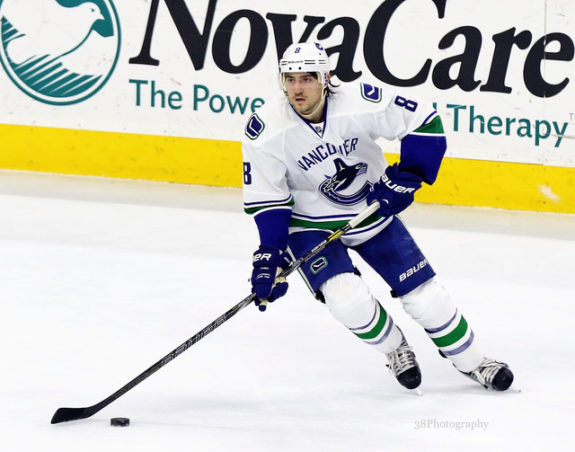 Tanev, who is one of the most reliable, dependable defenders in the NHL, would fit in wonderfully with Tampa Bay. As a defensive-minded, right-hand shot, he would slide in beautifully into the top four with either Mikhail Sergachev or Norris Trophy candidate Victor Hedman.The best part is, Tanev comes with one of the finest contracts across the league; with two more years on his deal at a cap hit of $4.450 million per season.
In return for the stud d-man, the Canucks would receive a recent first-round pick, a former second-rounder, and this year's first-round pick. The Lightning have plenty of young talent in the system, and should willingly pull the trigger on a locked-up top four defender who just turned 28.
On the other hand, the Canucks should be thrilled with this return. The acquiring of Foote and Katchouk should pay dividends, even if the first-rounder this year is at the back end of the draft. Foote is the son of former NHLer Adam Foote (remember him?), who logged 19 seasons in the NHL and over 1,500 career penalty minutes. Although they are similar sizes, Cal possesses much more offensive ability and is very suitable for the modern-day NHL.
Katchouk, who already has over 30 goals with the Sault Ste. Marie Greyounds this year, is a power forward who can skate with plenty of upside. The Vancouver native and 2018 World Junior gold medalist would be a tremendous piece for the Canucks to add to their already impressive prospect list.
What do you think? Share your thoughts below!