With less than three weeks until the NHL trade deadline, Buffalo Sabres fans anxiously await a much-needed purge of the current roster. With several players set to hit free agency this summer, Jason Botterill will look to acquire future assets for players on expiring contracts.
Leading up to the 2017-18 season, supporters of the blue and gold expected the team to finally turn a corner after years in the league basement. At 14-29-10, the Sabres have put together one of the worst seasons in franchise history. Once again, the organization will enter the trade market in search of draft picks and prospects.
Though the "rebuilding" process has worn on the fan base, Botterill will have to start from scratch to correct the disaster that Tim Murray left behind. That process will start on Feb. 26. The Sabres' front office has spent the entire season analyzing current assets to assess which current players fit into his long-term vision, and which players don't.
Almost anyone not named Jack Eichel can be had for the right price.
Evander Kane
Since the beginning of the season, Evander Kane has been at the forefront of trade rumors involving the Sabres. He will likely command a considerable raise in free agency this summer and with a great deal of cap space already tied up in the top-six, Botterill cannot afford another expensive, long-term deal on the wing.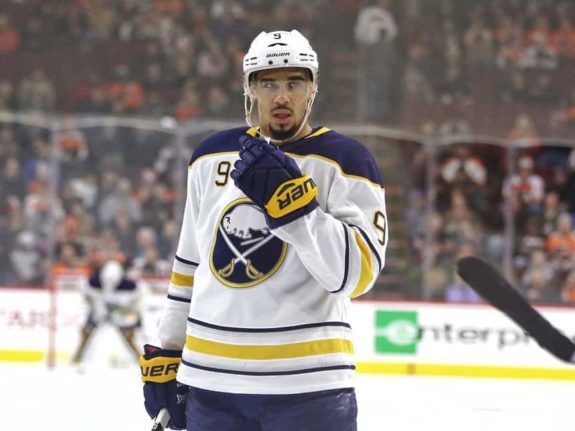 Following an incredible start to the season, Kane has cooled off considerably as of late, registering a paltry three points in his last 18 games. Botterill thought it wise to wait until the deadline to deal him in order to maximize his value, but that plan may have backfired. As more and more forwards have surfaced on the rumor mill, the trade landscape has shifted away from the seller's market it appeared to be early on in the season.
It was originally rumored that the Sabres were looking for a first-round pick, a prospect and a roster player in exchange for the 26-year-old. Quite the price tag. With 36 points in 53 games this season, Kane has proven to be what he's always been – an inconsistent first-line player.
Buffalo will be lucky to nab a first-round pick and a mid-level prospect in exchange for his services. If Kane agrees to an extension with his new team, a conditional pick may be included in the deal as well.
Benoit Pouliot
After a tumultuous tenure in Edmonton, Benoit Pouliot has experienced a career revival of sorts in Buffalo this season. With his status as an NHL regular in question, Botterill took a flier on the veteran winger, signing him to a one-year deal for $1.15 million. Over the course of his 11-year career, he has dressed for seven different clubs, appearing in 67 playoff games. Last week, he celebrated his 600th NHL game.
MILESTONE: Congrats to Benoit Pouliot on playing in his 600th career @NHL game tonight! pic.twitter.com/xBqfrztoGo

— Buffalo Sabres (@BuffaloSabres) February 7, 2018
In what appeared to be his last chance at the NHL level, the 31-year-old has served in a variety of spots across the lineup. Though he has only produced 13 points in 49 games this year, Pouliot has provided value in his versatility, making him an excellent depth option for a contending team that doesn't want to spend the assets required to obtain high-octane reinforcements on offense.
As the forward market has become more saturated over the past couple of weeks, the demand for Pouliot isn't going to be very high. Despite the anticipated drop in interest, Botterill will look to obtain a mid-round pick for him. If he cannot obtain fair value, don't be surprised if he elects to sign Pouliot to another short-term deal this summer.
Either way, he's a player to watch on deadline day.
Robin Lehner
It's no secret that Robin Lehner has fallen out of favor with the fans in Buffalo. Though he has been able to string together a handful of stellar performances this season, he is still maddeningly inconsistent. At a glance, his numbers are those of an average starting goaltender in the NHL, but with Linus Ullmark waiting in the wings, the 26-year-old netminder has become expendable.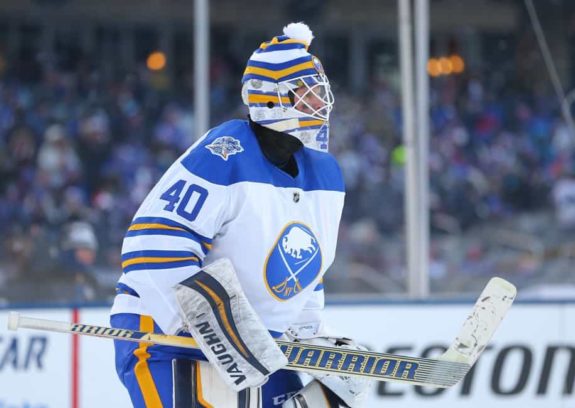 It is highly unlikely that the Sabres will recoup the first round pick that they traded in exchange for Lehner in 2015. However, with several playoff-bound teams battling injuries in net, the demand for a serviceable starter could grow in the coming weeks. The New Jersey Devils could certainly stand to upgrade their goaltender ranks as they try to keep pace in a fiercely competitive Metropolitan Division.
Set to become a restricted free agent again this summer, the Sabres' odds of retaining Lehner are low. While his numbers aren't quite as impressive as last season, he will still seek out a pay increase from the $4 million deal he agreed to in 2017. With Ullmark still on his entry-level contract, Botterill will likely attempt to recoup assets for Lehner. If he cannot be dealt, the Sabres will be stuck trying to deal his RFA rights after the season.
Other Sabres on the Trade Block
While Kane, Pouliot and Lehner are the most likely names to be dealt in the next couple of weeks, there are several other roster players on expiring contracts who may not factor into Botterill's plans.
Johan Larsson is certainly one player who has trade value and may have worn out his welcome in Western New York. Outside of his elite-level penalty kill ability, the 25-year-old has struggled to produce on the score sheet. With just nine points in 52 games this year, he is on pace for the lowest output of his career.
Former first-round selection Zemgus Girgensons is another Sabre who could stand to benefit from a change of scenery. Ever since the organization parted ways with Ted Nolan at the end of the 2014-15 season, Girgensons play has been on the decline. There is no question that the 24-year-old Latvian boasts elite speed, however, the only time he has been able to consistently produce this year is when he flanks Jack Eichel's left side.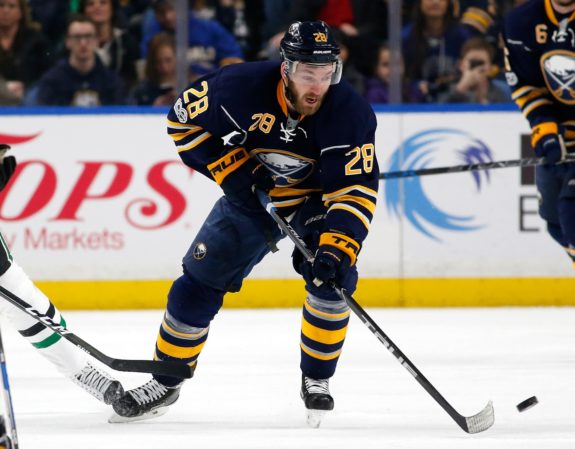 Speaking of players who only seem to score points on Eichel's line, Sam Reinhart's name could certainly appear on the transaction list in the near future. With 13 points in his last 10 games attached to Eichel's hip, Botterill may be showcasing Reinhart's ability as a complementary player in an attempt to boost his trade stock. The former second overall pick's inability to score without Eichel is cause for concern as he approaches RFA status this summer.
Every year, teams look to bolster their defensive depth heading into the postseason (paging the 2005-06 Sabres…). Veteran defenseman Josh Gorges will hit free agency this summer and could serve as an excellent rental piece for a team with Stanley Cup aspirations.
The complexion of the Sabres roster after Feb. 26 remains a mystery. Though there is uncertainty as to which players will be dealt, the team is in need of another roster overhaul.
One thing is for certain – Botterill will be active at the deadline.
A passionate supporter and lifelong fan of the Buffalo Sabres. Former Admin and Staff Writer at buffalohockeycentral.com.