The 2017-18 Buffalo Sabres season has been an unbridled disaster. On Tuesday night, the boys in blue & gold dropped their fourth straight home game to the Anaheim Ducks. The loss sinks the Sabres further into the netherworld of NHL standings, with a paltry 38 points in 53 games. First-year head coach, Phil Housley, has endured the brunt of the criticism for the team's feeble results. Although some of it may be warranted, the 53-year-old bench boss was not dealt an ideal hand when he accepted the job in June.
A confluence of inherited roster deficiencies is part of the reason for the unfortunate start to Housley's (head) coaching career. Most will point to the team's lack of firepower up front for their futile start; 120 goals in 52 games speaks for itself. Others will point fingers at the mediocre goalie tandem of Robin Lehner and Chad Johnson; a .913% and .883% save percentage respectively lends credence to the argument.
The team's most glaring weakness? The lack of a high-level, consistent, puck moving defenseman. The solution?  Finding a clone, or at least a reasonable facsimile, of Phil Housley (circa the mid-1980s). Oh, the irony.
Highly Revered, Much Maligned
Housley enjoyed a hall-of-fame career that spanned an unbelievable 21 years of NHL service. He is a six-time All-Star, Olympian, and is widely regarded as the greatest defenseman to ever lace up skates for the Sabres. Despite his legendary resume, the Saint Paul, Minnesota product was routinely disparaged because of his desire for glory in the offensive zone and neglecting his fort. Sure, Housley was not the perfect d-man, however, he made his teammates better. The sixth-overall pick in the 1982 draft effortlessly propelled the puck into the capable hands of Pierre Turgeon and Dave Andreychuk. Unfortunately, Jack Eichel cannot relate.
Making Chicken Soup
You have to hand it to Sabres general manager, Jason Botterill. He really did make a valiant effort to correct the mistakes his predecessors made to the back-end. Aside from foundational piece, Rasmus Ristolainen, there existed a mishmash of mediocrity on Buffalo's blue line.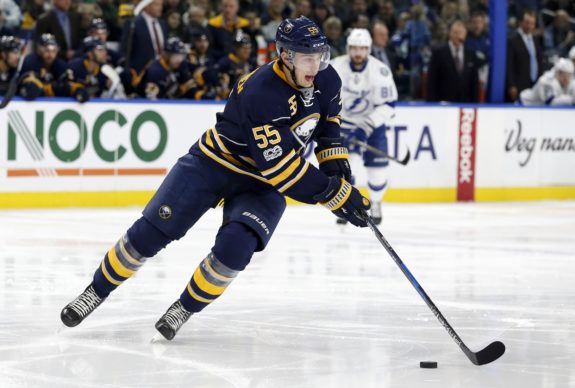 He rolled the dice on everybody's favorite Russian mystery man, Viktor Antipin, hoping for Nikita Zaitsev-like production. He traded for the enigmatic, Nathan Beaulieu, praying that a new setting would help unleash his exciting potential. Botterill selectively plucked Minnesota Wild's low hanging fruit by acquiring the talented Marco Scandella. Finally, the Sabres fell short in securing the services of starlet Will Butcher. Suffice it to say, there is room for improvement and here are some potential answers.
Everyone's Favorite Amerk
Other than high-rising C.J. Smith, Brendan Guhle is widely regarded as next in line to ascend from Rochester to the Queen City. Sabres fans have been drooling over the 20-year-old's smooth skating and ideal size (6-foot-3, 193 pounds).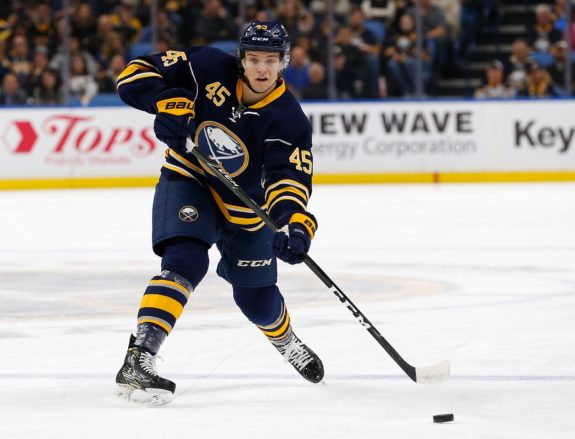 The talented youngster has enjoyed a fruitful season with the Americans, notching an impressive 21 points in 38 games. TSN's Bob McKenzie had the following scouting report on Guhle in advance of the 2015 NHL draft:
Guhle is a very good skater who can transport the puck out of the defensive zone and up the ice very well. He uses his skating to close on opponents defensively and he doesn't give up much space or time because of it. Offensive productivity will be more because of his skating than his puck play. NHL Comparison:  John Moore, Arizona Coyotes
Trade Ideas
In advance of this year's Feb. 26 deadline, the Sabres occupy the dubious #1 and #28 entries in TSN's trade bait list. Evander Kane, Sam Reinhart and Robin Lehner could all be dealt to help fill the defensive gap. As this not a Utopian world, I will refrain from listing unreachable stars such as Drew Doughty and Erik Karlsson as potential targets.
The Obvious and Not-So-Obvious Option
Tyson Barrie has a perennial residency on trade bait lists. Much like Housley, Barrie possesses elite offensive skills but has been assigned the "feast or famine" label given his putrid plus/minus ratings of years past. That said, Barrie and his Colorado Avalanche team are enjoying a bit of a renaissance year. It will be interesting to see if the Avs deem the polarizing 26-year-old as part of their future or if they'll dispense with him while his value is still high. Barrie has two years left on his existing deal, with an AAV of $5.5 million.
Not only does Julius Honka have a great name, he is a highly skilled, young, controllable, defenseman with the puck moving ability that the Sabres are sorely lacking. He consistently appears atop several Dallas Stars prospects lists which means that Botterill would have to pony up substance (e.g. Reinhart) for savvy Stars GM, Jim Nill, to flinch.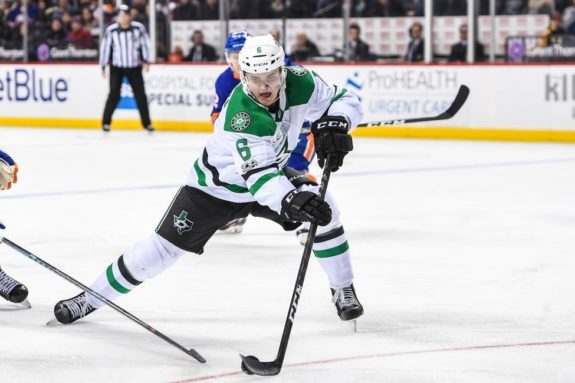 Honka's only played 28 games for the Stars this season but has been impressive at both ends. He's managed an impressive plus-four and is sporting a delightful 55.3% Corsi rating – comparable to Kris Letang and Zach Werenski.  Last, but not least, Honka is familiar with Ristolainen; the pair were instrumental in Finland's surprise gold medal in the 2014 World Junior Hockey Championships.
Free Agent Options
Regardless of what happens at the trade deadline, the Sabres will have the luxury of ample salary cap room in advance of the 2018-19 season. Owners, Terry and Kim Pegula, have shown their willingness to dole out funds to right this sinking ship. Fortunate for the team, there are intriguing options that may tickle their fancy.
The Cadillac versus The Honda
John Carlson is a minute devouring, puck moving, power-play orchestrating Cadillac of a defenseman…who just happens to be in the prime of his career. Should he not re-sign with the Washington Capitals, the Pegulas would be wise to back up a Brinks trunk in front of the Carlson household to permanently solve the issue on d.
The 28-year old has been a model of consistency throughout his eight-year tenure with the Caps with no signs of slowing down. Carlson would likely garner a seven year deal with an AAV of $7-7.5 million.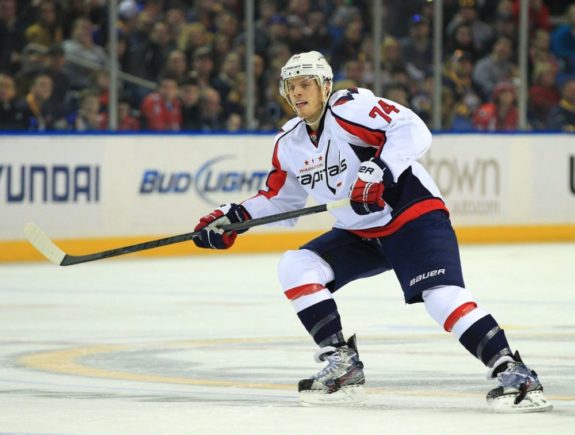 Should the Sabres strike-out on the Cadillac, there is a nimble, reliable Honda Civic named Tobias Enstrom that could be had for the right price. The 33-year-old Swede has carved out an impressive 11-year career, despite his diminutive stature. He will likely be seeking a two-three year deal with an AAV of $3-4 million. As per The Hockey News' Forecaster, Enstrom's scouting report (and physical stature) is remarkably similar to that of Housley's:
Assets: Possesses great skating ability, passing skills, hockey sense and an accurate point shot. Is a smart defender who is capable of logging huge minutes. Is quite a low-maintenance player.

Flaws:  His diminutive stature somewhat limits his effectiveness at even strength in the NHL. Can get overwhelmed physically, especially in the corners. Injuries (and wear & tear) are concerns.
Drafting a Stud
Given the competitive landscape of trades and the difficulty in luring free agents to a perpetual loser, Buffalo's best option would be to draft a "stud".  Luckily, the team is in prime position to have a shot at the ultimate prize.
Muhammad Ali 
"Kinda like Muhammad Ali in the day, the undisputed champ." This is what Sam Cosentino had to say of Rasmus Dahlin in Sportsnet's 2018 NHL Draft Prospects: February edition. Dahlin is head and shoulders above anyone else in his draft class. He's been compared to Paul Coffey, Victor Hedman and Erik Karlsson, because of his blazing speed, physicality, puck moving ability and overall creativity with the puck.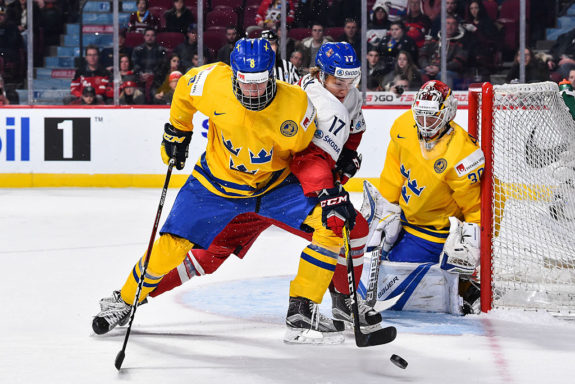 Not only was Dahlin dominant at this year's WJHC, the 17-year-old has been equally impressive playing among men for Frolunda in the Swedish Hockey League. By the end of the 2017-18 NHL season, the Sabres will likely have between a 12.5% – 18% chance of winning the draft lottery. Let's hope the ping pong balls fall in their favor (for once).