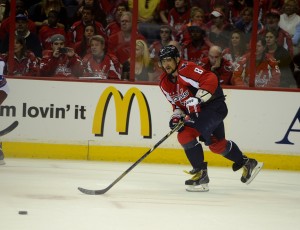 The final horn sounded at Madison Square Garden last night, New York Rangers fans were on their feet and were acknowledged by the Blue Shirts at center ice with the traditional stick raise after a Rangers victory.
Game Four was officially in the books as the New York Rangers defeated the Washington Capitals by a final score of 4-3.
During the brief celebration, Capitals players were exiting the ice with their heads held high, knowing quite well that this series was not going to be easy by any stretch of the imagination. It's the playoffs, it's a grind, players and coaches know it, and you better believe, the Washington Capitals know it.
"Everybody knows it's playoffs. Nobody's gonna give up right away," Alex Ovechkin told reporters following the game four loss. "Doesn't matter if gonna be score, but right now we go home and go and play against them with our fans and in our building. It's gonna I hope be much better for us."
As for the 60 minute performance by the Red Shirts, it's something the players and coaches discussed shortly following the game, but will need to quickly put behind them judging by the sloppy play, out of character decisions with the puck and failure to gain any type of positive momentum throughout the course of the contest.
"We didn't play good. We played bad for 45 minutes, and that's not fun either," Defenseman Karl Alzner said shortly after the game. "We just need to get back to the basics. We got away from it. It wasn't easy to handle the puck out there today, and we needed to play much simpler hockey than we did."
Coach Adam Oates didn't particularly care for the way the the night started off for the Capitals, who were subject to the Rangers physical play early on.
"They came out, tried to be a little physical," Oates said. "You expect that. It's their building, you've got to handle the initial wave and then power plays didn't do anything. We got a little frustrated with that, and then we gave them a goal. So it was a lousy start."
The Capitals took a major hit up front with 1:34 remaining in the first period, as forward Martin Erat (Acquired from the Nashville Predators on trade deadline day), suffered an upper body injury after a collision involving several players in front of the Rangers net. No word on the extent of the injury.
The Capitals returned home to DC following last nights game and will prepare for game five which is scheduled for this coming Friday night at 7:30pm. The matchup will be aired on NBCS and TSN.
Follow me on twitter @Darren Coslov
Darren is the Washington Capitals correspondent. He spent the 2010-11 season covering the Atlanta Thrashers and the 2011-12 season covering the Columbus Blue Jackets. Feel free to contact him @ DKoz256@yahoo.com. You can also follow him on Twitter. DarrenCoslov