With the NHL season rapidly approaching, like a long game of telephone, many projections are going to be shouted from the rooftops by fans far and wide throughout this upcoming season. With the league now split into four divisions this season, it will be interesting to see the possible ignition of new and old rivalries and how teams will change their preparation method when playing against the same foe multiple times throughout the season.
The Washington Capitals have a solid squad entering 2020-21. With familiar faces and a few new ones, I've been brewing a few projections that I think are quite likely to happen over the course of this season. These five concocted projections I believe are possible to achieve even in a 56 game season.
All the predictions are based on a 1-5 likeliness scale. 
John Carlson Will Be a Candidate for the Norris Trophy (4.3/5)
We all know the capabilities of John Carlson. In last year's shortened regular season, the Norris-nominated defenseman produced 15 goals and 60 assists, totaling 75 points in 69 games with a plus/minus of plus-12. Even at the ripe age of 30, Carlson is still a mobile, puck-moving defenseman who can set up teammates around him, all while quarterbacking special teams like the power play.
Not only that, but this season's Capitals defence has gotten better with the acquisition of Justin Schultz and Trevor van Riemsdyk. Let's not forget Zdeno Chara, who just signed with the Capitals adding defensive presence and size to the blue line. He can likely achieve over 50 points this season.
Brenden Dillon Will Get Over 15 Points (3.7/5)
Brenden Dillon is a dark horse projection, and maybe I'm way more optimistic than I should, but here it goes. We haven't really seen much of Dillon since he landed in the nation's capital. Last season, he didn't perform in the 10 games he played in, but in the same season, he tallied one goal and 13 assists for 14 points in 59 games with the San Jose Sharks.
Be patient, it takes time for players to find their groove when acquired by a new team, and that's exactly what we're seeing. Paired with Schultz in this season's training camp, Dillon has played great in team scrimmages. He seems to enjoy playing with his new partner, and we'll most likely see more from Dillon this season.
For the fun of it, Dillon will get three goals and 18 assists for 21 points in 2020-21.
Alex Ovechkin Again Winning the Rocket Richard (4.6/5)
Unless you've been hiding under a rock for over the past 10 years, you know that Alex Ovechkin is one of the most offensively skilled forwards in the NHL. Hey, if you don't believe me, a quick Google search will show that he has the hardware to prove it. Speaking of hardware, my projection for the nine-time Maurice "Rocket" Richard Trophy winner to win the coveted trophy again this season isn't far-fetched. Even for his age, Ovechkin still has one of the deadliest shots in the NHL and can shoot from anywhere in the offensive zone to score. 
With the likes of Carlson aiding him on special team one-timers, and Evgeny Kuznetsov setting him up five-on-five, he has enough talent surrounding him to get set up properly. If you doubt him because of his age, Ovechkin scored on average 49.3 goals over the last three seasons. He also shined in the shortened season scoring 48 goals in 68 games, tying David Pastrnak for most NHL goals, splitting last year's Rocket Richard Trophy. Even at the young age of 35, it seems like Father Time hasn't taken its toll on the great eight.
Special Teams Will Improve (2.8/5)
This 2020-21 season should be when the Capitals play better on special teams. Last season, the team ranked 17th on the power play with a success rate of 19.4 percent. More planning will be done on the second unit, Jakub Vrana will be pushed to take more shots and newly acquired defensemen Schultz will get used to playing with Dmitry Orlov.
The Capitals penalty kill was already performing well at 82.6 percent, but now with Chara, it will add more size down the middle and a better defensive presence in their zone. It helps that they now have a guy who blocks the puck over 100 times a season and can lay the body and bring the play to the perimeter of the zone on the penalty kill.
Ilya Samsonov Playing Lights Out (2.5/5)
I placed this at the halfway point because of the unexpected game of goalie musical chairs now unfolding in Washington. This is now a make-or-break season for the young Russian goaltender.
Initially, I thought that since Henrik Lundqvist was going to join the Capitals, he was going to help Ilya Samsonov not only as a goalie but also how to properly handle himself when he's the number one goalie on the team. With Lundqvist out for the season due to sudden heart surgery, he and his experience are now missing on the roster.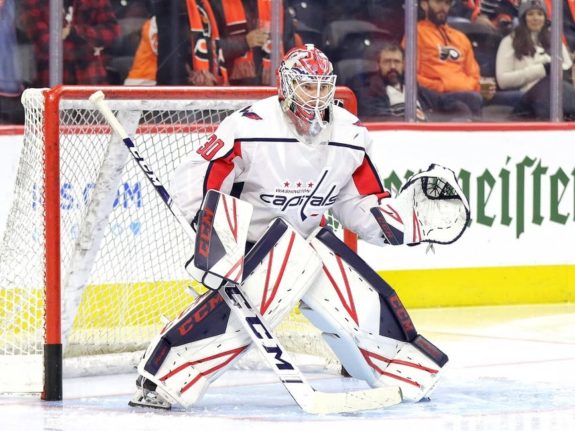 Due to this sudden news, it won't be easy to project how Samsonov will perform this upcoming season, especially with all the added weight now on his shoulders. Statistically speaking, Samsonov played well last season. In his lone season in Washington in 2019-20, he finished with 16 wins and six losses in 22 games started, posting a 2.55 goals against average and a .913 save percentage. For a rookie goaltender, these numbers are very reassuring.
During this season's training camp, it looks like Craig Anderson, Pheonix Copley, and Vitek Vanecek are all battling for that number two spot. It may look like Vanecek is the frontrunner for the gig down in Washington.
It's always fun to have projections or aspirations for the upcoming season, whatever team it may be. I, like many others, are just happy that hockey is finally starting up once again.
---
---
Co-Host of The Starting Rotation on CJLO 1690AM
Journalism at Concordia University
Twitter: @guindigabriel
Instagram: gguindi