Coming off of a 92-point pandemic-shortened season, the Colorado Avalanche had higher expectations entering the Edmonton bubble for the NHL's Return to Play over the summer than a second-round exit at the hands of the Dallas Stars.
That type of disappointing performance — a result of a significant number of injuries to key players — is what led to general manager Joe Sakic making significant moves to his club, including the acquisitions of forward Brandon Saad from the Chicago Blackhawks in exchange for defenseman Nikita Zadorov and defenseman Devon Toews from the New York Islanders for two second-round picks.
Toews comes over to the Avalanche and essentially replaces the departed Zadorov in the lineup after becoming too expensive for the Islanders to hold onto due to the flat cap. The 26-year-old defenseman was traded to Colorado as a restricted free agent on Oct. 12, 2020 and Sakic promptly signed him to a four-year, $16.4 million contract just 15 days later.
What Toews Can Bring to the Avalanche
A fourth-round pick of the Islanders in 2014, Toews is a left-shooting defenseman that was known for his smooth skating and puck-moving ability in New York. Despite already being 26, Toews has just two NHL seasons under his belt, including the shortened 2019-20 season.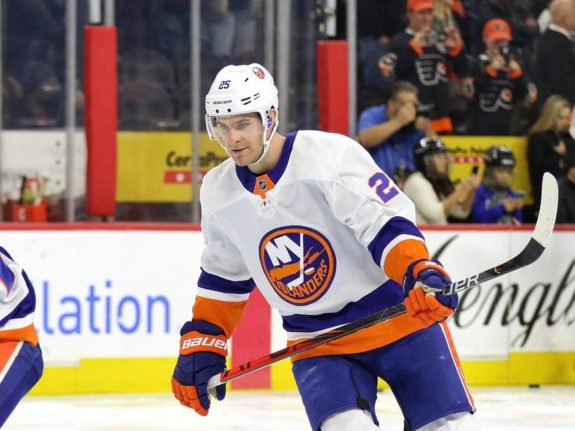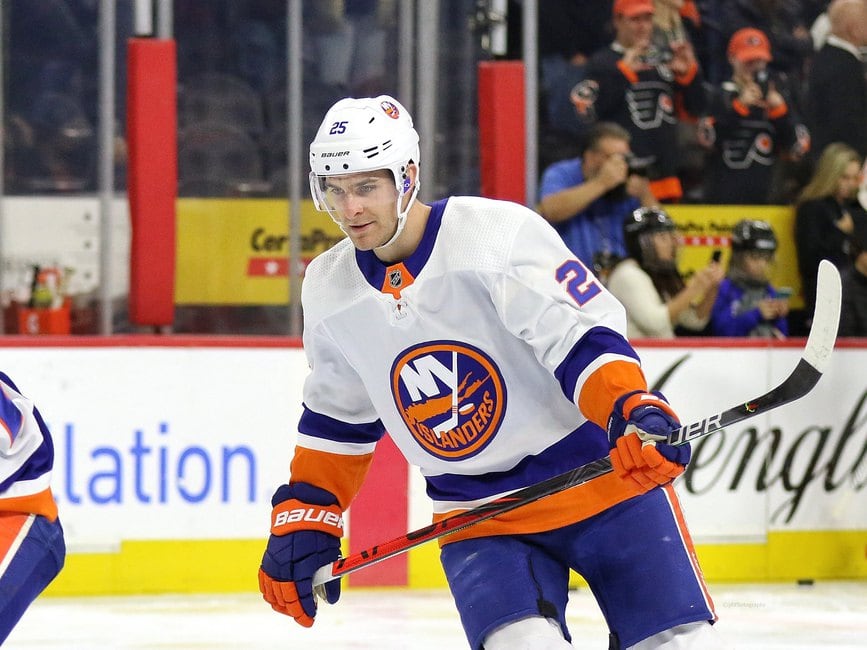 The Abbotsford, BC, native made his debut with the Islanders in December during the 2018-19 season after an injury sidelined defenseman Thomas Hickey. Since arriving in the NHL, Toews made the most of his opportunity while spending most of his time with Scott Mayfield.
Toews played 114 of his 116 career games with his right-shot defensive partner, a player known as more of an old-school, stay-at-home defenseman. Since the 2018-19 season, Toews and Mayfield played more than 1,200 minutes together at five-on-five, the 20th highest amount of time played together for defensive pairs in that timespan, according to Natural Stat Trick. Toews was also given ice time on special teams, often manning the Islanders' power play in the high slot as the power play quarterback.
Playing with a steady, defensive-minded player in Mayfield allowed Toews to use his speed to rush the puck up in transition and attempt to create more offensive opportunities. In his rookie season, the lefty scored five goals and added 13 assists for 18 points in 48 games, including an exciting overtime game-winning goal against the Blackhawks for the first of his career. In 68 games with the Islanders last season, he posted six goals and 22 assists totaling 28 points while averaging over 20 minutes of ice time per game.
Where Does Toews Fit With the Avalanche?
Switching teams in the offseason is expected to lead to more opportunity for the third-year defenseman. During training camp, Avalanche head coach Jared Bednar has already said he plans on starting the year with Toews on his top pair alongside the reigning Calder Trophy winner, star defenseman Cale Makar, who will need a new contract of his own after he becomes a restricted free agent after the upcoming season.
Last season, Makar played on the top pair mostly with Ryan Graves, a player that to Makar is similar to what Scott Mayfield was to Toews — a defensive-minded defender who allowed his partner to handle the offensive side of things. With Graves, Makar averaged slightly more than 21 minutes of ice time per game.
Adding the speedy Toews — the winner of the 2017 CCM Fastest Skater event during the AHL's All-Star Classic — to the top pair will give the Avalanche one of the fastest defensive pairs in the league with two players that can skate like the wind and can move the puck in a fast-paced transition. 
As for special teams, the Avalanche's top power-play unit is likely set already with Gabriel Landeskog, Nazem Kadri and Mikko Rantanen up front and Makar and Nathan MacKinnon up top. Toews will likely slot in on the second power-play unit with someone like Sam Girard alongside him, another smooth-skating, puck-moving defenseman who finished second among Avalanche defensemen in scoring last year with 34 points in 70 games.
Adding Devon Toews to the Avalanche defense gives the team four quality defensive pairs and likely the deepest defensive corps in the NHL. With Toews expected to start with Makar, Girard slotted in with Erik Johnson and Graves and Ian Cole making up the third pair, that leaves prospects Conor Timmins — who made his NHL debut in last year's playoffs — and blue-chip prospect Bowen Byram in the press box.
Adding Toews also gives the Avalanche another player whose skating ability can match up with anyone in the league, making this team that much more exciting heading into the 2020-21 season.
---
---
My name is William Fitzpatrick but you can call me Billy. I have been covering the Colorado Avalanche for The Hockey Writers since Dec. 2020. I'm from Long Island, New York and recently earned my master's degree in journalism from Hofstra University. I have been around hockey for most of my life as a fan and as a player. I have covered the sport during my time at SUNY Oswego as well as interning with the National Women's Hockey League's Metropolitan Riveters. Currently I am working as a production assistant with MSG Networks where I work on feature segments with the New York Rangers.