After winning gold with Team Canada in his first World Junior Championship last year, defenseman Bowen Byram is stepping into a leadership role for his club this year.
Byram, the fourth-overall pick of the Colorado Avalanche in 2019, was named co-captain of Team Canada along with forward Dylan Cozens after captain Kirby Dach went down with an injury that will keep him sidelined for 4-5 months.
His first game wearing the 'C' came in Canada's first game of the tournament: a 16-2 rout of Germany. Byram totaled two assists in the game, his only two points of the tournament through three games thus far. While he isn't racking up the points, the left-shot defenseman is still making a positive impact on the ice. Through three games, Byram has yet to be on the ice for a goal against while being on the ice for 12 goals for, giving him a tournament-leading plus/minus rating of plus-12.
Having international experience surely made the decision to name Byram a co-captain easier for Hockey Canada. He began playing for his home country in 2017, playing six games and earning silver in the 2017 World U-17 Hockey Challenge with Canada Red — one of three Canadian teams entered into the tournament each year.
After a disappointing fifth-place finish at the 2018 U18 World Championship, Byram posted a goal and three assists in five games for Team Canada at the 2018 Hlinka Gretzky Cup en route to a Canadian gold medal finish. And now, three games into his second World Junior Championship with Team Canada, he is hoping to win his second gold medal in two years with the U-20 team.
Leadership Is Nothing New To Byram
Being named captain for his home country has to be one of, if not the highest honor in Byram's young career so far. Being a leader is nothing new to the 19-year-old as the Cranbrook, BC, native, as he has worn a letter the past two seasons he spent with his junior hockey club, the WHL's Vancouver Giants.
While serving as an alternate captain for the club, Byram played 117 games with an 'A' stitched to his sweater totaling 123 points over the two years. And when the 2019 WHL playoffs began, he rose to the occasion by leading all players in scoring throughout the playoffs with 26 points in 22 games while Vancouver fell just short of a WHL Championship, losing to the Prince Albert Raiders in overtime of Game 7.
Next Stop: NHL
Since being drafted in 2019 with the pick Colorado acquired from the Matt Duchene trade with the Ottawa Senators, Byram has consistently topped the team's prospect rankings. While the fourth-overall selection from the 2017 NHL Entry Draft, Cale Makar, will be manning the right side of Colorado's blue line for years to come, it won't be long before the fourth-overall selection two years later joins him on the left.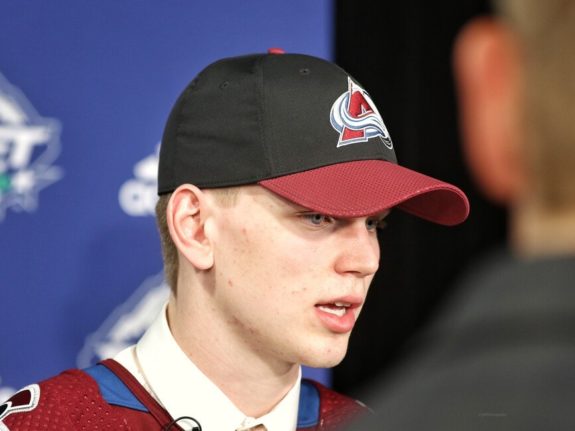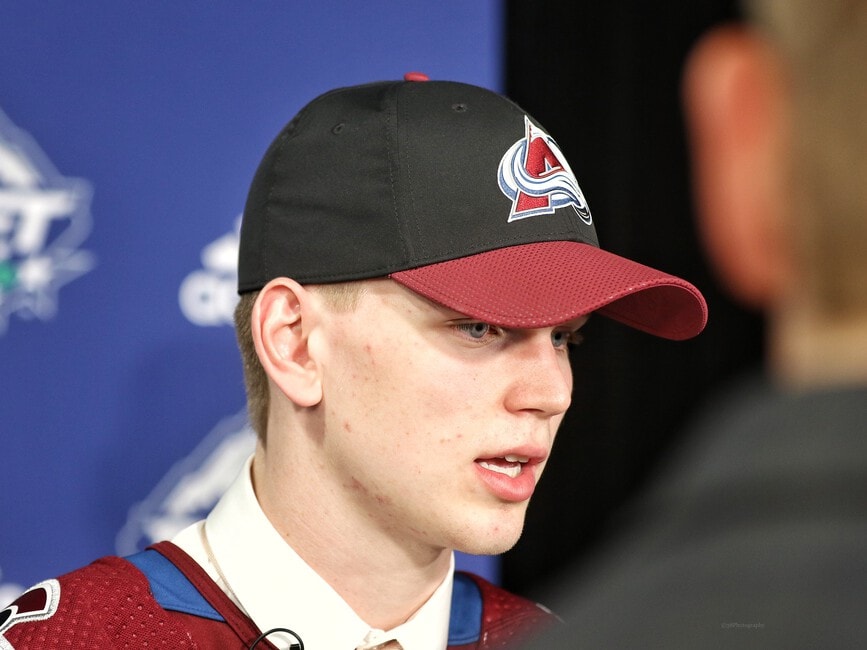 Despite traveling with the team to the Edmonton bubble for the NHL's Return to Play last summer, Byram has yet to don the burgundy and blue for the Avalanche in a regular season or playoff game. After signing his three-year, entry-level contract in the summer of 2019, he participated in the team's 2019-20 training camp and preseason, but was sent back to his junior team after a four-game preseason stint that had him averaging about 18 minutes of time-on-ice per game.
While Byram wasn't able to squeeze his way into a playoff game — even with injuries to defensemen Erik Johnson and Conor Timmins — being around the team and practicing with his NHL club in the bubble brings him one step closer to making his NHL dreams a reality.
The Avalanche are expected to open training camp for the 2020-21 season on Sunday, Jan. 3 with the team's first regular season game scheduled for Wednesday, Jan. 13 against the St. Louis Blues at Ball Arena. With the 2021 World Junior Championship not wrapping up until Jan. 5, and Team Canada looking like the favorites to win it all for the second year in a row, Avalanche fans might have to wait past opening night to see Byram make his NHL debut — but that doesn't mean they shouldn't be excited.
All the 2021 World Junior Championship Team Information:
Austria — Team Preview — Roster
Canada — Team Preview — Roster
Czech Republic — Team Preview — Roster
Finland — Team Preview — Roster
Germany — Team Preview — Roster
Russia — Team Preview — Roster
Slovakia — Team Preview — Roster
Sweden — Team Preview — Roster
Switzerland — Team Preview — Roster
USA — Team Preview — Roster
Selection Camp Invites by NHL Team
Draft Eligible Players to Watch
One Player to Watch for Each World Junior Team
7 Predictions for the 2021 World Junior Championship
---
---
My name is William Fitzpatrick but you can call me Billy. I have been covering the Colorado Avalanche for The Hockey Writers since Dec. 2020. I'm from Long Island, New York and recently earned my master's degree in journalism from Hofstra University. I have been around hockey for most of my life as a fan and as a player. I have covered the sport during my time at SUNY Oswego as well as interning with the National Women's Hockey League's Metropolitan Riveters. Currently I am working as a production assistant with MSG Networks where I work on feature segments with the New York Rangers.