We're less than two weeks away from the start of the 2020-21 NHL season and it promises to be one of the strangest we've ever seen. Teams will be playing just 56 games against only divisional opponents, with many of those set up as baseball-style back-to-back affairs. The old saying that the regular season is a marathon and the playoffs are a sprint doesn't apply this season: all 31 teams will be sprinting to try to secure a postseason berth. 
But the expectations for every player remain the same even if they won't reach traditional statistical benchmarks like 100 points or 40 goals. The Buffalo Sabres are seeking to make the playoffs for the first time since the 2010-11 season, but will face an uphill battle playing in what looks like an extremely competitive East Division. To finally get over the hump, the Sabres will need contributions from the entire lineup, but especially from their marquee players.
These are the six Sabres who need to have big seasons if Buffalo is to make its long-awaited return to the postseason, as well as predictions for their individual stats for the 56-game season.
Jack Eichel
The Sabres will go as far as their superstar captain can take them. That's hardly breaking news, and it's a lot of pressure to put on one player. But even with the improvements Buffalo made this offseason to strengthen its offense, it will likely take an MVP-caliber season from Jack Eichel if they hope to make a run at the playoffs.
Fortunately, there's no reason that Eichel can't produce such a season. Already established as one of the game's best young players, the 24-year-old has averaged more than a point per game in each of the past two seasons (including 1.15 in 2019-20) and is ready to take the next step up into the tier of the league's truly elite.
With a star on his wing in Taylor Hall and improved depth on the second and third lines, Eichel is in line to post monster numbers even in the shortened 2020-21 campaign.
Prediction: 31 goals, 37 assists, 68 points
Taylor Hall
As noted above, Eichel will get the chance to play with a legitimate stud on his wing for the first time in his career after Hall came to Buffalo in one of the 2020 offseason's biggest signings.
While he's seen his per-game production fall sharply since his Hart Trophy-winning 2017-18 campaign in New Jersey — Hall averaged 1.22 points per game that year as opposed to 0.80 last season — he was playing with linemates who weren't close to Eichel's caliber.
The only concern regarding Hall's production is his injury history that has resulted in him appearing in more than 70 games just four times in his career. It's certainly something to keep an eye on in a season with a condensed schedule. However, if he can stay healthy, the former MVP ought to experience a resurgent season.
Prediction: 22 goals, 40 assists, 62 points
Rasmus Dahlin
While the former first-overall pick still has to work on improving his all-around game, his on-ice production through two seasons has been nearly unparalleled in league history. Rasmus Dahlin trails only former Sabre Phil Housley for most points by a teenage defenseman in NHL history with 71 points through his first 141 games.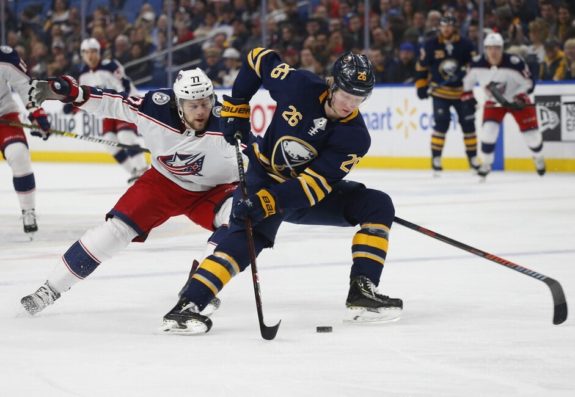 While he actually saw his average ice time drop from year one (21:09) to year two (19:18), don't expect that to be the case for Dahlin in year three. On a blue line riddled with question marks, head coach Ralph Krueger would be wise to increase his young star's workload even if it means some more growing pains.
Dahlin has shown he is a transcendent offensive talent, and playing anywhere between 22-24 minutes a night will allow him to post the best numbers of his young career to date.
Prediction: 8 goals, 39 assists, 47 points
Jeff Skinner
After a 40-goal campaign in 2018-19 netted him a monster eight-year contract, Jeff Skinner followed it up with a disastrous 2019-20 season that saw him net just 14 goals and 23 points in 59 games.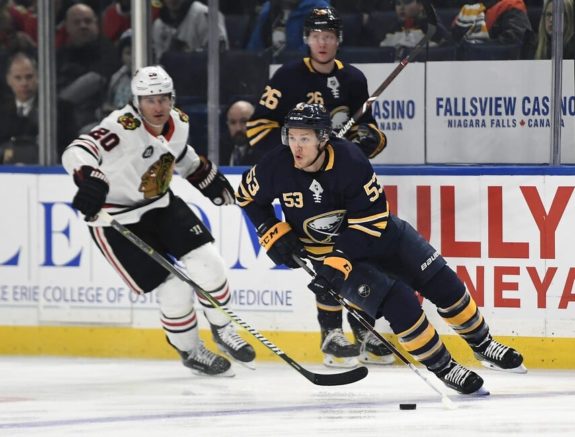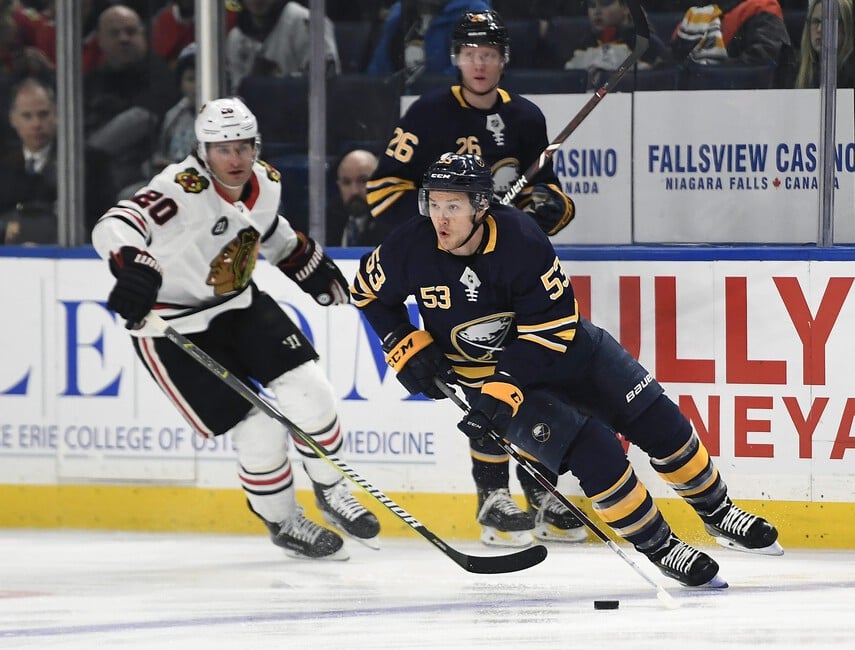 The bad news is that Skinner's $9 million cap hit is going to be an albatross for Buffalo for quite a while. The good news is that his production will almost certainly increase in 2020-21. While he doesn't figure to spend much time on a line with Eichel and Hall, Skinner will have much better talent around him than he did last season. One likely option is his former Carolina Hurricanes teammate Eric Staal, who comes to Buffalo to fill the long-vacant void as the second-line center. Skinner was also dreadfully unlucky shooting the puck last season, with his 7.7% shooting percentage falling well below his career average of 10.7%.
Skinner needs to be a 40-goal-a-season type of player to justify his contract. That may not seem likely when you look at his play last season, but some better luck and better linemates will lead to a notable uptick in production.
Prediction: 17 goals, 16 assists, 33 points
Victor Olofsson
The 25-year-old Swede is one of the biggest wild cards on Buffalo's roster, mainly due to the fact that it's still unclear who he'll be playing with.
Krueger has options when it comes to deploying Victor Olofsson: if he wants to have a juggernaut top line, he could send out the trio of Hall-Eichel-Olofsson. If he wants a more balanced lineup, it would make sense to pair Olofsson with Staal on the second line. There's even been talk of putting Olofsson on the third line in order to have legitimate scoring threats on three different lines.
Wherever he ends up, expectations are high entering year two. Olofsson was a trendy Calder Trophy pick early last season, and while he eventually cooled off (while also missing time due to injury), he still finished 20 goals and 42 points in 54 games in his first full NHL season.
Expect Olofsson to once again be a power-play weapon while perhaps taking advantage of mismatches as a middle-six forward.
Prediction: 23 goals, 24 assists, 47 points
Rasmus Ristolainen
No Sabres player creates more debate among fans and the media than the big Finn. On the one hand, he is a consistent point-producer on the blue line: Rasmus Ristolainen topped 40 points in four straight seasons and might have done so again in 2019-20 had he played a full slate (33 points in 69 games).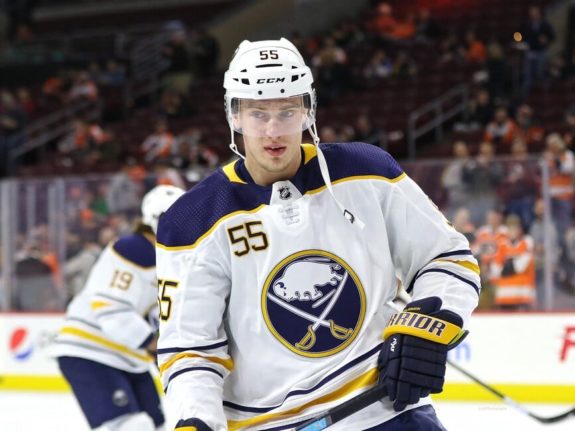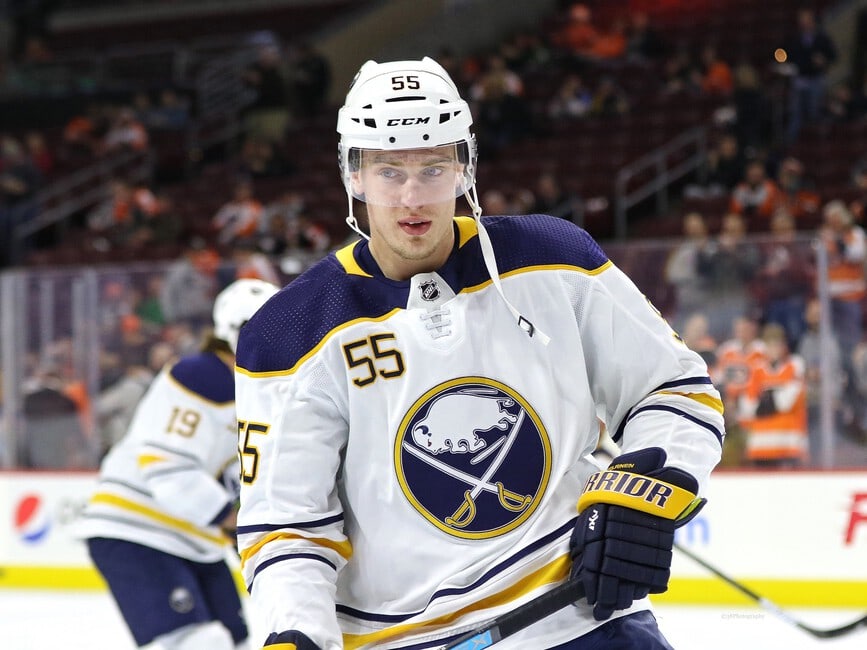 On the other hand, his defensive shortcomings drive Buffalo fans crazy, as evidenced by his whopping minus-145 career plus/minus in seven seasons. Part of that is the result of playing on some bad teams, but there's no mistake that Ristolainen is too often a liability in his own end.
That being said, Krueger wisely lessened Ristolainen's workload last season (his average time on ice of 22:48 was his lowest since 2014-15), resulting in a career-best minus-2 rating. He is clearly better suited as a second-pairing defenseman, though will still likely be asked to play first-pair minutes due to the questions about the rest of the Sabres' defense. For that reason, fans can expect more good offensive numbers. As for the rest of his game, that remains to be seen.
Prediction: 4 goals, 23 assists, 27 points
The production of these half-dozen players will tell the story of the 2020-21 Sabres. If even one or two of them fall short of expectations, it's hard to see Buffalo making a legitimate run at the playoffs in a season with such a thin margin for error. But the Sabres are unquestionably more talented than they were in 2019-20, and the improved roster depth ought to pay dividends for their top players. Add in a couple of breakout seasons from names not mentioned above, and it's just as easy to imagine the team breaking their lengthy playoff drought.
---
---