It is just days until the 2020-21 NHL season starts, but already we have a blockbuster trade rumour with the news that Pierre-Luc Dubois may want out of Columbus. It's hard to predict whether a trade will happen this season as there are so many more factors surrounding the COVID-19 shortened season. If a trade does happen, it will be the blockbuster trade of the season and could swing a contending team's Stanley Cup odds.
Related: NHL Rumors: Blackhawks, Devils, Islanders, Flames, More
The Calgary Flames should take a detailed and long look at Dubois and consider making an offer for the forward. He is now under contract for two more years, at $5 million per season, and if he continues to trend upwards to elite player status, it will make a great value contract. Sean Monahan has been the team's number one center for most of his career, but compared to the rest of the league, he isn't quite the elite center Dubois is becoming.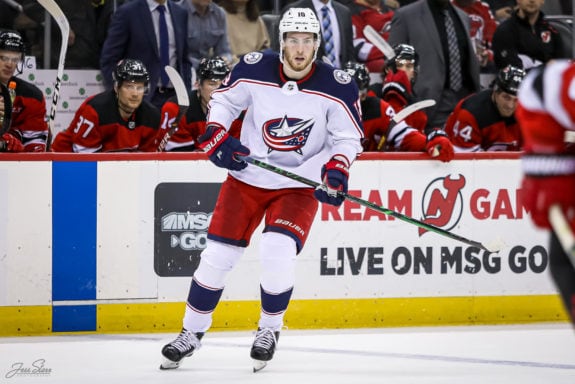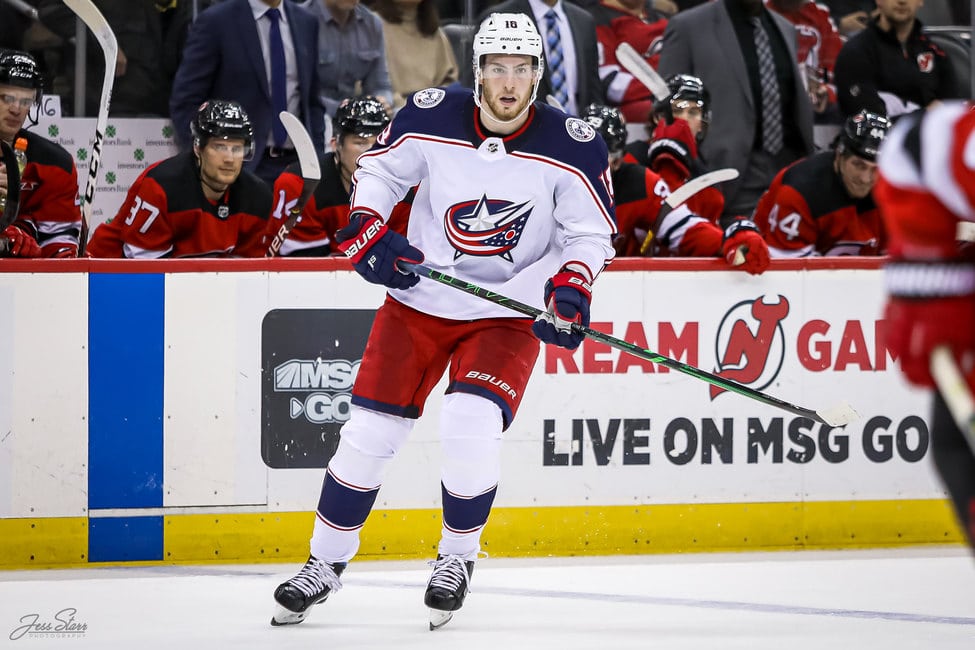 Dubois's new deal makes him less expensive than Monahan and would relieve the Flames of their currently tight cap situation. It's no secret that Monahan had a tough 2019-20 season, putting up the least amount of points since his rookie season. There is good reason to believe that he will have a bounce-back campaign, but while they are comparable players, there are little things that Dubois does better.
Dubois vs Monahan
Both players look relatively similar in terms of physical size and their first three seasons in the league. Monahan had 159 points in 237 games, while Dubois has managed 158 points in 234 games. Taking a closer look at each player, though, and it is clear Dubois is progressing as the better player.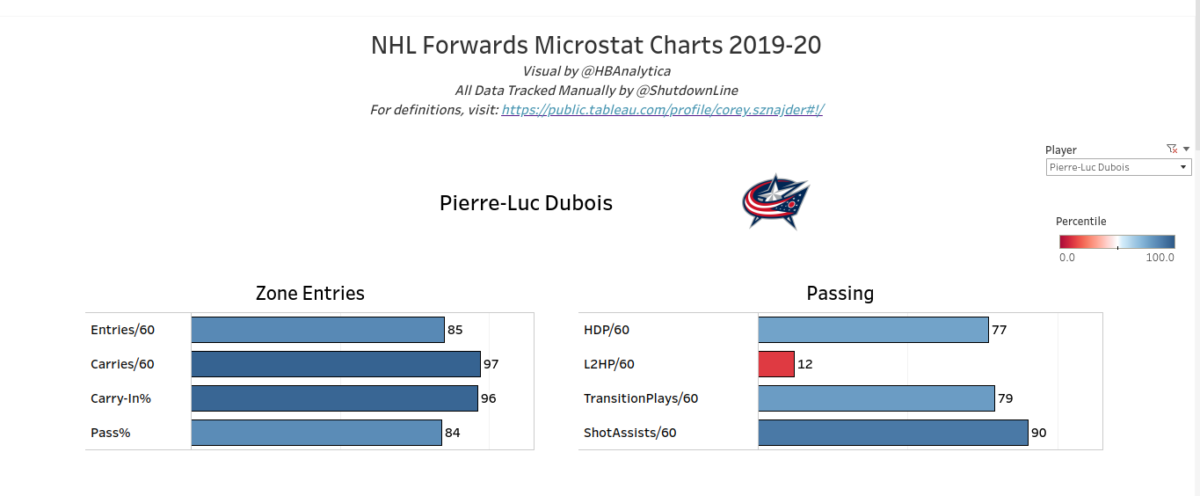 These player cards are a handy tool that quickly gives you a snapshot of zone entry and passing data for a player during the 2019-20 season and based on percentile within the league. Any stat listed with a /60 means per 60 minutes, which is a more accurate way to measure per game statistics.
Dubois is one of the more elite players in terms of offensive zone entries, as he grades in the 80th percentile range or higher in all four categories. This means that compared to the rest of the league, he is entering the offensive zone often with the puck on his stick more than most players. Pass% indicates that when he carries the puck into the zone, he is making a play upon entry and once again doing it better than most players.
HDP and L2HP are high danger passes and low to high passes (point shot setups), with high danger passes being passes made to the area known to have the most goals scored from. Shot assists are the same concept as goal assists, while the transitions stat comes from the sum of shot assists that happen in the neutral and defensive zone. The transition stat can tell you that he is setting up teammates for offensive zone entries and shots.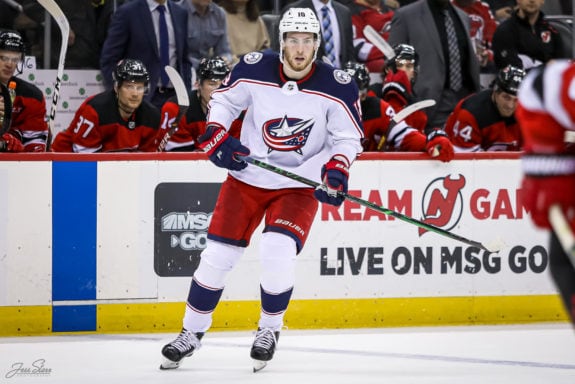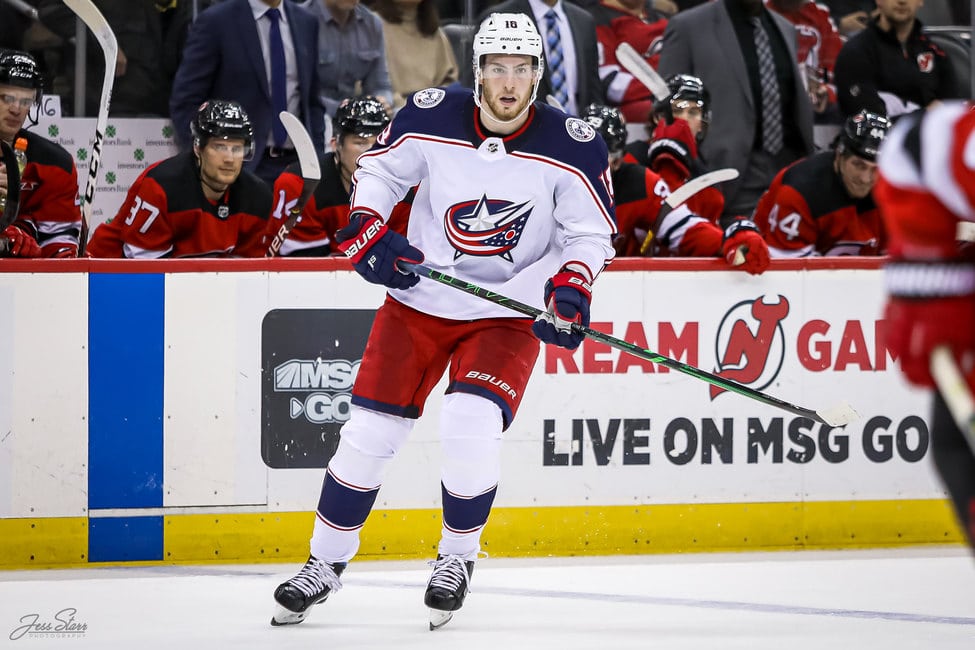 Dubois is near elite in seven of the eight stat categories, and the L2HP being that low may just be a result of the system that the Blue Jackets play. These stats paint an important picture, as it shows that he has the play driving ability to back up the goals and assists that he has posted so far in his career.
As you can see, it is a stark contrast between Monahan and Dubois. Last season's drop in production could be attributed to some of these stats, as he seemed to be mostly dependent on other linemates to enter the zone with possession and make a play.
Even in the low amount of carries into the offensive zone, Monahan was not usually carrying the puck in, as noted by his Carry-In%. Two good takeaways are that when he does enter the zone with the puck, he is making plays and getting pucks to areas where linemates can shoot it, as shown in the Passing% and Shot Assists stats.
Where Would Dubois Fit?
It would make the most sense to plug in Dubois right beside Johnny Gaudreau. While also in a down year, he was still in the 90th percentile in all stats tracked under zone entries. Having both players on the same line would create a strong possession pairing that could have either player carry the puck into the zone and make a play.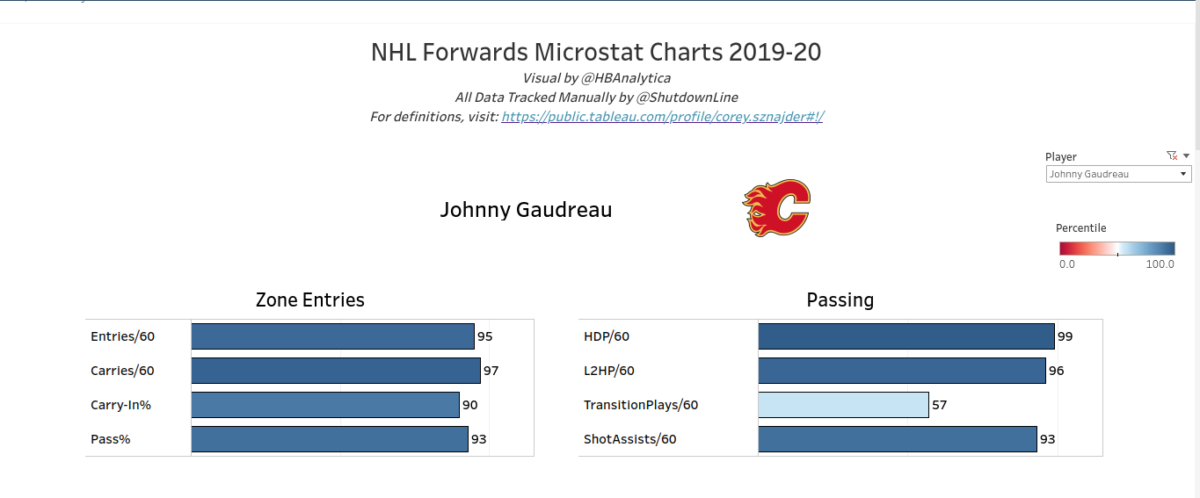 Compared with Gaudreau's player card, Dubois could really complement him and create an elite first line pairing that can move the puck. The duo would allow for a Dillon Dube or a Josh Leivo to plug into the right wing spot without being much of a drag on puck possession. The addition of Dubois could take a huge workload off of Gaudreau, as both Monahan and Elias Lindholm were not strong with zone entries last season.
The Trade Package
It will likely cost more than just Monahan, and it can be difficult to gauge an accurate trade offer with all sorts of hurdles this season. In recent seasons, the Blue Jackets have made a push for the playoffs, which included winning their first playoff series in franchise history. Those successes have cost them, though, as they have spent many of their draft picks for deadline players who have since left.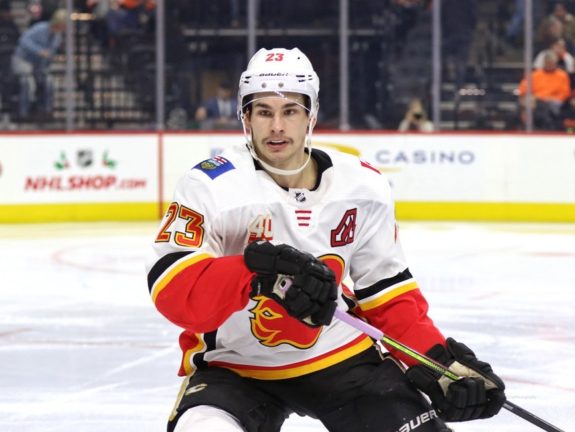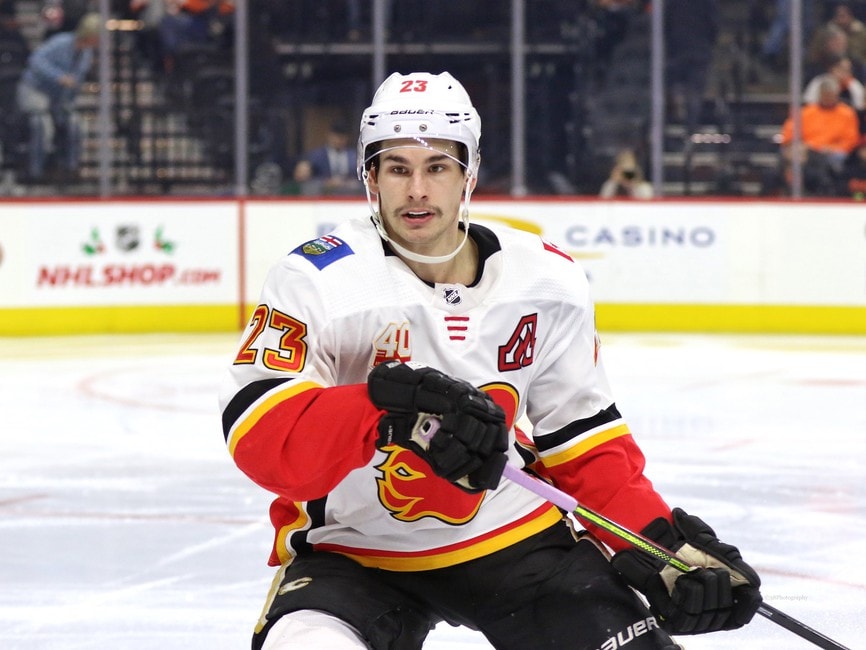 At the last two drafts, Columbus has made just eight picks total, and it has cost their prospect pipeline. Recently ranked by eprinkside.com as the worst prospect pool in the league, they are in desperate need of young talent. The Flames, in the same ranking, weren't much higher, as they have seen quite a few graduations to the big club within the last few seasons. With that said, there are still the options of adding a Connor Zary or Jakob Pelletier to the deal and/or a 2021 first-round pick.
Related: Flames Need Kylington to Take a Big Step Forward
Oliver Kylington is a name that has popped up in trade rumours before and could very well be on the table should Calgary make an offer. For a player of Dubois' calibre, it may cost the Flames upwards of Monahan, Kylington, Pelletier/Zary, and a 2021 first-round pick. It would be a hefty price tag but one that Flames' management should consider.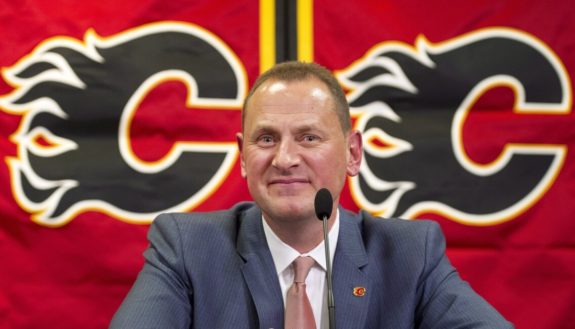 It's unknown whether we see Dubois traded during this season, as even during normal seasons, it can take a long time for a deal of this magnitude to formulate. During a shortened 2020-21 season playing against only six teams, it would be a good bet for the Flames to go all in. Adding Dubois to the fold would make the Flames serious contenders to win the North Division.
They've been rumoured before to be in on the blockbuster deals, but it has never come to fruition, as they've watched other pacific division teams cash in. If they are once again interested, maybe they will change the narrative this time.
---
---