The New Jersey Devils got a bit of unexpected news yesterday, as goaltender Corey Crawford announced his retirement from the NHL. The Devils had signed him to a two-year deal with a cap hit of $3.9 million on the first day of free agency to back up Mackenzie Blackwood.
Crawford had been one of the most consistent goalies of the last decade. He finished last season with a .917 save percentage (SV%) and had a .918 SV% over the last 10 years. He had a great career, was a two-time Stanley Cup champion, and would've given the Devils a serious upgrade behind Blackwood compared to what they had in 2019-20. 
Now, the Devils will have a significant hole to fill on their roster, and time isn't on their side to fill it. They'll likely scour the waiver wire over the coming days, and they can always look to the trade market. Let's take a look at how they could replace Crawford. 
The Trade Market
Antti Raanta
Raanta has had injury problems over the last few seasons, but he's played at a high level when in the lineup. He has a .924 SV% over his last 92 games played for the Arizona Coyotes. He has a wins above replacement (WAR) of 11.3, ranked sixth-best among NHL goaltenders since the 2017-18 season. His goals saved above average (GSAA) of 36.08 ranks fifth-best over that stretch. The bottom line is he's still a top-tier goalie, even at 31 years old.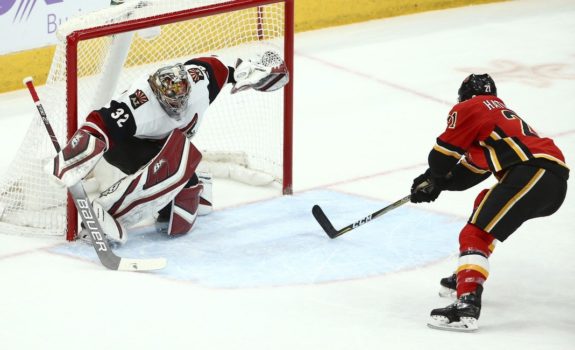 Raanta is in the final year of a contract that has a cap hit of $4.25 million; however, his base salary is only $2 million. The Devils were obviously looking to be competitive this season when they signed Crawford, so Raanta should be on their list to replace him if they can pull off a trade. And he'd arguably be a slight upgrade over Crawford, given his recent run of play. 
James Reimer
There were rumors earlier in the offseason that the Carolina Hurricanes were looking to move Reimer, though that may have changed with teams needing to have goalies on their taxi squad for the 2020-21 season. But if they still are looking to trade him, he should be a target for the Devils.
Related: Devils Have Uphill Climb to Qualify for 2021 Playoffs 
Reimer had a .914 SV% last season and has a .909 SV%, as well as a WAR of 3.7, since the 2017-18 season. He's nowhere near the goaltender Raanta is, but he's still a useful backup. Like Raanta, he's in the final year of his contract, at a cap hit of $3.4 million. However, his base salary is only $875,000, so that could make him an intriguing trade target. He shouldn't cost much more than a third or fourth-round pick to acquire. 
Keeping an Eye on the Waiver Wire
Since teams are required to keep a goalie on their taxi squad, there should be plenty of netminders on waivers over the next few days. The Ducks had placed Anthony Stolarz on waivers on Friday, but nobody put in a claim for him. Yesterday, the Toronto Maple Leafs placed Michael Hutchinson on waivers, while the Predators waived Kasimir Kaskisuo.
The Devils could put in a claim for either goalie, and both would give them organizational depth. With that said, it's unlikely either would be what the team needs as a backup to Blackwood. If anything, they'd likely get more playing time in the AHL than the NHL.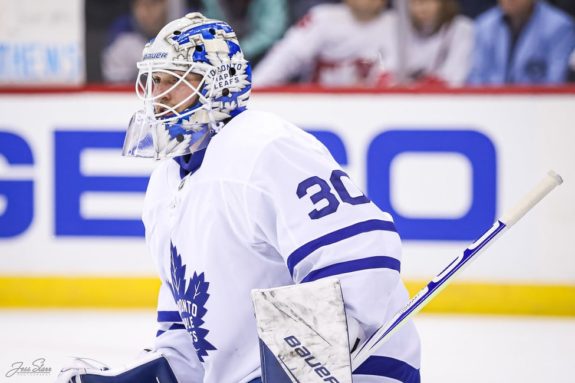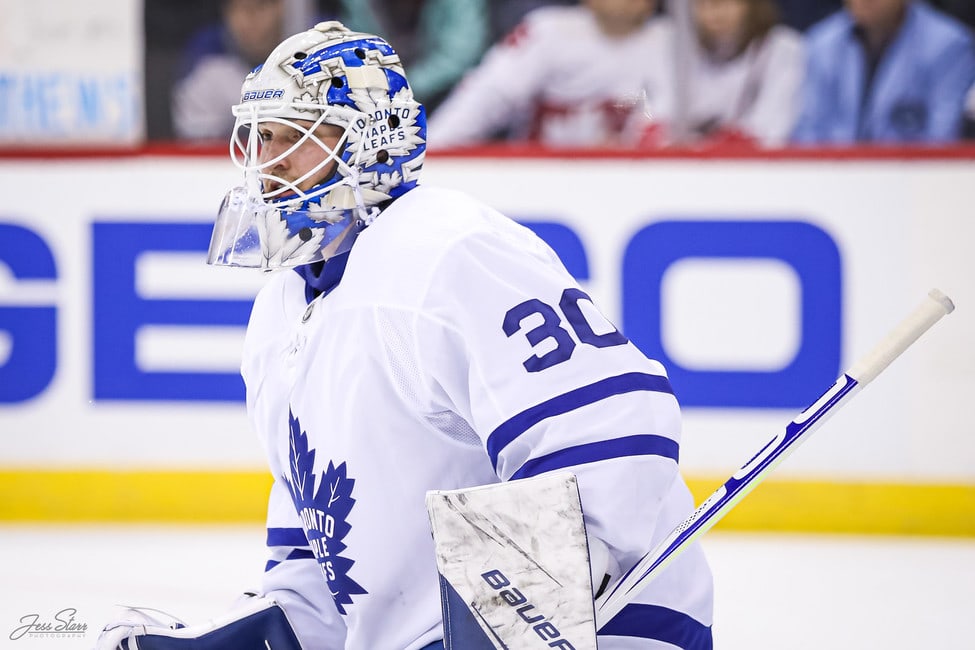 Fortunately, Kaskisuo and Hutchinson won't be the last goalies to go on waivers. One team to watch is the Maple Leafs. Frederik Andersen is their clear starter, but who backs him up is still a bit of a mystery. Jack Campbell seems like a good bet to earn that job, but the Leafs also signed Aaron Dell to a one-year contract worth $800,000. 
If the Leafs intend on sending Dell to their taxi squad, that means he'd have to go on waivers since he's not waivers exempt. And if he does, the Devils should look to put in a claim for him. 
Dell might not be the most appealing name out there, but he's been an effective backup goaltender for the most part. Aside from the 2018-19 season, where he had a .886 SV%, he's finished with an SV% above .905 in his three other NHL seasons. 
Related: Devils 2021 WJC Reviews: Prospects Showed Potential
The Sharks' goaltending wasn't particularly good last season, but Dell was the better of him and Martin Jones, and it wasn't close. He finished with a .907 SV%, which was just about league average, while his GSAA of minus-2.99 was significantly better than Jones' GSAA of minus-14.88. Dell also had a WAR of 1.6, which was better than Ilya Samsonov, Joonas Korpisalo, and John Gibson, to name a few. 
Dell might not be anything close to what Crawford would've given the Devils, but at least he can give them a competent backup behind Blackwood. 
Devils in a Tough Spot
The timing of Crawford's retirement couldn't have put the Devils in a more difficult spot. They have Blackwood, Scott Wedgewood, Gilles Senn, and Evan Cormier on their roster. So between their NHL and AHL rosters — plus their taxi squad — they need to find a fifth netminder in the next few days since their first regular-season game is on Thursday. 
Had these been normal times, it would've been easier for the Devils to find a trade partner to acquire a goalie. But since teams need to carry a third one for their taxi squad, they won't be as willing to give one up. Plus, teams likely know the Devils are desperate to add another netminder, meaning that could drive up the price of a trade.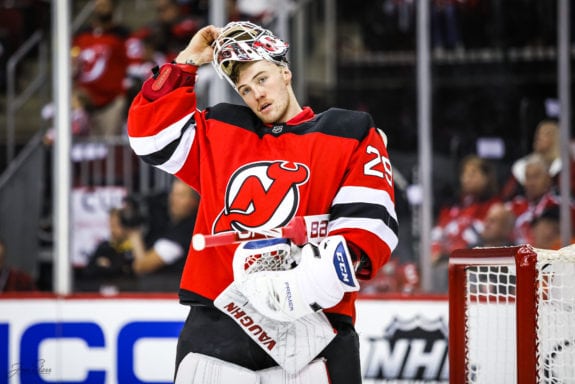 One last option I haven't mentioned is the Devils possibly bringing Nico Daws over to play in the AHL. The team just drafted him in the third round of the 2020 Draft. But since the OHL season is still on pause due to the COVID-19 pandemic, he's eligible to play in the AHL until the OHL gets going. 
Daws is on loan to ERC Ingolstadt in the DEL (Germany), but he's only played in one game, though he did put up a .920 SV%. The Devils shouldn't rush the 20-year-old netminder, but they could recall him if they think he's ready to play in the AHL. 
The bottom line is the Devils don't have a lot of options to replace Crawford. But they do need to find someone who can eat minutes behind Blackwood. The schedule is tight as it is, and they don't need to overwork the 24-year-old netminder. It's already going to be a tough season, and it doesn't need to be more challenging than it'll already be. 
* * *
Advanced stats from Evolving Hockey, Natural Stat Trick
*This story has been updated to correct a previous error in Reimer's cap hit, which is $3.4 million and not $2.25 million.
---
---