Depth on the blue line has always been the Achilles' heel of the Washington Capitals. General manager Brian MacLellan sought to address this issue by signing free agents Matt Niskanen and Brooks Orpik to long-term deals on July 1, 2014. Bringing in Barry Trotz as the new head coach was the perfect fit. Trotz developed players like Kimmo Timonen, Ryan Suter and Shea Weber as the Nashville Predators head coach for 15 years. Recently, the coaching staff has everyone on the same page. Washington has morphed into a hockey beast after a few years of reconstruction.
With the upcoming expansion draft, MacLellan and his staff are going to be making tough decisions. Washington can protect (a) seven forwards, three defensemen, and one goaltender, or (b) eight skaters and one goaltender. Young talent playing in their first or second professional year, as well as drafted prospects, are automatically protected. Although the Capitals are strong in forwards, they should not want to give up effective pieces on the blue line. Karl Alzner's contract expires this year and since no word of a contract extension has been announced, he will likely test the free agent market
Here are my picks for the defensemen that Washington should protect.
Matt Niskanen
Niskanen joined the Capitals after playing for the Pittsburgh Penguins and Dallas Stars. The 32-year-old is a fast, puck-moving hockey player. He jumps on the rush and sees the ice very well with his 6′ 1" frame. Playing in D.C. is suiting Washington's nomadic defenseman. He can set career highs in goals and points this year after having already tallied four goals and 22 points. A deeper look at career numbers reveals that the former Penguin has registered 85 points 207 games with Washington, which ties the point total he set with Pittsburgh in 214 games.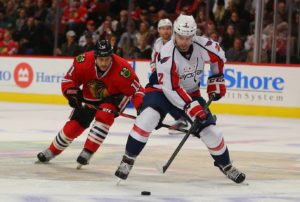 Additionally, Niskanen brings leadership and versatility. He has been to the third round of the playoffs twice (2007-08 with the Dallas Stars, 2012-2013 with the Penguins).  He can play on the team's first line pairing or third line pairing. Trotz slotted Niskanen and Dmitry Orlov together recently to deliver extra speed and offense. It never hurts to have a player like Niskanen who can generate play in all three zones for a faceoff. According to puckalytics.com, he is on the ice for neutral zone faceoffs the most at 39.6-percent.
He splits defensive and offensive zones with 30.7-percent and 29-percent. What does all this mean? Niskanen is a fast, two-way defender that can join the rush or transition out of his zone. He should be protected because he is a dangerous, right-shooting defenseman — which NHL general managers like to have on their teams.
John Carlson
Carlson has changed the most under Trotz and assistant coach Todd Reirden, who is responsible for the team's defensemen and power play. Washington drafted Carlson 27th overall in 2008 for his size, speed and playmaking ability. The investment made sense when Mike Green was the team's primary scoring defenseman. With Green playing for a different club, Carlson's presence is more important. Teams can be successful without two offensive blueliners (2010-11 Stanley Cup Champions Boston Bruins). The game has changed in six years, and successful teams need puck moving d-men. The one-two punch of Carlson and Niskanen on the back end coupled with Washington's offensive stars is momentum swinging, series changing power.
Carlson and Niskanen are the only defensemen who shoot right on the Capitals. That is something MacLellan may consider as he determines who to protect on the blue line. Carlson is having an excellent year and leads Capitals defensemen in scoring with 25 points.
Dmitry Orlov
Washington's young defenseman is having the best season of his career as he has posted 20 points in 44 games. If he continues this pace, he will reach 37 points before the end of the season.
Orlov matches Niskanen and Carlson's ability to join the rush despite lacking the physical frame his teammates have. Orlov stands at 5′ 11", which is the shortest on the team. However, height as a defenseman is not everything. Boston's Torey Krug is 5′ 9" and is ranked seventh in scoring among all rearguards.  Orlov's scouting report nails him as an offensive animal excited to go up and down the ice. His aggressiveness might lead to opponents' scoring chances, but defensemen are pinching more and more as the league becomes faster.  If the Capitals keep him, they will end up with at least three defensemen who can generate offense any time in a game.

With the draft still a while away, a lot of things can change in the locker room. The Capitals might trade players or face alarming injuries. Carlson is injured with a minor lower-body injury, but he is the only Capital injured. Washington got a new look with Niskanen and Orpik two years ago. Now, they have constructed a deeper trio of defense pairs that are capable of attacking and defending against top teams in the league. With no shortages of decisions to make for his team, MacLellan will have his hands full as the expansion draft looms closer.