Unlike Game 1 of the Stanley Cup Final on Monday night, when the scoresheet was filled with a page full of goals, Game 2 on Wednesday night was filled with a page full of penalties.
Referees Kelly Sutherland and Chris Rooney, working their first game together this postseason, called a total of 13 infractions. There were 11 minors handed out, and after the final horn, Erik Haula received five for slashing and a ten-minute misconduct. He won't get any ice cream after dinner or his allowance for one full week.
The Washington Capitals and Vegas Golden Knights each scored a power-play goal in a 3-2 Caps win. The series is now knotted at one game apiece.
Gripes with Stripes
The referees were a big part of the storyline in Game 1. It was an embarrassing game for them. First, they missed an obvious penalty on bruiser Ryan Reaves when he chopped down John Carlson in front of the net moments before he scored a game-tying goal. And they flat-out flubbed a proper call on the Caps' Tom Wilson when he hit Jonathan Marchessault like a Miley Cyrus wrecking ball.
The only thing one could say is that the refs were consistently inconsistent. Putting their whistles away and passively letting the 'players play' is one thing, but not calling an obvious, blatant penalty that directly led to a goal is inexcusable. It gave Vegas a goal it didn't deserve and kept the Knights from getting a five-minute major penalty they probably did deserve after Tom Wilson's hit. The entire zebra crew huddled before handing out matching minor penalties to Wilson and David Perron. It was too little too late.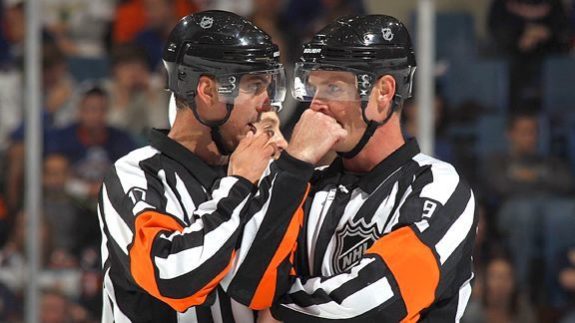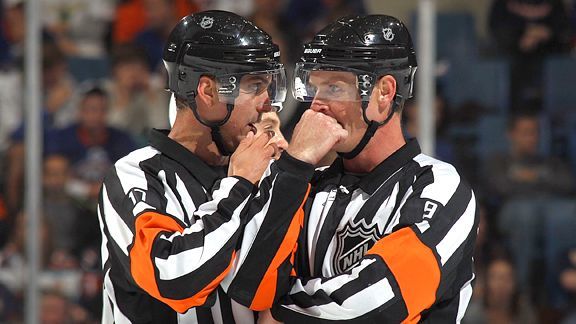 As it turned out, Referees Marc Joannette and Wes McCauley both had emergency surgery Tuesday, a day after swallowing their whistles in Game 1 of the Stanley Cup Final. While initial reports first suggested Joannette lost his whistle in a Bellagio water fountain, X-rays confirmed he had inadvertently swallowed it. It was lodged deep in his throat.
McCauley, who always walks around with his whistle even while not on the ice, last remembers having it at a 24-hour, all-you-can-eat buffet he visited mid-Monday morning. "I had some bacon, empanadas, salmon and a small house salad," said the NHL official. "When I left the table, it was gone."
Upping the Pre-Game Ante
Las Vegas is known for its spectacular performances and Game 2 came through with flying colors. Not to mention with flying airplanes–the pre-game ceremony included an Air Force flyover over T-Mobile Arena.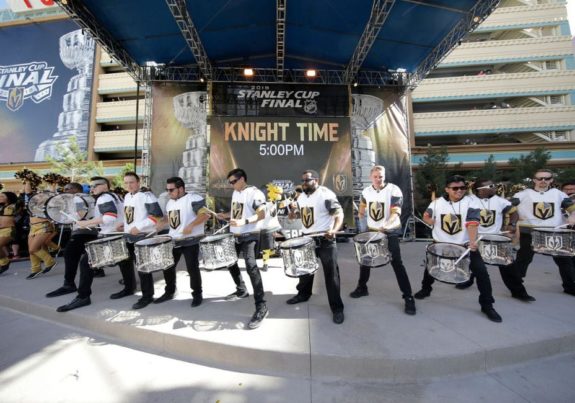 To ensure the Washington Capitals pre-game presentation staff has nightmares while prepping for Saturday's Game 3 in Capital One Arena, it also included another Knight battle, a 200-foot video on the ice, and a posse of string players who accompanied the Grammy Award-winning Las Vegas band, the Imagine Dragons. They sang their hit "Whatever it Takes."  
James Neal's Interesting Night
Neal gave the Knights their only lead of the game by scoring his team's first goal on a beauty of a play. He tipped a puck in mid-air to himself as he skated around Dmitry Orlov then sent a wicked wrister top corner past Braden Holtby's glove side.
In the second period, Brooks Orpik was whistled for a minor penalty when Neal sucker punched himself in the face. At first, Rooney looked around for Brad Marchand, but settled on sending Orpik to the sin bin. For good measure, while skating to the bench, Neal also gave himself an uppercut and a body blow. He then turned to his trainer and snickered, "It worked."
Brooks Orpik gets a minor penalty for James Neal punching himself in the face pic.twitter.com/XwkX96XADm

— Ian Oland (@ianoland) May 31, 2018
Holtby's Paddle Save
After helping his team kill off a 5-on-3 man advantage, Braden Holtby did his best Dominik Hasek impersonation late in the third period. With less than two minutes remaining in regulation, the Golden Knights dumped the puck into the offensive zone. The puck bounced awkwardly off the back boards to Cody Eakins who sent a cross-ice pass to Alex Tuch who was all alone.
Holtby sprawled to this right in desperation and stopped the puck with the paddle of his stick. For Vegas fans, it was a buzzkill of epic proportions. Rumor has it some called 9-1-1 to report a robbery at 3780 S Las Vegas Blvd, citing a subject wearing a white Washington Capitals Jersey.
SAVE. OF. THE. YEAR! #ALLCAPS #StanleyCup pic.twitter.com/OCBBQoEPMI

— Washington Capitals (@Capitals) May 31, 2018
Legendary Capitals goaltender Olaf Kolzig, who currently serves as the team's development coach, praised Holtby's save calling it the 'greatest save I've ever seen!' Jay Beagle called it "The save of the year…maybe the save of a lifetime."
Now a Best-of-Five Series
Alexander Ovechkin notched his first Stanley Cup goal in his storied NHL career in the second period, giving the Caps a lead they never surrendered.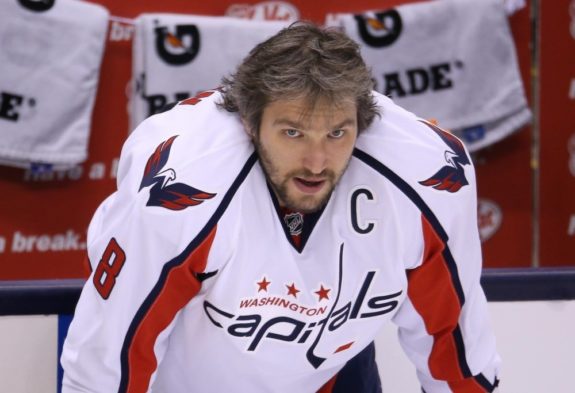 The Russian superstar led the NHL with 49 goals in the regular season and added 12 more in the Eastern Conference playoffs. After scoring the first Stanley Cup Final goal of his 13-year, 1,121-game NHL career, he skated to the glass with both arms raised triumphantly.
Lars Eller notched a goal and two assists. Brooks Orpik had the game-winning goal. After being down 3-1, Shea Theodore scored the other goal for the Knights.
The series now heads to Washington tied 1-1. Game 3 is Saturday night.