It was on his own bobblehead night at Capital One Arena that Washington Capitals winger T.J. Oshie found twine for the fourth time in four games, scoring on a quick pass from Lars Eller. As he skated to the bench, he celebrated in a similar fashion to his bobblehead, shaking his head around as he returned to the bench.
"It's kind of embarrassing that you guys saw that," Oshie laughed following the win. "There's maybe a little extra pressure to go out there and work hard. This time of year is an exciting time, so I think the bobblehead night just amplifies it just a little."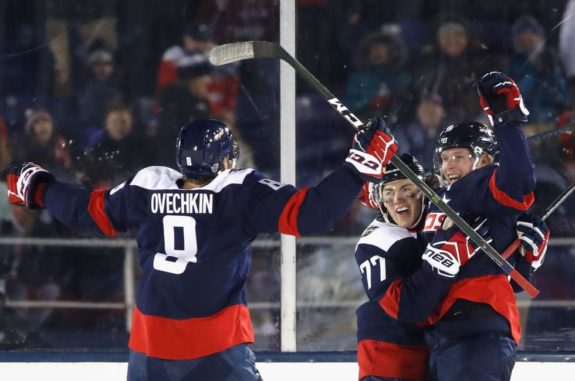 While the nodding was an imitation of the bobblehead, it could also be interpreted as something of an affirmation: as the playoffs near, he appears to be regaining a step in his game, creating more offense and returning to form as a player capable of 20-plus goals per season.
"I find that I'm jumping to some more holes to try to create some goals," Oshie said. "I've been spending a little bit more time around the net and pucks are finally coming to there, so it feels good to keep going here."
Oshie Putting Woes Behind Him
Oshie scored a career-high 33 goals last season, tying Alex Ovechkin for the team lead in goals. His hard work, as well as his positive energy and effort he brought on and off the ice and in the locker room, earned him an eight-year extension, one that he would want to prove himself worthy of heading into the 2017-18 campaign.
However, after starting the year with 10 goals and 22 points, he fell victim to a concussion on Dec. 4, and since then, his production has seen a significant decline; he had only two goals through December and January, and went without a goal the entire month of February.
"It's the way it goes in hockey," Nicklas Backstrom, who has also seen his fair share of struggles this season, said of Oshie. "So you just gotta stick with it, work hard and that's the way he does, too. He works hard every day he comes into practice, so eventually, it's gonna pay off."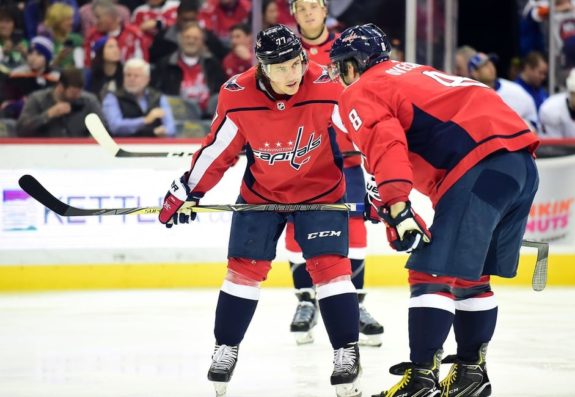 Braden Holtby agreed, saying that "sometimes, the puck doesn't go your way," but ultimately, Oshie is an all-around player and remains a top contributor, regardless of whether or not he's putting up points.
"With Oshie, you know you're always getting an effort. He's contributing in ways other than the scoresheet if he's not getting on it," Holtby said. "He's one of those guys we don't have to worry about… as a teammate, he shows up every single night."
Oshie Returning to Form
Heading into Thursday's matchup with the Islanders, the 31-year-old hadn't scored a goal in 19 games. He left Brooklyn with two. Just 24 hours later, he faced New York for the second part of their home-and-home series and struck yet again, igniting something of a spark.
So far through March, Oshie has four goals and six points through nine games, as well as points in three of his last four games. While he wouldn't affirm that he was necessary "back," he did say that he feels his game improving and that he has a lot more energy and momentum of late.
"I'm feeling better definitely," Oshie said. "I feel like I got a little jump back. Puck's starting to find the net a little bit for me. I don't know if back's the right term, but I do feel good and I think a lot of guys are kind of feeling it right now."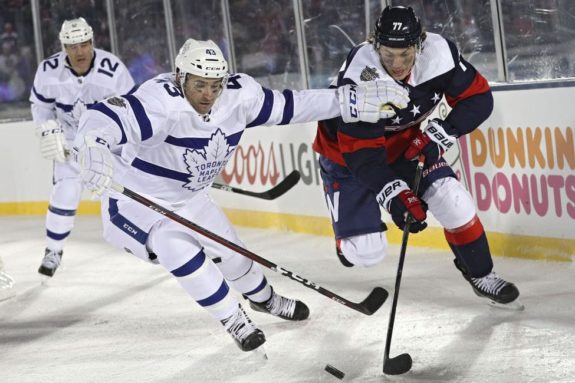 In Washington's 4-3 win over Dallas Tuesday, Oshie said that he was able to make himself more prominent around the net and that he has been trying to create more space to get in the tight areas and create chances. He also attributed his success to his teammates.
"I put a lot of focus on really trying to win puck battles and get in on the forecheck and use my legs," Oshie said. "It helps when Burky's skating like he was, Lars making some good plays in the middle, so it was kind of a combination of things."
For now, Oshie seems to be regaining his touch and capitalizing on his opportunities, and as Washington makes its final push as the regular season winds down, he hopes that the team can finish strong and ready for a deep playoff run.
"You gotta play with some intensity, some determination," Oshie said in regards to the team finishing the season strong. "I think the work ethic has to come first, and all the systems follow after that."