The world of sports is often a world of "what have you done for me lately?" Big trades are often followed by big regrets, and quite often players brought over in big swaps are the subject of doubts, criticisms and even resentment from fans and management alike.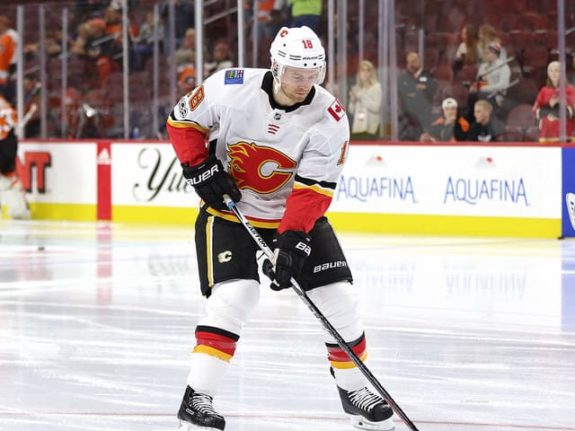 Matt Stajan joined the Calgary Flames in January 2010 as part of the Dion Phaneuf trade with the Toronto Maple Leafs, almost immediately considered one of the worst trades in the franchise's history. Despite all the tough circumstances surrounding his arrival, and some initial struggles as a Flame, Stajan has quietly become one of the more important players on the club. He reached the 1,000 games played milestone this week, a great achievement for a player whose career has been defined by perseverance, dedication and transformation.
Stajan's Longevity
It's not uncommon to see a new regime jettison some of the old guard's acquisitions in an effort to put their own stamp on a club's roster. Stajan was acquired in January 2010 by Darryl Sutter as a pending restricted free agent and was signed to a new four-year deal (with a $3.5 million cap hit) within five weeks of arriving in Calgary. Sutter left the organization the following December and was replaced by Jay Feaster.
Stajan's new deal lasted through Feaster's entire Flames tenure and into the team's rebuild. Stajan was in the final year of his contract and was a potential unrestricted free agent when Brian Burke became interim general manager after Feaster's firing at the end of 2013. The one "big" piece of business Burke conducted was giving Stajan another four-year deal with a slight pay cut to $3.125 million. While he hadn't set the world on fire offensively, his two-way play had enough value that Burke invested in him.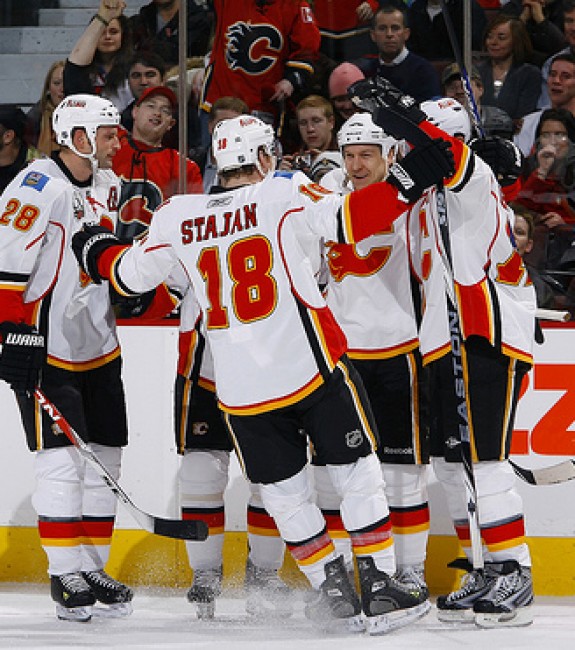 As he crosses the 1,000 game threshold, Stajan's longevity in the organization has quietly become very prominent. Only 12 players have spent more games in a Flames sweater, and the list is a who's who of the organization's greats: Jarome Iginla, Robyn Regehr, Al MacInnis, Theoren Fleury, Mark Giordano, Joel Otto, Jim Peplinski, Jamie Macoun, Gary Roberts, Joe Nieuwendyk and Mike Vernon.
Stajan's Versatility
To his coaches and teammates, Stajan's time with the Flames has cemented his reputation as a consummate pro and the ultimate "good soldier." He's played on all four forward lines, being leaned on heavily by Bob Hartley during the first couple years of the team's rebuild as he was one of the team's few established NHL centers and played extensively in the top six mix. As the team matured and the younger players earned their stripes, he was moved into a bottom six role and allowed his emerging teammates a chance to get more ice time and play in high-leverage situations.
This is amazing! Thank You Brian and to everyone that supports us and the @ACHFKids https://t.co/XNbmpulI3T

— Matt Stajan (@MattStajan18) March 20, 2018
He's killed penalties. He's taken a ton of defensive zone face-offs. He's blocked shots – including several key blocks in the Flames' recent 1-0 nail-biter win over the Edmonton Oilers. He's found himself in the coach's doghouse from time to time, most prominently during Brent Sutter's tenure as head coach, and he's worked himself out of it. Whether he's played 18 minutes a night or 10, coaches and teammates have noted that Stajan's always given an honest accounting of himself and didn't short-change himself or the team.
Stajan's Intangibles
Arguably the least highlighted part of Stajan's time with the Flames has been his impact on the organization's young players, especially their forwards. Stajan came into the NHL as a wide-eyed teenager who was a highly-touted prospect drafted by his ostensible hometown team, the Leafs. He transitioned into the league and had to deal with big expectations and big pressures. During his tenure with the Flames, the organization has transitioned 10 rookie forwards into full-time NHL duty. It's easy to see his steadying influence on them, particularly the large contingent of Ontario-produced players who've come through the Flames organization after watching Stajan play with the Leafs as youngsters – such as Sam Bennett, T.J Brodie, Sean Monahan and others. His mentorship has been invaluable for these transitioning youngsters.
The team's affection for Stajan shone through in the spring of 2014 when his newborn son Emerson passed away suddenly. Stajan left the team for several weeks, returning to action during a stretch where the Flames were very much playing out the string in a playoff-less season. He scored an unforgettable penalty shot goal on Victor Fasth as part of a Flames trouncing of the Oilers. Stajan and his wife have since become prominent advocates and fundraisers for causes such as the Neonatal Intensive Care Unit at Calgary's Foothills Medical Centre.
Stajan's seen a lot in his career and has played against some of the league's best players, but there's very little ego or pretense about him. He's come by his success honestly and had to adapt his game as age and changes in the league's style of play have altered his circumstances – he's even been an occasional healthy scratch, something he's taken in stride. He's become a stalwart of the Flames' locker room and a fixture on their fourth line, diving into what's often an unheralded and unappreciated role with the energy you wouldn't expect from a player who's played 1,000 games. Some players that hit four digits in the games-played column rely on finesse and high-end skill; Stajan's relied upon character and determination, and has become a tremendous example for his teammates and a great ambassador for the game.