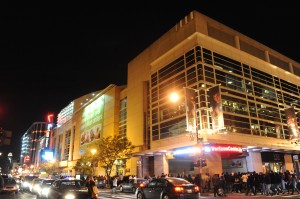 With the 26th overall pick in the 2010 National Hockey League Entry Draft, the Washington Capitals are proud to select, from Chelyabinsk, Russia, Evgeny Kuznetsov.  That was then, it's 2013 now.
If reports from Sovsport.ru are even the slightest bit accurate, Capitals Nation will get a glimpse of this talented forward at some point in the near future, but will have to settle for the mere fact that this 21-year old will likely hit the road for Russia by the time he hits the 30's club, age wise.
"I think I will return to Russia from NHL when I am 30". Evgeni Kuznetsov
It's impossible not to think about the recent retirement of 30 year old superstar Ilya Kovalchuk, from the NHL. Kovalchuk walked away from a $100 million contract, leaving $77 million unpaid, to return home to Russia.
"After many conversations with Ilya over the past year on his desire to retire from the National Hockey League, Ilya's decision became official today," said Devils General Manager Lou Lamoriello at the time. "On behalf of the entire organization, I wish Ilya and his family all the best in the future endeavors.
A classy way for "Uncle Lou" to dismiss an employee who opted not to fulfill his responsibility to it's entirety.
Kovalchuk has every right though, to want to return home with his family and begin a new chapter. I get that, loud and clear.
What is in it for Kuznetsov though, to come out and make a statement that will ultimately decrease his chances of building any kind of early rapport with such a passionate fan base in the Nation's Capital?
The answer is simple. There is nothing to gain and everything to lose. It makes absolutely no sense, to discuss the exit door, when you haven't even entered the building, yet.
When Kuznetsov does in fact, arrive in DC, a valuable lesson will eventually be learned.
Follow me on Twitter @DarrenCoslov 
The NHL regular season schedule was released on Friday. Check out our partners at TiqIQ for the best deals on Washington Capitals tickets for all 2013-14 games.
Darren is the Washington Capitals correspondent. He spent the 2010-11 season covering the Atlanta Thrashers and the 2011-12 season covering the Columbus Blue Jackets. Feel free to contact him @ DKoz256@yahoo.com. You can also follow him on Twitter. DarrenCoslov